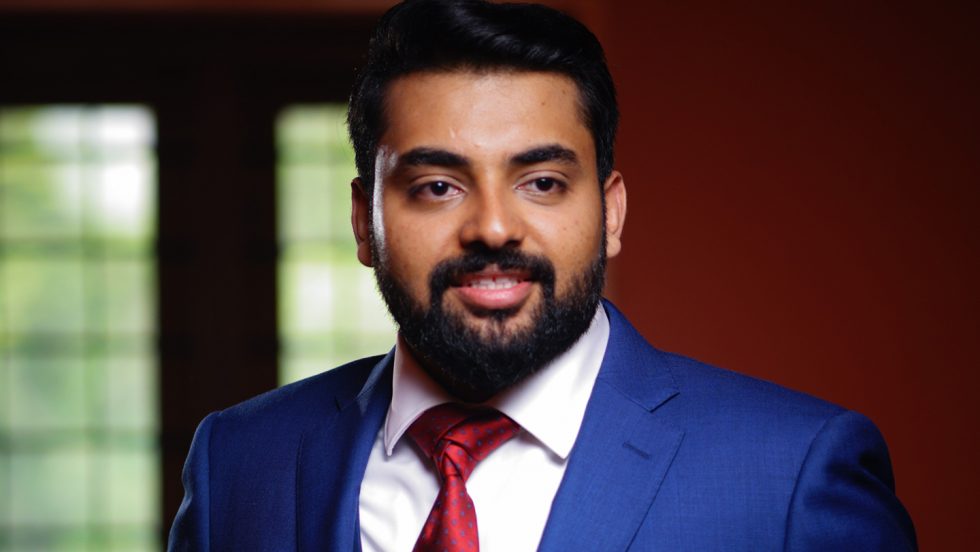 Rejo Jose is a respiratory therapist who transferred to Adelphi last spring to earn a nursing degree. He soon found that our nursing program offers more than just top academics; it also has faculty members who go out of their way to help students.
It had been four years since Rejo Jose had been inside a classroom. Understandably, he was pretty nervous about going back to school for his nursing degree at Adelphi after transferring from Molloy College in Rockville Centre, New York. He'd be juggling classwork with his full-time job as a respiratory therapist at Northwell Health's Long Island Jewish Medical Center in New Hyde Park, New York, and he knew he faced some long days ahead.
But what unnerved the 27-year-old most was the prospect of taking classes online instead of in person.
"I didn't have any idea how online classes worked," Jose said. "I was worried I wouldn't be able to ask questions or get any feedback."
But his College of Nursing and Public Health professors, Loriann Gross, clinical assistant professor, and Edmund J.Y. Pajarillo, PhD, associate professor and department chair, connected directly with Jose and his classmates. He wasn't a lonely student on a laptop, sending his classwork into the ether. He was part of a group of online learners connected to attentive professors.
"Both of my professors were really amazing," Jose said. "They talked to us via Zoom sessions in small groups."
The professors also fostered interaction between the students, he said.
"There was a healthy back and forth between students in the comments and the professors would answer every question. You could read the string and get a lot out of it, both from your professor and from the other students. It was like being in a real classroom."
Jose was particularly appreciative of the support he got in the informatics class that Dr. Pajarillo taught.
"I was emailing him back and forth and he was very patient answering all my questions," Jose said. "It was really very helpful for me. He took the time to answer my smallest questions."
A heavy emotional toll
As if returning to school mid-career wasn't enough of a strain, Jose was also coming off the toughest professional stretch he had ever faced—the months of April and May when the COVID crisis in New York was at its peak.
He was on a team that helped to intubate patients and put them on the ventilators. A number of these patients did not recover from the illness.
By the time he started his online classes in late May, the terrible toll that COVID had taken on patients had also taken a toll on his team.
"We had emotional breakdowns," he said. "It was breaking everybody at work."
He said Dr. Pajarillo gave him the emotional support he needed.
"He understood how much I was getting dragged down and he talked to me about how to get through the struggles by focusing on the patients we saved," Jose said. "He said I would see a lot of bad things when I was a nurse, so COVID was preparing me."
Jose persevered, logging onto his classes for two or three hours a day when he got home from his shift at the hospital. The work paid off: He made an A in both classes.
It feels good to grow and learn
Jose will take four online classes in the fall. He knows the drill now and is confident he'll reach his goal of getting his nursing degree by May 2022. While he likes being a respiratory therapist, he sees more of a career path in nursing.
"Nursing wasn't on my mind when I got my first degree in respiratory therapy from Molloy College," he said. But after working in the medical field, he has realized he can go farther with a nurse's degree, so he enrolled at Adelphi to get it. "My boss's boss is a nurse," he says. "She inspired me."
Jose wants to work as an ICU nurse because he has seen the work they do. "They put hard work into caring for their patients," he said. "It's impressive to see how much they care. It's a high-touch job, because the patients need a lot more help in the ICU than in other departments. The nurses there are incredibly dedicated. It's inspirational." Long term, he would like to go into administrative work.
"Adelphi has been really helpful," Jose said. "My professors and my adviser know how tough it is to be a full-time worker and be in school. They always give me positive feedback, and they've taught me to focus on my goals."
Jose loves being a student again. "I am still learning new things from my classes," he said. "It's a great feeling."