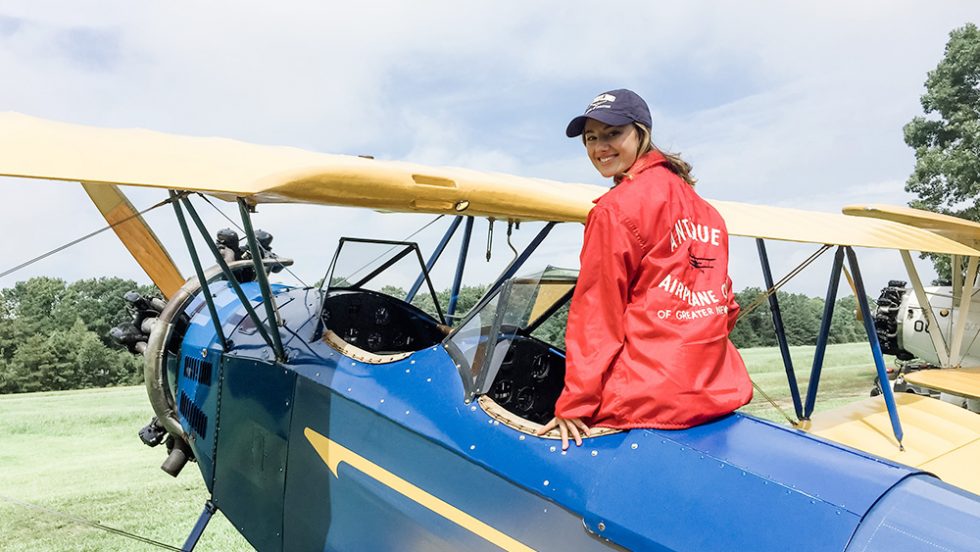 Janie Frazier, an artist and flight instructor, got her Bachelor of Fine Arts from Adelphi last spring. Now she's working on her MBA to prepare for her role in her family's quarry business.
Janie Frazier, an artist and flight instructor, was delighted when she was offered a position on the board of directors for her family's business, Frazier Quarry Inc., a limestone quarry in Virginia's Shenandoah Valley that employs about 100 people. The fourth generation of her family to join the board, Frazier, 25, had been steeped in the business since she was a young girl growing up in Harrisonburg, Virginia.
But Frazier soon realized she needed a "different mind-set" to understand the complexities that were being presented to her.
Frazier holds a Bachelor of Fine Arts degree from Adelphi, which she received in the spring of 2019. Her senior thesis, a short animated video titled A Dog's Best Friend, narrates the story of a bored pet dog who embarks on new adventures aboard a two-seater biplane. It won the President's Annual Purchase Prize, an award given each year to an outstanding creative work in the visual arts. As the name implies, the University purchased it, for $500; it will be displayed this year and will reside in Adelphi's permanent archives.
With her new board position, she wanted to earn a business degree as well. And she didn't want to give up her flight time—she teaches out of Brookhaven Calabro Airport in Shirley, New York, and wanted to continue logging training hours toward her airline transport pilot certification.
Adelphi, just about an hour west of the airport, fit the bill.
"My biggest challenge as a board member was understanding what the numbers—the financial reporting—meant for the company, both in the moment and in the future," she said. "Pretty much everything that goes into making a decision is understanding the reports that are given to you."
Moving toward management
Frazier's business degree plan is ambitious.
She told Britt'ny Brown, director of graduate programs at Adelphi's Robert B. Willumstad School of Business, that she wanted to complete the MBA in one year. Brown, she said, supported her by reviewing her past experiences and working with her to create a schedule that would help her get as much as possible out of the program.
Frazier jump-started her MBA this summer with online courses and anticipates graduating in Spring 2020.
On track to become an airline pilot, Frazier expects the MBA will also be useful to advance her career there as well.
"If I decide that I want some sort of management role in the airline industry, the MBA will give me the qualifications to enable that transition [from a pilot] and understand what it will take," Frazier said.
With the right education from Adelphi that fits into her busy schedule, Frazier believes she will be able to craft a career that includes all of her interests—flying, the family business and art.