Thea Liu wanted to go to college in the United States, but she needed language help and cultural support. She got both from Adelphi's International Accelerator program.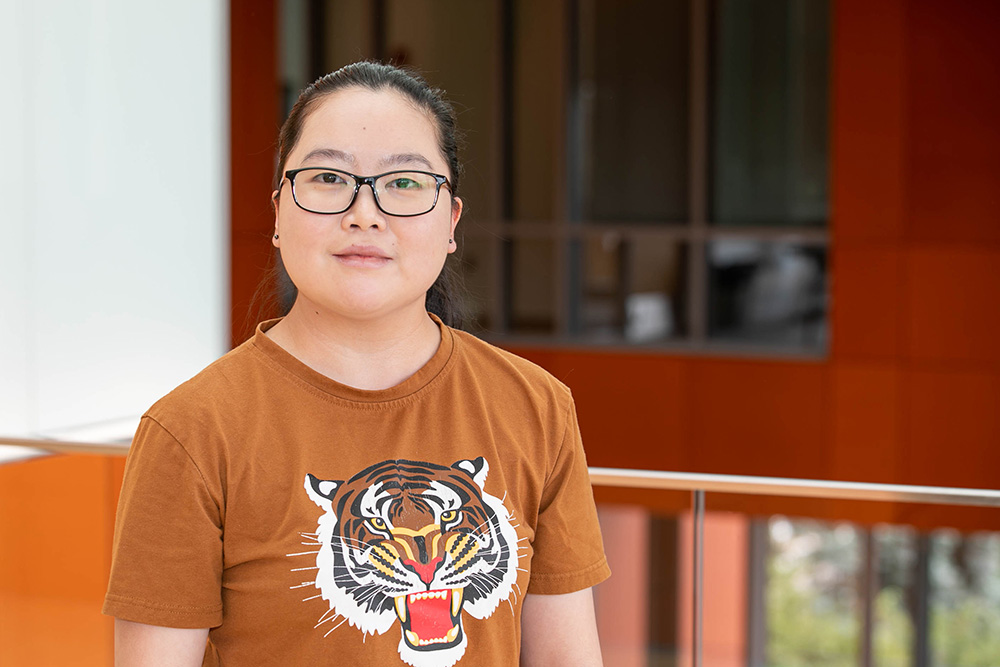 When Yuxiang (Thea) Liu told her parents that she wanted to leave the city of Guangzhou in Guangdong province in China to attend college in the United States, she said they were concerned. In addition to worries that she might be homesick, they feared for her safety on an American college campus.
But Liu was determined to experience a different culture.
"As a traditional Chinese who has grown up in an environment that has a single, traditional culture, I really wanted to study abroad to explore something new and change to a new and fresh environment," Liu said.
Her high school adviser recommended Adelphi University, which is ranked as one of the 50 safest colleges in the United States. The Garden City location also suited Liu, who said that, while she wanted access to New York City for internships and culture, she also wanted to study "in a quiet and not-so-crowded environment."
To help her adjust to college life abroad, Liu's adviser suggested Adelphi's International Accelerator program for students who need to improve their English or get academic support. Accelerator students experience small classes with professors and gain access to application and visa support services, individual student services and academic advisers, cultural and language support, and career preparation.
Liu arrived at Adelphi on May 23, 2018, when she was 18, and spent the summer in English language courses through the Pre-Sessional English program. She then enrolled in the Extended Accelerator Program for three semesters, taking courses such as Cultural Anthropology and Calculus with other Adelphi students as a first-year student for credit.
"This program allowed me to have more time to improve my English skills," Liu said. "I also got a deeper understanding of American college life, such as its social life, sports competition and academic differences compared to my country."
Liu excelled at all her Accelerator classes and will now begin her first year at Adelphi as a computer science major with an emphasis on software development. She's also been named a Levermore Global Scholar—in the prestigious program that helps Adelphi students become global thinkers and leaders. She is hoping for an internship that gives her coding experience, particularly in a job with high-pressure deadlines. Her goal is to one day work for Google or Facebook.
One of the things she appreciated about the Accelerator program is the cultural support offered in the form of activities. Food-tasting events and a summer barbecue with other Asian students helped whenever she felt homesick. She also had the opportunity to see Broadway shows, including Frozen, Aladdin and Mean Girls. She said she's also fond of the Metropolitan Museum of Art, Central Park and Jones Beach.
One of her favorite experiences was a volunteer trip to a local nursing home, hosted by the National Student Speech Language Hearing Association on campus.
"I had a great time there," she said. "We played games with each other and listened to them talking about their families and life. It is very interesting for me to meet different people who are not in my age or generation."
For Liu, the most important part of her experience at Adelphi so far has been interacting with other students and professors, which she said gave her the encouragement she needed to adapt to American life.
As to how her parents now feel about her attending school in the United States, she said: "During my first semester at Adelphi, my mom usually called me once a week or had FaceTime with me. However, after a year at Adelphi, my parents now are not worried about me at all. They believe that I can handle the difficulties and put myself in a safe situation. Now they often ask me about my social or academic life at Adelphi instead of asking about my safety."
---
For further information, please contact:
Todd Wilson
Strategic Communications Director 
p – 516.237.8634
e – twilson@adelphi.edu