Composer and University Professor Paul Moravec's music wanders in Venice and screams Stephen King.
Saying that a piece of music wanders aimlessly isn't often considered to be complimentary. But Adelphi University Professor of Music Paul Moravec's Sempre Diritto!, a musical ode to walking in Venice, circles in on itself as if looking for a focal point.
The 2004 Pulitzer Prize winner composed the single-movement sinfonietta in 1992. The piece was revived by the League of Composers (of which Moravec is a former secretary) as part of the organization's New York Philharmonic Biennial at Miller Theatre at Columbia University on June 1, 2016. The piece seemed inspired not only by the streets but the history of the city that was once known as  the Republic of Music, playing up suspense with a sustained high note in the violins like something one might expect from a Bernard Herrmann score to an Alfred Hitchcock movie, or, indeed, from the composer of the opera The Shining. Contrasting melody lines fall almost imperceptibly into unison with some remarkably scored string passages. While the title might be humorous (or at least the story behind it might), the music is filled with a low-level dread of being lost in a strange land.
"It's about getting lost in Venice," Moravec said, speaking in his New York City apartment. "It's an incredibly labyrinthine city. The first time I was there, when you ask how do you get somewhere, they say 'straight ahead, you can't miss it.' But nothing is straight ahead. It cracked me up. It's a piece that winds around and finally finds itself."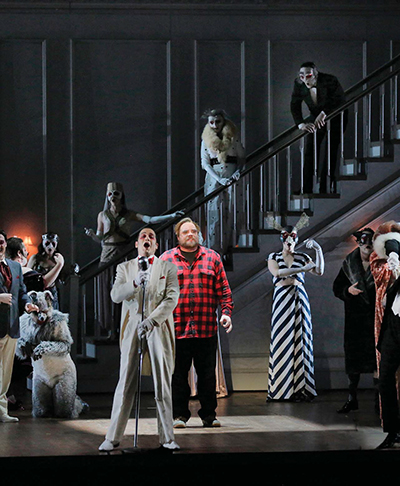 If it seems like a rather literal response to the notion of losing one's way in a strange city, that may be because Moravec can be, at times, something of a storyteller. Earlier this year, in fact, he earned high praise for the premiere of his opera The Shining, written with librettist Mark Campbell and adapted from Stephen King's 1977 novel.
The Wall Street Journal's Heide Waleson wrote that "Mr. Moravec's witty, evocative music strikes a good balance between the sincere and the creepy." Broadway World said the score was "full of discomfiting themes that clash and collide." And in a June 3 post on The Economist website, a writer identified as J.C.T. said that "Mr Moravic's score uses an effective mix of atonal shrieks and haunting echoes of big-band 1920s music."
Despite a relatively short run of only four nights—the Minnesota Opera gave the work's premiere on May 7, 2016—Moravec and Campbell's adaptation had critics singing their praises. Writing in Opera News, Joshua Rosenblum said, "The scary parts sound like a first-rate horror movie score, and I mean that as a compliment—the music is impressively creative, maximally effective, and it continues to outdo itself throughout the piece," and called one climactic scene "as riveting as anything I've ever seen in a theater. What a wonderful thing to be able to say about a new American opera."
It wasn't the first time, of course, that King's novel  was brought to life. Stanley Kubrick's 1980 film, starring Jack Nicholson and Shelley Duvall, remains a standard-bearer of smart horror cinema. But as iconic as the movie is, Moravec said it wasn't difficult to set it aside, along with Kubrick's score, which included works by such major 20th-century composers as Béla Bartók and Krzysztof Penderecki.
"In working from Stephen King's novel and Mark's libretto, it was easy to forget any other association," he said. "The book is so compelling. It's practically an opera to begin with. It's about love, death, power—all these very strong emotions.
"The first question an opera composer has to answer is 'Why are these characters singing?'" he added. "The Shining answers that question right off the bat."
---
Paul Moravec has published more than 125 compositions for solo instrument, mixed ensemble, orchestra and chorus. His compositions have been recorded by some significant performers and rising stars, including pianists Stephen Gosling and Anthony de Mare and violinist Hilary Hahn. In September, Opera Orlando gave the premiere to his Light Shall Lift Us, a choral work written for the victims of the Pulse Night Club killings, as a part of its One Voice Orlando: A Celebration in Song benefit concert.
In addition to his Pulitzer Prize in Music, Moravec has earned a Rome Prize Fellowship, a Guggenheim Fellowship, three awards from the American Academy of Arts and Letters, and fellowships from the National Endowment for the Arts and the Rockefeller Foundation.
---
For further information, please contact:
Todd Wilson
Strategic Communications Director 
p – 516.237.8634
e – twilson@adelphi.edu