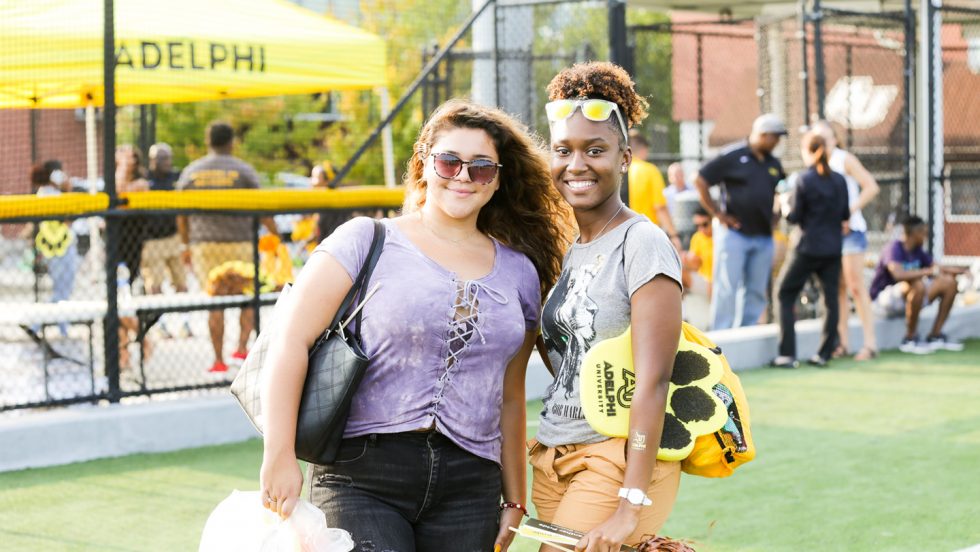 This past year, the Adelphi community showed its resilience and strength as we Zoomed through classes and meetings, connected with one another over FaceTime and dreamed of better days ahead. Now that the world is starting to reopen, our future is bright and the Panther community is ready to be back together in full force.
What better way to celebrate our return than with one of our favorite campus traditions? New Student Orientation and Welcome Weekend are part of every new Panther's rite of passage to kick off their Adelphi University journey. Friendships are forged, important lessons are learned and the memories made last well beyond four years.
Planning major campus programs is challenging enough—add in a global pandemic with ever-changing guidelines and the task seems almost impossible—but not for the Center for Student Involvement.
"We knew it was extremely important to provide a robust and welcoming program for our newest Panthers," Anna Zinko, assistant dean for students and community engagement, said. "This past year, we saw the impact reaching out early and often to students had and the positive outcomes from our ability to leverage the virtual world."
With this in mind, the Center for Student Involvement merged Orientation and Welcome Weekend, including several virtual touch points for new students over the summer, culminating in a massive welcome back to campus in August that our students are ready for. CSI created a multipronged approach to onboarding new students this year that includes:
The Panther Portal—An on-demand Orientation experience launched in June for new first-year, transfer, international and graduate students to explore on their own schedule. The portal includes information from more than 20 campus departments. As of today, more than 700 new students have utilized the portal.
Academic Connections Day—A virtual event on July 22 connected

students with peers, faculty and staff who share their academic interests.
Welcome Weekend —At the in-person culminating Orientation events August 27-29, new students will spend time on campus making new friends, learning about Adelphi's leadership and involvement opportunities, and getting a taste of our Panther pride.
Peer Assistant Leaders (PALs)—At the beginning of the summer, students were assigned a PAL, who serves as a mentor and guide throughout their first year. PALs are there to answer questions, offer support and encourage participation in Orientation activities.
Students appreciate the multiple offerings and are excited to finally be back together. Junior Sarah Carbain, a two-time peer assistant leader, said, "I love the reimagined Orientation program and can't wait to give students a taste of their next four years here. My students who've completed the Panther Portal found it super helpful, and we can't wait to meet up on campus for Welcome Weekend!"
It's safe to say our community feels the same and Panthers are roaring to get this year started.
Sign-ups for Academic Connections and Welcome Weekend are live and ongoing. Incoming students may register here.