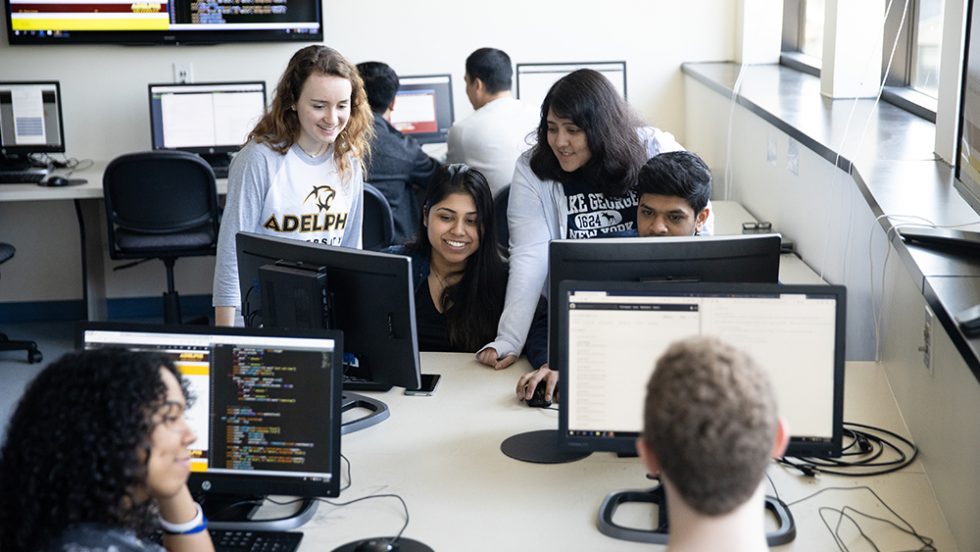 Adelphi's cybersecurity track is about much more than coding.
Think of a cybersecurity student and the image that most likely comes to mind is one of a solitary person—probably male—staring at a screen for hours and crunching code, with only a computer for company. But according to Kees Leune, PhD, assistant professor of mathematics and computer science, this picture is a far cry from the experience of information security students at Adelphi.
Dr. Leune defines cybersecurity as "the art and science of defending data against intrusion." Today our data resides on not just computers but a range of connected "smart" items such as phones, surveillance cameras and health monitoring systems, all communicating and sharing data. The U.S. Department of Labor predicts the demand for information security professionals to protect us from data breaches will grow by 28 percent through 2026.
But a knowledge of networks, log data and digital forensics is only one part of being a cyberdefender. The most successful attack factor criminals use "is to leverage not a flaw in the technology but flaws in the people using the technology," Dr. Leune said.
For example, an attacker might call an employee, say they work for IT and need their password, or go "phishing"—send scam emails that request personal information. Dr. Leune assigns his students to craft phishing emails and test them on Adelphi employees.
Understanding human behavior is crucial for would-be cybersecurity professionals. "That's the benefit of a liberal arts education in the College of Arts and Sciences," Dr. Leune said. "Students get a broader worldview and gain the critical-thinking and problem-solving skills beneficial to a range of careers."
Personalizing programming
Undergraduate students take the same foundational courses but specialize in either software engineering, information security, game programming, foundations of computer science or applied sciences.
Students from other disciplines can minor in cybersecurity, computer science or video game design. Those in the natural sciences can gain valuable skills by minoring in scientific computing (see below), which is launching in Fall 2019.
The MS in computer science offers specializations in either cybersecurity or software engineering. Computer game development is planned to launch in the fall of 2020.
The department's personal touch goes beyond the curriculum. On the recently added fourth floor of the Science Building are the math and computer labs, including the Cybersecurity Lab, where students can collaborate on projects or just meet to share ideas and socialize.
"For us, community is everything," Dr. Leune said. "Research shows that when students feel like they belong, they are more likely to stay in the program and excel."
A diverse, inclusive community
The cybersecurity program attracts students who identify as male, female, LGBTQ+ and transgender. There are international students and quite a few athletes—­"not something you typically associate with programming," he said.
Dr. Leune said a third to half of computer science majors are women. Some of his star alumni include Rebecca Gotterbarn '18, now a security services consultant at IBM, and Kayla Pollock '19, now at NYU for a master's in cybersecurity.
Cybersecurity also appeals to students from the Bridges to Adelphi program, which provides services for those on the autism spectrum or who have a nonverbal learning disability. "Bridges students seem to like things that are black and white, not gray," he said. "Computers are either zero or one, off or on."
Dr. Leune has seen military veteransexcel in his classes as well. Like cybersecurity, "in the service there's the adversarial idea of us versus them," he said. "Veterans generally have a good work ethic and are very disciplined with high moral standards.
"Computer science students are nonjudgmental," he added. "If you have the skills, they don't care if you're male, female, or anywhere in between. Come on in and hang out."
The credit for this inclusive attitude, he said, goes to Adelphi as a whole, not the computer science program. "Adelphi is very clearly putting diversity and inclusion front and center," he said. "It's not something we do to check a box; it's ingrained in what we do."
Thanks to Brookhaven National Laboratory, Our New Minor Is a Major First
Computing has revolutionized the natural sciences. By inputting large amounts of data into predictive models, scientists can use computers to solve real-world problems. They can analyze the trajectories of tens of thousands of atomic particles to understand what the early universe was like or predict how infectious disease can spread or how climate change will impact Earth.
But not enough science students are being trained to write the custom code required to do such research.
To meet this need, in May 2019 Adelphi announced the launch of a minor in scientific computing in partnership with the U.S. Department of Energy's Brookhaven National Laboratory, a world-renowned research institution. Adelphi is the first and currently only university in New York state to offer such a minor.
Christopher K. Storm Jr., PhD, associate provost for faculty advancement and research at Adelphi, said, "By partnering with Brookhaven in faculty and curriculum development, we have developed a scientific computing minor that will prepare our undergraduates who are majoring in science to succeed in the scientific community."
Jennefer Maldonado, a senior at Adelphi, is adding the minor to her dual major in mathematics and computer science. "Graduating with a minor in scientific computing will allow me to have an edge up over other students who may be applying to similar internships, graduate programs or jobs in the future," she said. "I think more schools should consider following in Adelphi's footsteps."