Morain Lewis-King, MS '18, winner of the Dean's Master's Award for Leadership at Commencement, is now pursuing a career in mentoring new nurses in professional development.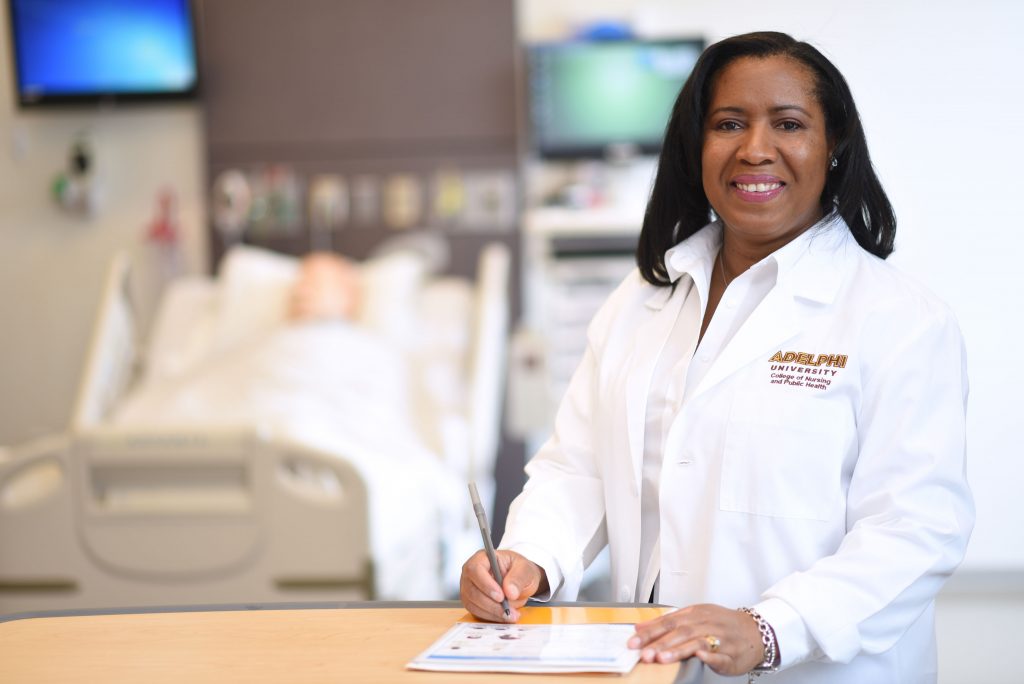 Her Back Story
Morain Lewis-King, who graduated with an MS in December 2018 at age 50 with a 4.0 GPA but officially marched in May 2019, received the Dean's Master's Award for Leadership at Commencement. "I was chosen by the faculty and the dean," she said, adding, "This award is presented to a master's student who has demonstrated an ability to translate knowledge into practice to advance the goals of the nursing profession." Looking back on her Adelphi years, she said, "I like that the small class size was just what I needed for me not to be intimidated after being away from college for such a long time."
She added, "My interest in nursing education developed from my passion of precepting and mentoring students who did their clinical education at Memorial Sloan Kettering, where I have been working for many years. We have unit-based projects in our hospital and I enjoyed the collaborative work I did with nurses and others from various backgrounds and ages. To me, being able to relate well with people from various backgrounds is a critical element of an effective educator."
She takes the most pride in having researched and completed her Capstone project on information processing in the age of proactive self-care, under the guidance of Professor Marilyn Klainberg '63, MS '77, EdD.
"Everything I learned from my coursework came together as I completed my project, 'Information Processing in the Age of Proactive SelfCare'—which assesses preparing nurses for practice and patient education and bridging the educational gap on proactive self-care, as well as the impact of big data information processing in the age of technology-driven healthcare."
This from someone who started at Adelphi "feeling ambivalent about my technological and communication skills."
Fast-Forward
Lewis-King currently works at Memorial Sloan Kettering Cancer Center in Manhattan as an RN/case manager. She said, "I plan on applying for a Nursing Professional Development Specialist (NPDS) position at Sloan Kettering." She added that she's interested in that post because she wants to "assist new nurses to acclimate to their nursing career and help establish nurses with their competencies."
---
For further information, please contact:
Todd Wilson
Strategic Communications Director 
p – 516.237.8634
e – twilson@adelphi.edu