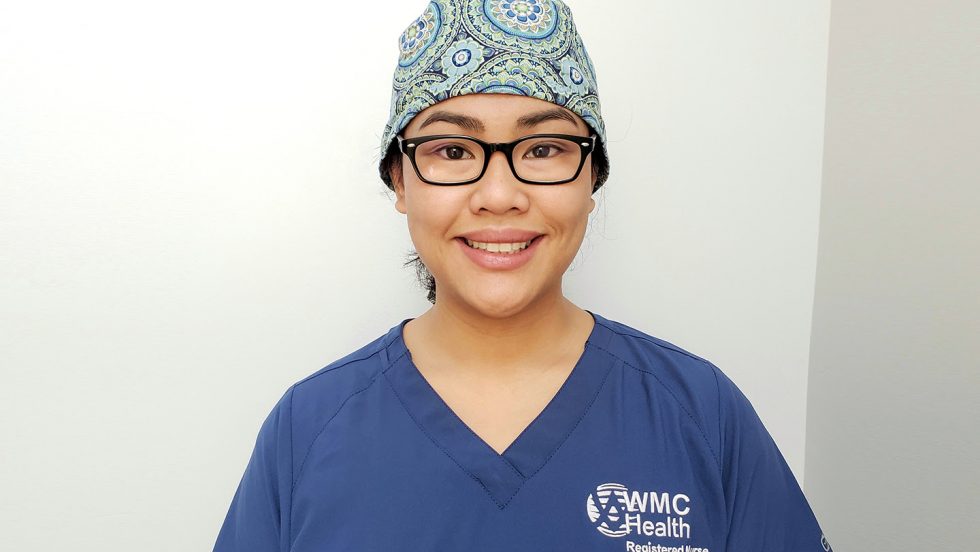 Josephine Briones is a registered nurse who knows that technology and digital record keeping can be used to improve patient care. That's why she enrolled in Adelphi's online master's degree program in healthcare informatics.
"Back in the day, everything was done on paper charts," said Josephine Briones, 28, a registered nurse at Westchester Medical Center in the trauma ICU unit. "Now we have the ability to use technology to help healthcare workers provide better care and improve patient outcomes. I definitely want to be a part of that."
Today, she has her sights set on becoming a health informatics nurse, a role that involves integrating technology into the clinical nursing practice to improve the quality of patient care.
That's why Briones enrolled in Adelphi's online Master of Science in Healthcare Informatics program, which is designed to help working professionals master emerging medical technologies and health information systems in a growing, in-demand field.
"Especially with COVID, everyone wants to be remote and provide telemedicine," said Briones, who started her program in August. "But you need programs and technologies to provide care to patients."
Briones chose Adelphi because it is close to home in case she needs to go to campus, and its online program was already established, even though the field is relatively new. By studying online part time, Briones can also continue working at the hospital full time and build her own schedule.
"I work 12-hour night shifts, so I wouldn't want to have to go to a class right after work or commute to Long Island," she said. "I love that I can choose my own pace so I can do assignments on my days off."
At Westchester Medical Center, Briones is responsible for maintaining, stabilizing and improving the status of her patients. This involves everything from managing ventilators and administering sedation drips to giving blood transfusions and assessing neurological status. She often works with patients who've been in motorcycle, car and ATV accidents, especially during the summer, which is considered "trauma season."
In this role, Briones has learned firsthand how proper medical technologies and digital record keeping could improve her job and patient care.
"At our hospital, we have separate programs for administering medication, monitoring vital signs, giving blood and charting data," she said. "Different departments use different programs, too, so we have to verbally report to each other. But sometimes there's a breakdown in communication. There's a lot of improvement that can be done to streamline this."
Adelphi's online healthcare informatics program prepares students like Briones to become leaders in the medical technology field, with courses in subjects such as computer applications for healthcare management, health analytics and natural language processing, and telemedicine and digital health.
In fact, Briones first decided to study nursing as an undergraduate because of the potential for growth and flexibility within the field. She also enjoys the opportunity to work directly with patients and their families, and to provide holistic care. In her department, for example, nurses work with just two patients at a time—one, if they're in critical condition—allowing nurses to better focus on the patient's care and assess any changes in patient status.
"In nursing, we're able to look at the patient as a whole person and not just a diagnosis, whereas other medical professions can get so homed in on the diagnosis," Briones said. "We see how fragile patients are; we see the humanity of everything."
That humanity was most apparent during the height of the coronavirus pandemic, when Westchester Medical Center's trauma ICU was entirely occupied by patients with COVID-19. As a level-one trauma center, the hospital is equipped to take in the most critical cases and to receive patients from other institutions.
"At its peak, the hospital was hit hard," Briones said. "But I'm grateful for my unit. Our teamwork was impeccable. Even though we were working long hours, we always felt like we had each other's back."
Now, in her master's degree program, Briones looks forward to combining her on-the-ground clinical experience with her newfound knowledge in healthcare informatics to continue delivering lifesaving care and advancing her field.