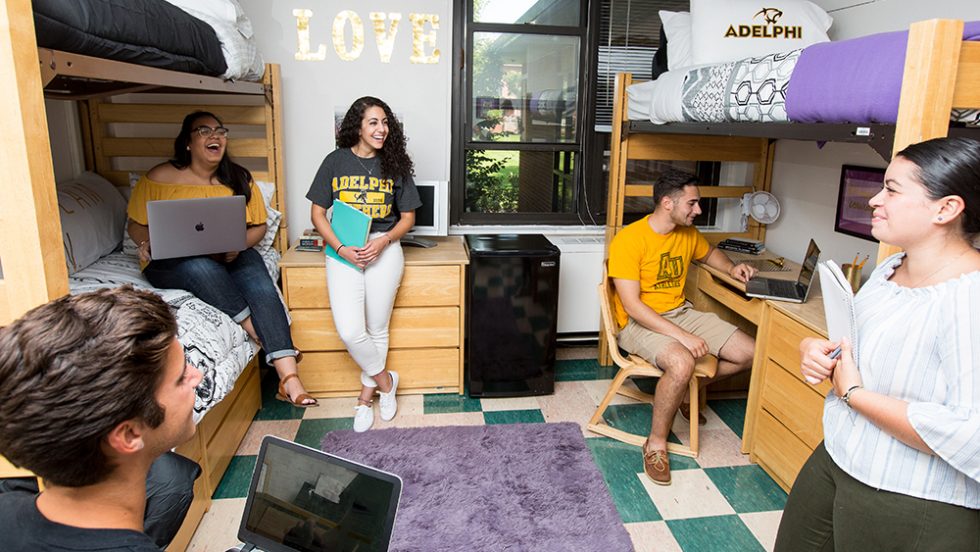 An innovative new program, one of the first of its kind on Long Island and one of only a few in the country, now connects Adelphi University with local community college students—streamlining their path to a bachelor's degree.
The Nassau-Adelphi Gateway Program, announced in June, brings Adelphi's "relentless dedication to student success" to a whole new population of students. The partnership with nearby Nassau Community College (NCC) allows community college students to live on Adelphi's campus, receive academic and career advising, and participate in campus activities while pursuing their associate degree.
"We want community college students to get involved with campus life and activities so they feel comfortable on a college campus," said Kristen Capezza, MBA '12, Adelphi's vice president of enrollment management and University communications. "If they are part of the Adelphi community from the start of their academic career, they're more likely to stay in school and get a bachelor's degree."
Live at Adelphi, take classes at NCC
Here's how the program will work. Beginning in the Fall 2021 semester, 30 NCC students will be able to live in residence halls on Adelphi's Garden City campus while taking classes at the NCC campus just three miles away.
NCC students who choose not to live on Adelphi's campus can still sign up for meal plans and participate in other University events, Capezza said.
NCC students will have access to all campus facilities, just like Adelphi students do. They'll be able to eat in the dining halls, hang out at Adelphi's newly renovated and expanded Ruth S. Harley University Center, use the library and bookstore, enroll in leadership and career development programs, and have a parking decal for Adelphi's campus. They'll do everything but take classes at Adelphi.
The NCC students will also have access to early academic advising with members of the Adelphi Transfer Student Success Team, who will help make sure they are taking the classes they need to smoothly transfer from Adelphi once they finish their associate degree. Each Gateway student will also have an assigned mentor to help navigate the program.
"We'll help make sure they complete the requirements they need at NCC and don't take unnecessary or duplicative classes," Capezza said. "We'll help make the transition smoother between community college and four-year college."
A shuttle will run between the two campuses throughout the week, ferrying the NCC students from their classes on the community college campus to their dorms and activities on the Adelphi campus. Gateway students will have IDs for both NCC and Adelphi.
Program cuts tuition costs for NCC students
The program doesn't just make college more accessible. It also makes college more affordable. While NCC students will pay the same price for room and board as Adelphi students, they'll save money on tuition. That's because NCC classes are less expensive than classes at Adelphi.
And when the NCC students in the Gateway program are ready to transfer to Adelphi, their application fees and deposit fees will be waived, saving them several hundred dollars.
Jermaine F. Williams, EdD, president of NCC, told Inside Higher Ed that easing the transition to college aligns with NCC's mission as a Hispanic-Serving Institution, where a third are Hispanic students and a fifth are Black students. He said he believes the partnership can help retain students of color and increase their college completion rates. Capezza said the program aims to give students with limited financial resources more access to college and increase socioeconomic diversity on the Adelphi campus.
Dr. Williams and Capezza also hope to increase enrollment at both schools. Community colleges around the country saw sharp declines in enrollment during the pandemic as classes moved online and students struggled with financial challenges during the resulting economic downturn.
NCC already provides Adelphi with the University's largest group of transfer students. Capezza said she expects the Gateway program to lead to an increase in transfers in two years.