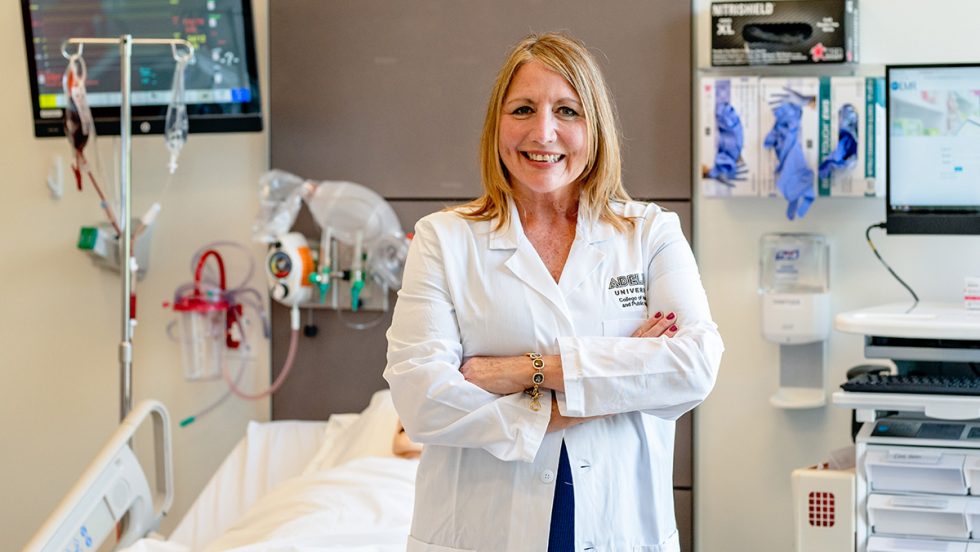 The Adelphi University College of Nursing and Public Health is one of 10 schools in the United States selected by the American Association of Colleges of Nursing to participate in an important initiative on resilience and self-care. Dean Deborah Hunt, PhD '12, explains—and shares her vision for nursing.
The COVID-19 pandemic has directed renewed and urgent attention to the importance of resilience and self-care in nursing. Adelphi is helping lead the way in making these skills a crucial aspect of nursing education.
Adelphi's College of Nursing and Public Health has been selected as one of just 10 schools in the United States to participate in a pilot program from the American Association of Colleges of Nursing (AACN), called A Competency-Based Approach to Leadership Development and Resilience for Student Nurses. One of several initiatives the organization has developed to guide nursing programs in updating their curriculum based on the new competency-based essentials of professional nursing, the pilot program is designed to prepare the next generation of nurses with strong skills in resilience, self-care and well-being. Developing these skills will help nurses thrive under pressure, avoid burnout, and overcome stress and compassion fatigue.
Adelphi is the only institution in New York state selected for this competitive program.
Beginning this semester, the College will receive two grants of $5,000 to further incorporate resilience and leadership skills into its programming.
"It's an honor to be a selected for this program," said Deborah Hunt, PhD '12, dean of the College of Nursing and Public Health. "Resilience is incredibly important to student nurses and all healthcare workers, particularly in this post-pandemic period, when we're experiencing a significant nursing shortage and faculty shortage. The goal is to continue preparing our future nurses with the competencies highlighted by this program in addition to many others."
A head start in building resilience
The AACN received an overwhelming number of applications for the initiative. Nursing Professor Marilyn Klainberg '63, MS '77, EdD, and Clinical Associate Professor Deborah Ambrosio-Mawhirter '81, MS '95, EdD, played a pivotal role in helping Adelphi stand out. The two had already begun incorporating resilience and leadership skills into their curricula even before the AACN announced the pilot program.
"When I first learned about the program, I thought it could provide a wonderful way to expand the work that Professors Klainberg and Ambrosio-Mawhirter were already doing, with support from the AACN," Dr. Hunt said. "This wouldn't be possible without them."
In its application, Adelphi also contributed letters of support from several clinical partners, including Northwell Health, NYU Langone Hospital and Mount Sinai South Nassau, that have provided real-world learning and career opportunities for many Adelphi nursing students over the years.
A leader in nursing education
The College of Nursing and Public Health, which is one of fewer than 100 schools nationwide recognized by the National League for Nursing as a Center of Excellence in Nursing Education and as a U.S. News & World Report Best College and Best Grad School for Nursing, continues to add to its contributions to scholarship, expand its academic offerings and attract support from donors,
In November 2022, Dr. Hunt released her new book, Fast Facts for Patient Safety in Nursing: How to Decrease Medical Errors and Improve Patient Outcomes (Springer), providing best practices for all healthcare workers.
The Doctor of Nursing Practice (DNP) program in adult gerontology primary care, first offered in Fall 2019, was recently accredited by the Commission on Collegiate Nursing Education (CCNE), demonstrating the program's high quality.
"Now we're planning to expand to offer a DNP in psychiatric- mental health," Dr. Hunt said. "This will allow us to serve even more students and broaden our scope here at the University."
The College also plans to earn accreditation for its master's degree program in health informatics and the state-of-the-art Clinical Education and Simulation Lab. The lab is equipped with seven clinical exam rooms, 22 beds, a home-care setting and more than 20 manikins, providing students with a safe and technologically advanced learning environment.
The College's strength and importance has also led to significant donations designed to help further its mission. Samuel Fremd '69 left $4 million to Adelphi's nursing students in one of the largest gifts in the University's history. Trailblazing nurse alumna Mildred "Millie" Loughlin Kahane '49 donated $1 million to nursing students who have financial need.
Building strong support for nursing students
The College is expanding its support for students as they enter their careers. Dr. Hunt is working with the College's advisory board to create a Student and Alum Nurse Advocacy Forum that will connect current nursing students with alums in the industry and provide networking, leadership, professional development and advocacy opportunities.
"It's important to help our new nurses as they transition into their careers, especially because turnover right now is so high," Dr. Hunt said. "We plan to meet consistently to support all of our current students and recent graduates and stay in close contact with our alums. We are committed to preparing our future nurses to be extraordinary and serve as expert clinicians, future leaders, educators and scholars. "
This is just another resource that will help the next generation of nursing students maintain resilience in an ever-changing and growing field, with much more to come as a result of this new opportunity provided by the AACN.