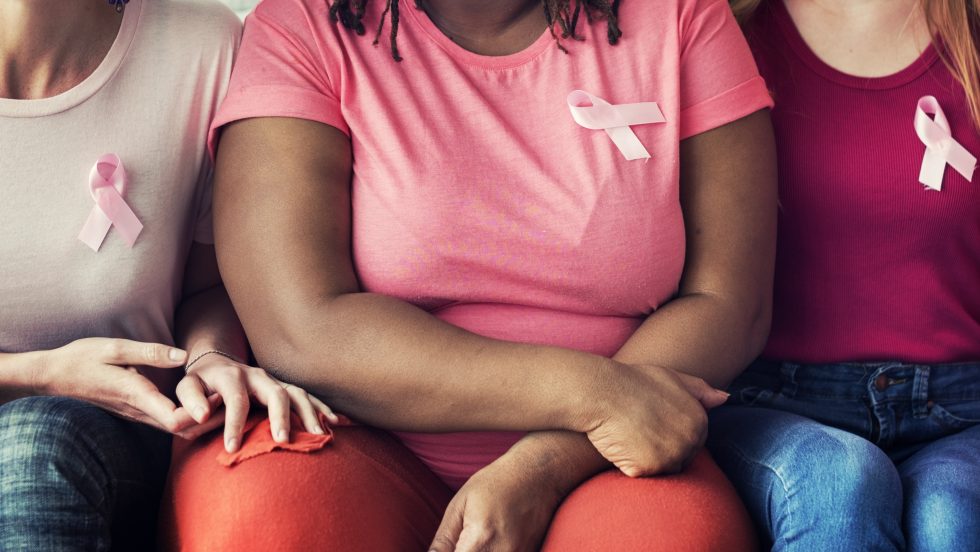 October is Breast Cancer Awareness Month, but for the Adelphi NY Statewide Breast Cancer Hotline & Support Program, there's no rest in the battle against breast cancer, and supporting patients, survivors and families is a year-round effort.
Many Voices interviewed Nina Foley, a licensed master of social work (LMSW) and the volunteer and hotline coordinator about how the program is better serving women and communities of color, bringing in volunteers from diverse backgrounds, new developments in treatment, and plans for October events.
How can our campus community support your team's upcoming initiatives?
The mission of the Adelphi NY Statewide Breast Cancer Hotline & Support Program is to educate, support, empower and advocate for breast cancer patients, professionals and the community. Therefore, first and foremost, the Adelphi breast cancer support program would benefit by reaching out to the larger community to spread the word about our programs for those affected by breast cancer and their families. We offer the oldest breast cancer hotline in the country, which is staffed by professionally trained and supervised volunteers who are also breast cancer survivors. We offer a peer-to-peer program that connects callers who have a specific diagnosis or experience with a volunteer who shares the same experience. We offer support groups in English and Spanish. There are counseling services for both individuals and their families to help them navigate through a breast cancer diagnosis. Finally, we offer free educational forums focused on medical, legal, psychosocial and wellness topics that are facilitated by experts.
What steps are taking toward becoming more diverse and inclusive, and how can Adelphi help?
We are diversifying our volunteer base. It is an initiative we hope the Adelphi University community can support. Our Sisters United in Health Outreach program provides women of color and minorities on Long Island with culturally competent breast health information through workshops, health and wellness events, and one-to-one education. Expanding our volunteer base with individuals from diverse backgrounds means that the women (and men) we serve will be able to learn from volunteers who they can relate to, who they will see themselves in, when they attend community outreach and health workshops on campus and across Long Island. This is key to build trust and ensure that individuals feel comfortable when they come to us regarding their healthcare. Ultimately, we seek to refer women to free or low-cost mammography screening in collaboration with the New York State Cancer Services Program, and we are most successful when we have staff and volunteers who reflect the population and speak the languages of the communities we serve. Our dedicated volunteers answer hotline calls, provide outreach to the community, assist with fundraising, support special events and conduct office work. If you are interested, please contact me at nfoley@adelphi.edu.
What are some recent breast cancer challenges/trends we should be aware of?
According to the Behavioral Risk Factor Surveillance System (BRFSS) in 2018, the latest report, in New York state, 82.1 percent of women aged 50–74 receive breast cancer screening every two years. However, "women aged 50–74 years without a regular healthcare provider are significantly less likely to have received a mammogram within the past two years (53.7 percent) compared to women aged 50–74 years with regular health care providers (84.6 percent)." Therefore, in order to increase breast cancer screening rates in New York, there is a need for sustaining programs that provide free services to those without health insurance.
Locally, Nassau and Suffolk Counties have higher breast cancer incidence rates than New York state as a whole. In 2020, the number of clients from our Sisters United in Health program without health insurance referred to community health screenings increased to 90 percent. In addition, research has shown that cancer screenings abruptly stopped and, in certain communities, have not resumed to pre-pandemic levels. The COVID-19 pandemic has become a barrier for women of color and those from underserved populations to seek and receive screening services, which will likely amplify the existing breast cancer disparities among these populations.
Can you speak to the disparate impact of breast cancer on communities of color?
African American and Hispanic women are among the most vulnerable New Yorkers and are more likely to die from breast cancer. Despite having a lower prevalence of breast cancer than White women, African American and Hispanic women on Long Island experience more late-stage diagnoses, while African American women face the highest mortality rates. These women experience a significant number of personal and structural barriers. Education about breast health and early detection, as well as culturally competent navigation services, are imperative to increasing early detection and access to quality healthcare in these communities.
What do you see as next steps for research to help combat breast cancer?
The next steps in breast cancer research will ideally revolve around the inclusion of more women of color in clinical trials, continue to develop treatments that prevent metastasis, increasing knowledge about prevention strategies and determining the impact of different types of community-based interventions on breast cancer outcomes among underserved populations so that funding and policies can be implemented accordingly.
What are other ways the campus community can become involved with the Adelphi breast cancer program?
This October, during Breast Cancer Awareness Month, we have several events over Zoom as well as on campus, so save the date and join us! On October 1, we are holding an educational forum where Dr. Heather Zinkin, a radiation oncologist from Northwell Health, will speak with the focus of "Getting Back to Your Health" to address a decrease in mammography and other health screenings. On October 13, we have our inspirational Celebration of Survivorship, where a panel of speakers will share their stories of resilience. Finally, on October 22, we are partnering with the Student Activities Board for a Drive-In Movie Night. Join us for a family-friendly Halloween screening of Disney's Coco. For more information and to register, visit our website at breast-cancer.adelphi.edu.
Finally, remember that we are all living through difficult times. Now, more than ever, it is important to remember that you are not alone. Know that the Adelphi Breast Cancer Program is here to help, listen and support you and your family. If you or someone you love is struggling with a breast cancer diagnosis, experiencing difficulty navigating the health system amid the pandemic, looking for vital community resources, need help scheduling and/or are anxious about your mammography appointment, please call us at 1.800.877.8077.