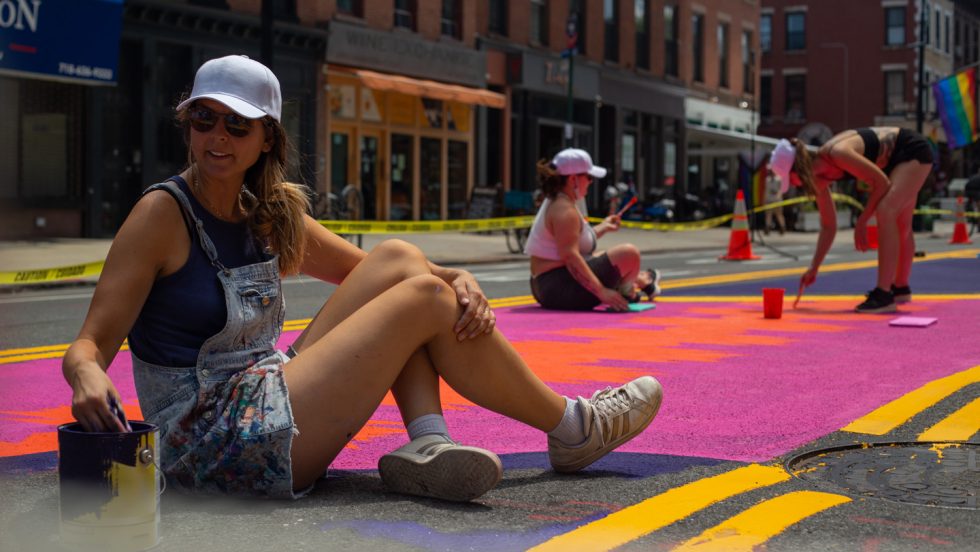 It's a warm Friday evening in early August and Brooklyn's Vanderbilt Avenue is full of people sitting on carpets.
Painted carpets, that is. Five carpets, painted in vibrant reds, blues, greens, yellows and purples applied directly to the asphalt, each in a different style, line the block between Dean and Bergen streets. People sit in lawn chairs or right on the painted road, eating poke and taqueria takeout, while friends lean on bicycles. Somewhere music is playing and the air smells of pizza and roasted meat.
"It's exciting how they're interacting with it," said Cara Lynch '12, the artist behind Carpet Collage. "It's become a part of the block." She wanted the carpet to replicate the feeling of being in a living room, she said. "All of us have been gathering outside so much over the last year and a half, this seemed like a way to extend our spaces into public space."
Taking it to the streets
Carpet Collage was commissioned by the New York City Department of Transportation in conjunction with Vanderbilt Avenue Open Streets. From April through November 21, six blocks in the Prospect Heights neighborhood have been closed to car traffic on Friday nights and weekends. People stroll freely, restaurants provide open seating in the streets, and there's a calendar of cultural events and activities.
Lynch's many previous public artworks made her a natural choice for the project. The Department of Transportation knew to reach out to her because right after she graduated, in October 2012, it had selected her proposal to create art around its bike lane protection.
"That was my first commission," said Lynch, who has also created art installations for the city's Metropolitan Transportation Authority, Health + Hospitals, and Department of Parks and Recreation. "We've now come full circle."
Now she had only three weeks to weave this together. To pile on the stress, she was also working on a mural for a Staten Island hospital.
For this project, she had to come up with an artistic vision and she needed to recruit a crew. The paint could only be applied when the road was closed, so it had to be completed in one weekend—48 hours. That meant trained artists who knew what they were doing.
Lynch knew just where to find them. She contacted classmates from Columbia University, where she received her MFA in 2020. And she called on her former classmates and professors from the Department of Art and Art History at Adelphi. They made up more than half the team.
"Cara is very, very creative and she's also business-minded," said Carson Fox, professor of art and art history. "She is someone you can count on. She thinks on the ground, solving the problem. She's been able to coordinate her work and outside work without losing herself as an artist."
"Talented, creative, hardworking and ambitious" is how Kellyann Monaghan, associate professor and chair of the Department of Art and Art History, described her former student. "I'm not surprised at the level of work that she's continued to do as a professional artist."
Laying down the paint
Lynch first thought of painting picnic blankets, but she quickly switched to carpets. She looked at hundreds of images from all over the world, in carpet stores, on eBay and at the Metropolitan Museum of Art. She sketched out the designs, and Jenna Ventura '21 helped her cut 250 stencils. She bought 25 gallons of Benjamin Moore exterior paint (including a pink called Hot Lips), brushes, rollers, tape measures—and caution tape to secure the site.
"I've never painted at night before," she said. "It was a really fun mix of two different worlds of artists and we had really good energy."
That's largely because of Lynch, said crew member Catherine Falco '21, who has a BFA in studio art but had never painted a mural before.
"Cara really doesn't have an ego," Falco said. "I feel like an equal. No question is silly. She gives me lots of resources, points out possibilities for me, helps me think about my own path. I could go to her for questions or references and she would be down to help me."
The initial painting process went more smoothly than she had hoped, Lynch said, describing how she ran up and down the block from 10 in the morning to 10 at night answering questions and giving guidance. She bought everyone pizza and ice cream. Passersby, including Fox's dog-watching friends, cheered them on.
Around 5:00 p.m., a mariachi band serenaded them and, later, a DJ spun tunes. Professional drone photographer and videographer Shawn Skinner made a video. The crew went back on Sunday for a few hours of touch-ups—they had just enough paint—and then went out to celebrate.
"People don't get to see enough art—and art is more than what you see in museums and galleries," Lynch said. "It's important. It gives people joy. Public spaces are important too, and it's important to encourage people to use spaces that belong to them. As an artist, I see making public art as an opportunity to give something back."