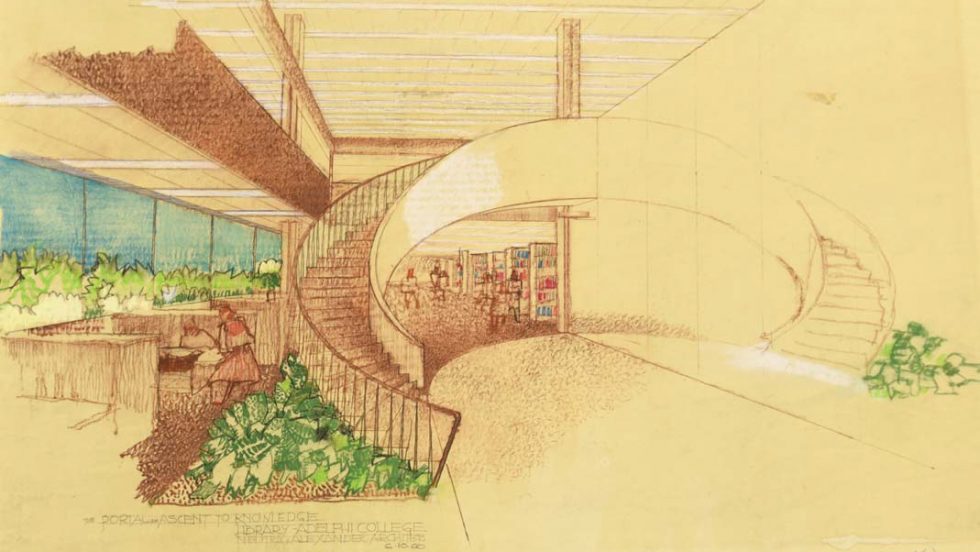 Considered a "living library" by its designer Richard J. Neutra, Swirbul Library has undergone dramatic renovations while remaining intergenerational.
Students in Swirbul Library gather at rows of group study tables, snacking and chatting as they finish papers or quiz one another with flashcards. Others huddle in collaboration studios where they use dry-erase walls and large digital screens to brainstorm ideas. Some seek peace in study lounges or watch 3-D printers whir to life in the 3-D printing studio.
Richard J. Neutra, the architect of Swirbul Library, envisioned a "living library"—an active, innovative space to replace the cramped holdings in Levermore Hall that could be adapted to meet future students' needs. Since Swirbul opened in 1963, it has upheld this vision while remaining both peaceful and practical.
A 1982 renovation brought computer networking to the library, allowing students to instantly view collections from Swirbul and several other academic libraries. "Conducting research was a lot more tactile 20 years ago than it is now," said Anna Konstantatos '97, adjunct professor of anthropology at Adelphi. "We had to photocopy journal articles and use microfilm to read old newspaper articles. I spent a small fortune on photocopies."
Over the years, Swirbul has grown ever more social. "When you're as busy as I am, you need the support of your friends to give you extra motivation," said Amanda Irace '17. "Knowing they are just as busy is comforting."
While Swirbul has changed dramatically, its appeal remains intergenerational. Robert Moldwin '80, M.D., returned to write a book at his same study spot 20 years after graduating. "Perhaps fed by some nostalgia, I thought that it would be terrific to go back to that same area of the library and get some ideas flowing," he said. "It worked incredibly well."