Up for a Grammy this weekend is a work of art by our Pulitzer Prize-winning University Professor Paul Moravec, DMA. His oratorio, Sanctuary Road, tells a powerful story of the Underground Railroad. I invite you to enjoy this masterpiece.
Winning honors is nothing new for composer and University Professor Paul Moravec, DMA. He received the 2004 Pulitzer Prize in Music for Tempest Fantasy, a chamber work based on the Shakespeare play. He has won a Guggenheim Fellowship and he's been awarded a Rome Prize Fellowship.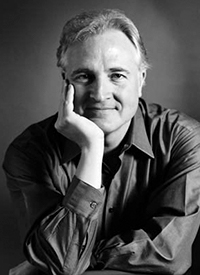 Now he may be adding a Grammy to his shelf, as the recording of his oratorio, Sanctuary Road, is up for the 2021 Best Choral Performance award. The winner of the prize will be announced on March 14.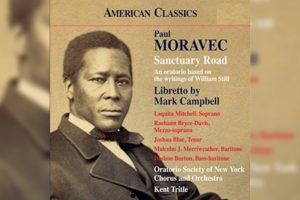 Sanctuary Road, which Dr. Moravec composed with the librettist Mark Campbell, is based on an 1872 book by the African American abolitionist William Still describing his experiences aiding fugitive slaves—and documenting their experiences—as a conductor on the Underground Railroad. The musical work premiered at Carnegie Hall in May 2018. The recording of the performance was released on CD, download and streaming services by Naxos Records in January 2020. The first movement is available for listening on paulmoravec.com; the entire oratorio can be heard on Spotify.
"Apart from the immediate professional benefit of receiving a Grammy nomination, which is in itself a rare and prestigious distinction for any composer, it means that this oratorio has a better chance of enjoying a healthy future as it goes out into the world," Dr. Moravec said when the nomination was announced in November 2020. Indeed, a healthy future seems all but certain: Campbell and Dr. Moravec are already at work on a fully staged opera of the work, which is scheduled to be premiered once opera houses are allowed to open.
Sanctuary Road isn't just an artistic achievement. It's also a work of social and political significance. The 50-minute piece, for full chorus and orchestra, brings to life the hardships of enslaved people escaping to the North for freedom, as described in Still's The Underground Railroad Records (Modern Library 2019).
"My work as a composer was to bring these individual characters (who, of course, are actual historical figures) to life through song and orchestral accompaniment," Dr. Moravec explained in a recent email. "In the case of one aria, titled 'Rain,' Mark wrote an entirely original, highly poetic text for a kind of composite character based on several sources. One dramatic template I used for this oratorio is J.S. Bach's treatment of the Evangelist in his St. Matthew Passion. In our oratorio, William Still performs a triple role, as 'evangelist-narrator,' as commentator and as a participant in the story's action."
Art and music are powerful ways to learn about and remember history, according to author, poet, onetime choir member, and Adelphi's vice president of diversity, equity and inclusion Jacqueline Jones LaMon, JD, especially when the subject is as difficult as America's history with slavery.
"Art can help us to develop empathy and feel unfathomable depths of pain," she said. "It takes a fact, it takes a moment in time, and it adds texture, it adds nuance to that moment. We inhabit the cacophony, we are taken along with the crescendos. We become one with the piece and one with the moment."
The experiences of and perpetuation of racism, of course, don't exist in a vacuum. Just as history is a shared experience, the telling of it—by artists, authors and academics—is a joint responsibility, she said.
"It's important that white composers and white artists embrace events that occurred in our American experience," LaMon said. "It involved all of us, it touched all of our lives. It's an American experience. I think the problem is when one inhabits a character without doing the necessary research. When the research is done and empathy employed, the results can be quite extraordinary."
Sanctuary Road is available as a CD or download and can be heard on a variety of streaming platforms. The 63rd Annual GRAMMY Awards will be broadcast on March 14, 2021.