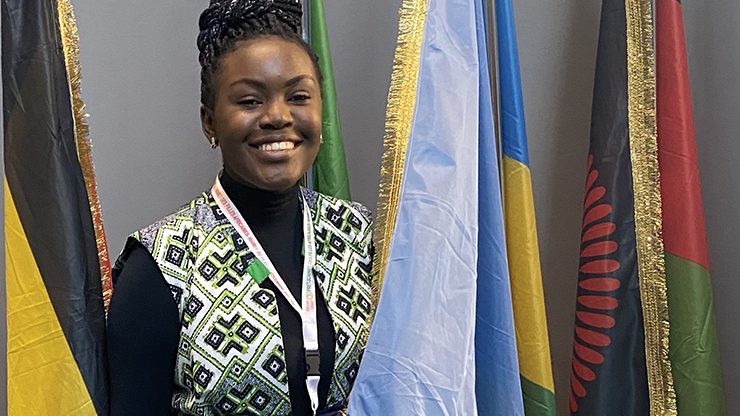 Aurore Ineza had a life-changing student experience at the African Girls' Summit in Niger, reporting on panels led by the world's top nongovernmental organizations (NGOs). As a global thinker, this future journalist covered critical discussions of human rights for girls around the world.
Aurore Ineza, a sophomore in Adelphi's Levermore Global Scholars program, has always known that girls struggle for basic rights in Africa.
Born in Rwanda, she has lived in Kenya, Burundi, Senegal and Niger, moving with her father, who did humanitarian work with nongovernmental organizations (NGOs) all over the continent.
But she had a life-changing view of the struggles African girls face when she attended the African Girls' Summit in Niamey, Niger, in November 2021.
"I've always considered myself to be a person who puts women's empowerment ahead of everything, but when I went there, I realized I just was doing not enough," Ineza said. "There's so much more happening to girls that I didn't know about."
Ineza's experience at the summit amply reflects the mission of the Levermore Global Scholars program, which prepares students to become global thinkers and leaders in a changing world. The program focuses on challenges faced in regions across the world, including climate change, sustainability, health, poverty, peace building and human rights. It complements interdisciplinary coursework with internships, study abroad, service projects and activities at the United Nations.
Climate Change is Disproportionately Affecting African Girls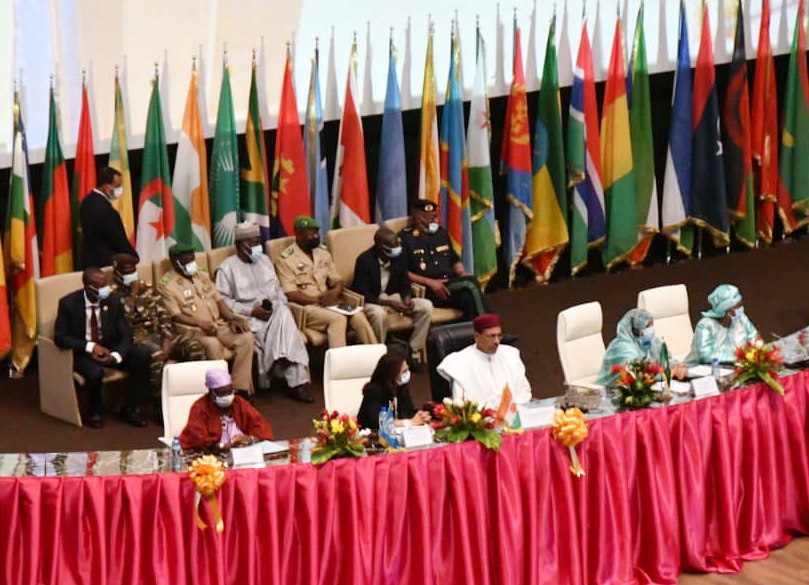 A communications major, Ineza attended the three-day summit as a journalist working with the press team from the human aid organization World Vision. She took photographs and videos and interviewed attendees for the World Vision website.
The experience brought a new source of adversity for African girls to her attention: Climate change, such as increasing temperatures, drought and rising sea levels, is exacerbating the long-standing and harmful practices of child marriage and poor education.
"Girls are the prime victims of climate change issues," she said. "If a family is struggling for money due to climate issues, daughters may be pulled out of school or married off to older men."
The summit noted that 125 million African women were married before their 18th birthday and that 10 million child marriages are anticipated by 2030.
The summit also addressed female genital mutilation, vowing to eliminate a practice that it says is putting 50 million African girls below the age of 15 at risk. The stark numbers made a powerful impression on Ineza.
"One girl spoke up at the conference and said 'Let's not just call genital mutilation a harmful practice. Let's call it what it is. It's a crime,' " she said. "She went on to say a lot of things, details about what happens, that took me out of my skin."
Letting Girls' Voices Be Heard
Launched in 2015 by the African Union, an organization comprising 55 member states, the African Girls' Summit was notable not only for the issues it addressed, but for its inclusion of more than 100 adolescent girls in the discussion.
"Girls are often excluded in conversations about their future," Ineza said. "Organizers of this event chose to include girls so that their voices could be heard."
The summit also brought together representatives from across Africa as well as some of the world's top humanitarian organizations, including UNICEF, World Vision, Terre des Hommes, ChildFund, and Save the Children. Niger's president, Mohamed Bazoum, also participated in the conference.
It was an inspiring experience for Ineza. "The summit allowed me to meet many visionaries who are taking steps to empower women in Niger and across the continent of Africa," she said.
Ineza is now more determined than ever to take what she learns as a Levermore Global Scholar to help bring about change.
"I have so much love for this continent, so much love for these nations that have made me who I am," she said. "My goal is to always make Africa a safe space and a place where people have a possibility to achieve their dreams. Whatever line of work I end up in, that will be at the forefront of my mind."