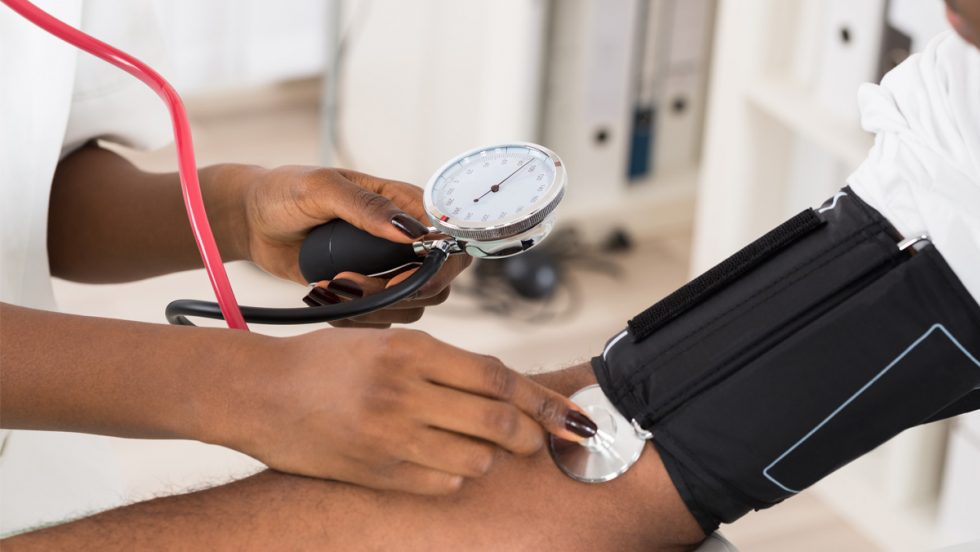 According to the American Heart Association, about 55 percent of Black adults have high blood pressure, also known as hypertension.
Uncontrolled hypertension is a major cardiovascular risk factor, leading to serious negative health outcomes like strokes, heart failure and chronic kidney disease—which have higher incidences in Black communities than in other racial and ethnic groups. Lifestyle modifications and antihypertensive medications can be critical to keeping blood pressure in check and avoiding life-threatening yet preventable consequences.
With the rate of hypertension among Black individuals being a truly global health concern, Ednah Madu, PhD '18, assistant professor in the College of Nursing and Public Health, set out to expand the understanding of potential factors in adherence to prescribed hypertension treatment regimens, such as taking medication and following recommended lifestyle and dietary changes. Her co-authored study, "Moderating Effect of Country of Residence in Predicting Adherence to Treatment Among Black Adults Diagnosed with Hypertension," was published in the Journal of the American Nurses Association and examines data from the United States and Nigeria to assess whether where a patient makes their home impacts their adherence to treatment for their hypertension.
Dr. Madu says her clinical and community service experience motivated her interest in researching this topic.
"As a nurse practitioner in primary care, I cared for many patients with hypertension. I also started a church health ministry in my community which gave me and my team opportunities to engage in multiple health outreach projects," she says. "I regularly observed patients' struggles with adhering to recommended treatment for their hypertension, even when they had health insurance or were connected with healthcare providers."
An additional motivation for this research: Dr. Madu migrated from Nigeria to New York in 1991 to practice nursing and has conducted health mission trips back to her home country that revealed the struggles individuals report in keeping their blood pressure at goal.
Her own clinical experience is confirmed in the literature on this subject, which shows a higher prevalence of hypertension, as well as greater challenges in adherence to treatment among Black individuals. Through this research, Dr. Madu is expanding on the knowledge of factors that might influence adherence in this population.
Examining the Factors Behind Hypertension Treatment Adherence
Dr. Madu and her colleagues from Alex Ekwueme Federal University and Ebonyi State University in Nigeria and the American University of Antigua completed a secondary review of data from two separate cross-sectional studies for this research—one from New York and the other from Ebonyi State in Nigeria. All participants self-identified as Black and had been informed at least once by a healthcare practitioner that they had high blood pressure.
To determine whether the participants' residency in the United States or Nigeria impacted their adherence to hypertension treatment, the team reviewed specific factors believed to influence adherence behavior—patient factors, like age, self-efficacy, illness beliefs and hypertension knowledge; clinical factors, such as depressive symptoms and income levels; and healthcare system factors, including provider-patient communication and social support.
Notable Findings
Factors that most influenced adherence to hypertension treatment among those in the Nigerian data sample are varied, from income and employment status to levels of social support and self-efficacy. Notably, in the United States data sample, only income status and reports of depressive symptoms were factors significantly linked to treatment adherence.
"In our study, depressive symptoms significantly influenced adherence in the same strength and direction, regardless of the country of residence," says Dr. Madu. "This is an interesting finding among Black persons, has clinical implications and deserves further exploration."
She says that finding depressive symptoms to be significantly associated with adherence in a similar direction and strength among Black persons who reside in both countries has implications for clinicians to conduct priority psychosocial assessment—depression screening in particular—when rendering care to Black persons with hypertension.
Interestingly, patient perceptions about their illness—a patient's cognitive appraisal and personal understanding of the medical condition and its potential consequences, as well as how they mentally frame living with a disease—had opposing effects in the two samples.
"In the U.S. sample, individuals with weaker illness perception were more adherent to treatment while those with stronger illness perception were less adherent to treatment," says Dr. Madu. "On the other hand, Nigerian participants with weaker illness perception were less adherent while those with stronger illness perception were more adherent, as one might expect."
She says this finding suggests that interventions to improve adherence could target patients' illness beliefs about their hypertension diagnoses.
Dr. Madu notes that healthcare system differences between the United States and Nigeria have implications for healthcare access, hypertension management and treatment adherence. Whereas the U.S. healthcare system runs a multi-payer, heavily private healthcare system, Nigeria's Tier-3 governmental healthcare management system relies on patients paying out of pocket before care can be initiated in most healthcare settings. She says this practice could delay treatment or discourage access to care, leading to possible reliance on alternative remedies for care.
One surprising finding was that, despite age being a well-known factor in the development of hypertension and adherence to treatment, it did not emerge as a significant factor in treatment adherence in this study, in either sample. Dr. Madu indicates that it would be an interesting topic for further research.
Research Impact
Dr. Madu says this research has implications not only for clinical practice and healthcare policy, but also health equity.
"Overwhelming evidence from the literature shows a higher prevalence of hypertension and hypertension-related complications and mortality among Black persons compared to other races," says Dr. Madu. "This study furthers the understanding of targeted interventions that can improve healthcare access and hypertension control and shows that policies designed to narrow health disparity gaps are warranted."
---
This story was featured in the Fall 2022 edition of Scholars and Artists of Adelphi University. View the full newsletter, which highlights the scholarly and creative work of Adelphi's faculty members.