This month, Adelphi's new Hispanic Community Partnership Program gave 17 local high school students a firsthand look at college life.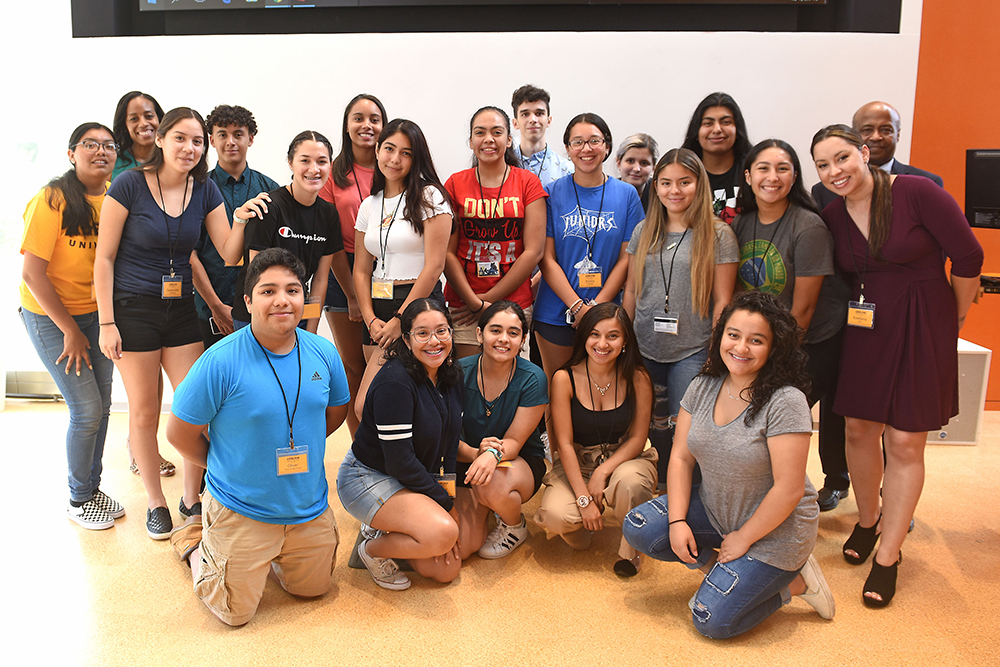 Hispanic high school students have a new opportunity to experience campus life firsthand before they embark on their college careers.
This summer, Adelphi launched its inaugural Hispanic Community Partnership Program, a free college-readiness program for rising high school seniors of Hispanic background from the tristate area. From August 1 to August 4, 17 students stayed on the Adelphi campus and enjoyed workshops and activities that introduced them to the college experience.
This new program was created by Adelphi's Office of Diversity and Inclusion.
"I hope that the program helps students find success at whatever college they decide to attend," said Perry Greene, PhD, vice president for diversity and inclusion. "And I hope that people hear about this program and begin to consider Adelphi as a place that cares and is willing to go out of its way to serve a broader community." Programs like this one are part of the reason that College Consensus ranked Adelphi's Summer Pre-College program among the top 30 in the nation.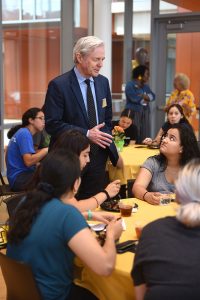 Adelphi received close to 120 applications for the program. Teachers and counselors nominated students for consideration, while others nominated themselves.
Those selected participated in workshops on critical reading and writing, science and technology advancement, the college application process, time management, and overcoming adversity. There was also a workshop on financial literacy for both students and parents, presented in English and Spanish.
"A lot of our students tend to be first-generation college students, and the finance portion of it can be tricky," said Estefania Zea, project coordinator for the Office of Diversity and Inclusion. "So we want the parents to get involved, too."
There were also yoga sessions, ice cream socials and a trip into Manhattan to visit the Museum of the City of New York. The program concluded with a certificate ceremony.
"We want students to see what college is like and give them the skills, resources and confidence to pursue a college degree," Zea said. "We want them to see that a degree is attainable and that Adelphi is right here in their backyard."
Hispanic students currently make up 19 percent of Adelphi's student body, a number that should rise given local demographics. If the number rises to 25 percent, Adelphi would be designated as a Hispanic-Serving Institution (HSI) by the Hispanic Association of Colleges and Universities. The designation makes schools eligible for federal funds.
"In order to interest Hispanic students and their parents, we wanted to be reciprocal in our relationships with the Hispanic community and provide a measure of service that would be attractive to them," Dr. Greene said.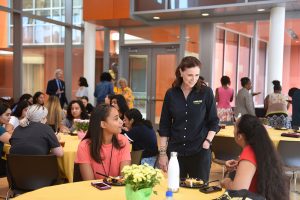 The Hispanic Community Partnership Program is just one of many diversity initiatives offered at Adelphi. Task forces for LGBTQ+ students, student veterans, immigrants and international students ensure that all members of the Adelphi community feel included and engaged on campus. And the Diversity Certificate Program trains faculty and staff to promote a tolerant and respectful learning environment. That program has been so successful that it has been adopted by two local high school districts.
Dr. Greene plans to welcome even more students to subsequent summer programs.
"This is the first year, so we kept our numbers relatively small," he says. "But we hope to make the program even bigger and better next year."
---
For further information, please contact:
Todd Wilson
Strategic Communications Director 
p – 516.237.8634
e – twilson@adelphi.edu