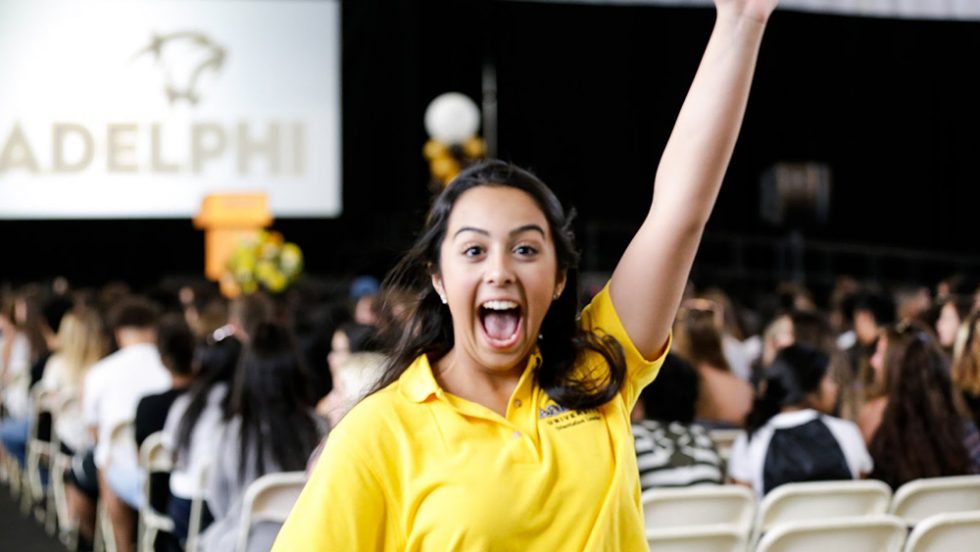 The Center for Student Involvement has worked tirelessly to transform First-Year Orientation into a virtual format for the Class of 2024.
It's part of every Panther's rite of passage to kick off their Adelphi University journey at First-Year Orientation. The resources learned at Orientation are invaluable, the friendships created last until graduation and beyond, and the event signifies the kickoff to a new chapter of a student's life. That's why the Center for Student Involvement has worked tirelessly the last few months to transform this amazing experience into a virtual format for the Class of 2024.
"While we had hoped to spend July with our Panthers on campus, we are confident that incoming students will enjoy the variety of live academic, campus life and social sessions, find our on-demand Orientation modules informative and accessible, and be well prepared to start the coming academic year," said Benjy Hechtman, assistant director for First-Year and Transfer Engagement in the Center for Student Involvement.
Hechtman and the Center for Student Involvement have kept the overall mission and engagement of the program intact but pivoted quickly to redesign it for the virtual world.
So what does Orientation 2020 look like? Gone is the two-session Orientation model, which is being replaced with on-demand materials that can be accessed by students on their own time, paired with live sessions that will take place multiple times throughout July and August. This new model allows registration to be rolling and provides multiple touchpoints for first-year students over the summer.
A full description can be found below:
In early July, an Orientation website will go live. Incoming first-year students will be able to explore uploaded content they can access at their convenience. These resources will welcome them to the Panther community and provide them with an overview of the Adelphi experience. The website will provide an introduction to student support services, connect them with involvement opportunities and serve as the landing page for the synchronous sessions from departments and offices.
Throughout July and August, first-year students will engage with students, faculty and staff through a series of live sessions via Zoom introducing them to the many opportunities, experiences and resources available to them as Panthers.
Students will still have the opportunity to connect with peers and student leaders through virtual social events that will provide fun and exciting ways to learn more about Adelphi.
Each first-year student will be matched with an experienced student leader who will help guide them throughout the summer and throughout their first year at Adelphi.
Most important, students will learn what it means to be a Panther and all about our traditions, spirit and Panther pride!
Though led by the Center for Student Involvement, New Student Orientation is a campus effort. CSI recognizes and thanks our campus partners who have quickly and graciously assisted in providing content and collaboration for the newest class of Panthers.
Sign-ups for Orientation are live and ongoing. Incoming students can register here.