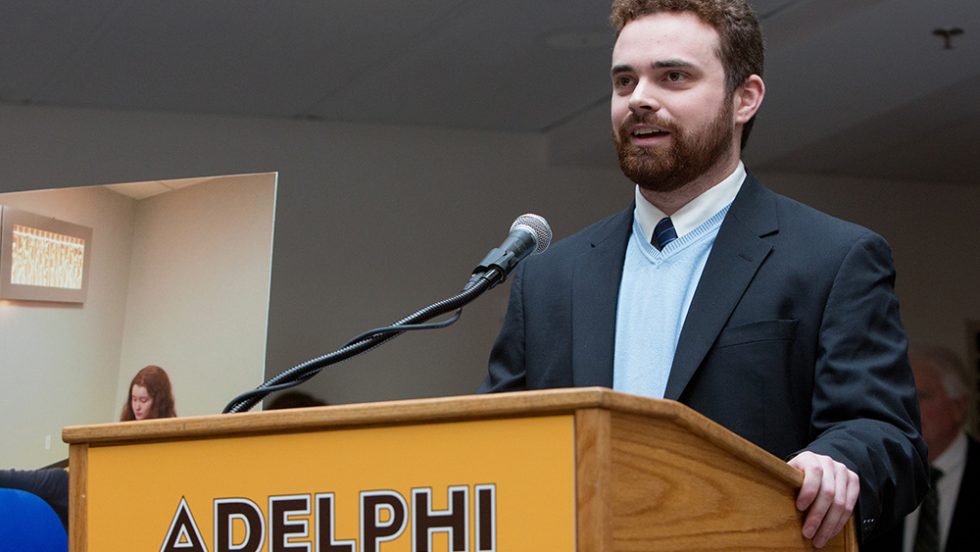 At Adelphi, Sean Culkin learned about the Bridges to Adelphi program, which provides a support system for students with autism spectrum disorder.
Sean Culkin '17 had already dropped out of one university when he enrolled at Adelphi.
"I had issues communicating with others, organizing my time and approaching others for help," Culkin says of his tenure at the University of Richmond. "At the time, I mostly ignored my autism diagnosis, so I did not seek out autism-specific resources to help myself cope with my issues."
At Adelphi, Culkin learned about the Bridges to Adelphi program, which provides a support system for students with autism spectrum disorder. This time, he was ready.
Not only was he ready, he thrived. Now he's an advocate for other individuals with the disorder. This July, Culkin was honored with the 2018 KultureCity Advocacy Award, an accolade honoring an individual who has gone above and beyond in making a positive impact in raising autism awareness in the community. He's in good company—a former winner was world-famous advocate Temple Grandin, Ph.D.
The road to this award began with a conscious decision. "When I came to Adelphi, I was ready to begin the process of embracing being autistic, and that allowed me to utilize the Bridges program," he said. "I had never seen or heard of a university with the facilities for autistic students that Adelphi has, so I think Adelphi was always the best school for me."
With the help of Bridges, he landed an internship with Northwell Health, in Lake Success, New York, which led to a full-time job working as a specimen coordinator for the cancer center there.
The Bridges to Adelphi program offers academic, social and vocational support services to 110 undergraduate and graduate students who self-disclose with diagnoses of autism spectrum disorder or other nonverbal learning disorders.
The program includes approximately 45 paid graduate staffers who provide academic support services to the students, as well as about 65 volunteer undergraduate students, or peer mentors, who socialize one-on-one with students for an hour each week.
The Bridges experience is tailored to each participant. Some students seek support occasionally during the week, while others utilize the program a dozen times a week. Students learn study skills as well as time management, organization and task prioritization, and are given help preparing for on-the-job work experience. They identify their strengths and work on improving them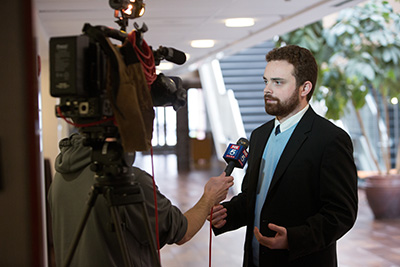 over time.
Since graduating, Culkin has been engaged in a wide range of advocacy activities, all of which contributed to the recognition he received from KultureCity. He has worked with Bridges students in workshops to prepare them for the transition to postcollege life, and he joined a campaign called RVC Blue Speaks to create job opportunities for students with autism spectrum disorder. He is also a self-advocate on the New York State Autism Spectrum Disorders Advisory Board, where he reviews and refines policy suggestions for the state government that would apply to those with autism.
KultureCity, based in Birmingham, Alabama, donated the new Sensory Room that opened on campus this winter. The room, which provides a calming environment for Bridges students along with all other members of the Adelphi community, attracted considerable media coverage. Fox 5 and FiOS1 News Long Island interviewed Culkin on camera, and Newsday featured him in its article on the room.
"My involvement with Bridges and KultureCity really helped to boost my confidence," Culkin said. "It showed me that being on the autism spectrum isn't a burden and doesn't hold me back. In fact, it provides strengths that can really push me forward—and I want other individuals to find that in themselves, too."
Mitch Nagler, M.A. '06, director of the Bridges to Adelphi program, said the transition from high school to college can be particularly challenging for students with the disorder.
"When they get to college, support services are optional, and their parents simply can't be very involved," he said. "Without a defined support system, it can be especially difficult for them to be successful."
When it comes to choosing a career path, navigating a work culture and determining ways to succeed in a chosen field, an individual has to become their own advocate. That is something that can be jolting for anyone, but especially for those with autism spectrum disorder, Nagler explained.
"I was provided a lot of structure in my K-12 years from family and counselors," Culkin said. "However, when I went to college, I found that I struggled because I lacked the life-structuring skills to compensate for my autistic symptoms."
Culkin added, "Bridges, rather than running the lives of the students, pushes the students to develop life skills to help manage their own lives. With that help, I was able to easily handle the transition from college to career life."