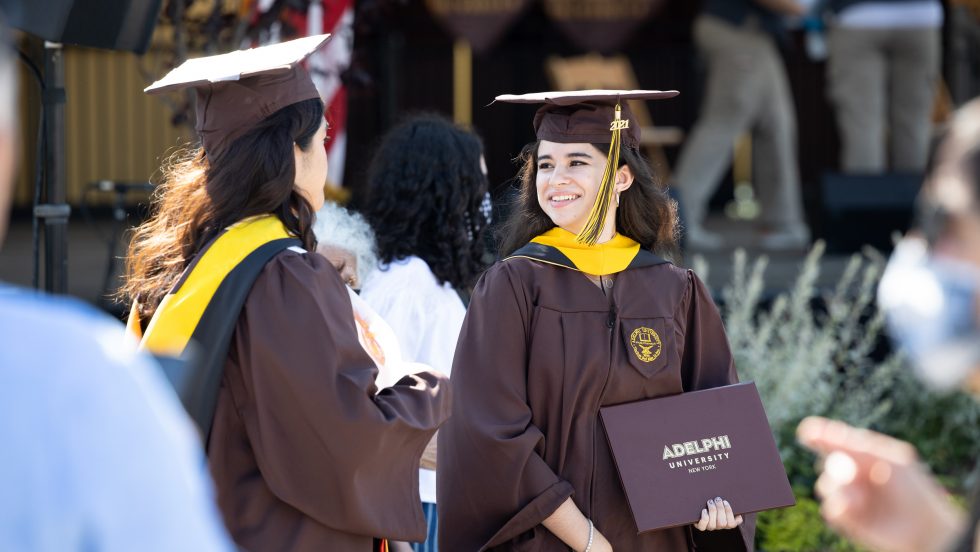 Dear Class of 2022,
Today we are sharing additional details with you about 2022 Commencement, as well as important steps that must be taken to participate in this celebration of your academic achievements at Adelphi.
Please make note of the following important information:
Guests: Graduates must select the number of guests they plan to bring on MarchingOrder, and each guest will be required to present a ticket to be allowed entry. All guest tickets will be emailed to the graduate via Ticketmaster in early May.
Health and Safety: Masks are recommended, but not required for those attending the 2022 Commencement ceremony. No proof of vaccination or testing will be required. These protocols are subject to change based on Nassau County and/or New York state COVID-19 regulations.
Arrival Details: Graduates and guests must arrive at Nassau Coliseum, 1255 Hempstead Turnpike, in Uniondale, by 10:45 a.m. on May 23. The Commencement ceremony will begin promptly at 12:00 noon.
Next Steps
All graduates who intend to take part in May 2022 Commencement must apply to graduate. If you have not done so already, please complete this necessary step no later than April 8.
MarchingOrder is now open—before the April 27 deadline, log in through the eCampus portal to claim your guest tickets and complete all requirements for Commencement. These requirements include:
Registering to attend the 2022 Commencement ceremony
Uploading your photo
Completing your message for the slide that will be displayed at the ceremony
Recording your name to ensure proper pronunciation
All academic regalia (caps and gowns) must also be ordered by April 27. Caps and gowns are required for all graduates to participate in Commencement.
You can stay on top of all upcoming deadlines, as well as other important information relating to Commencement, on our Commencement website. If you have any questions, please send an email to commencement@adelphi.edu.
Sincerely,
Cara Terzulli, MPA
Deputy to the Provost
Commencement Co-Chair
Kaitlyn Woods '12, MBA '15
Senior Associate Director of Special Events and Engagement
Commencement Co-Chair