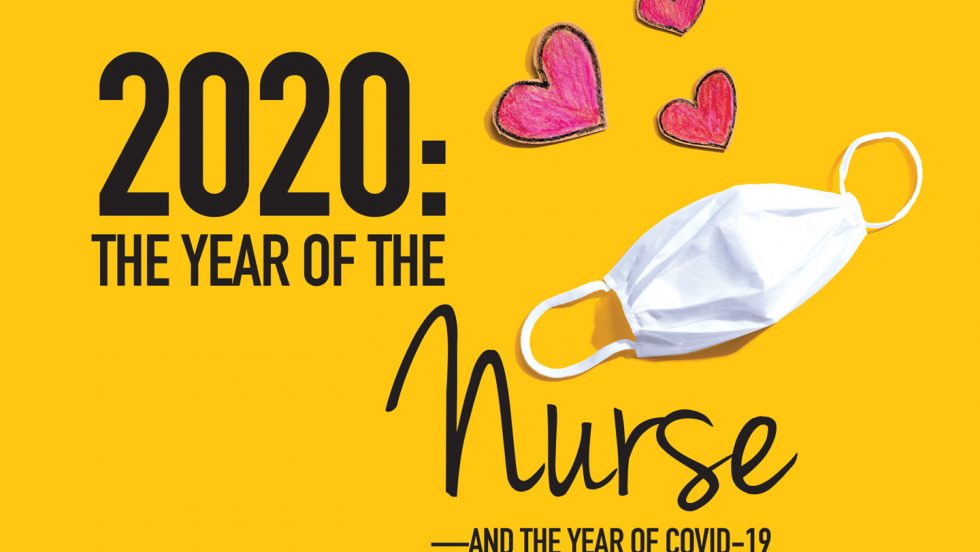 Adelphi's own healthcare heroes in the war against an invisible enemy work at Northwell Health, NYU Langone Health, St. Francis Hospital and other healthcare institutions in such areas as neurosurgical medicine, cardiothoracic surgery and emergency medicine.
They're faculty, alumni, recent graduates and even current students of the College of Nursing and Public Health (CNPH)—healthcare heroes working tirelessly under the most difficult conditions to save lives and comfort patients during the coronavirus pandemic. Elaine Smith '78, MS '88, EdD, who retired as dean in December 2021, said more than 200 students and faculty members responded in Spring 2020 when Gov. Andrew Cuomo of New York issued a call for assistance. That figure is in addition to faculty, alumni and students who were already working on the COVID-19 battlefront.
The College of Nursing and Public Health has been sharing our frontline heroes' stories on its LinkedIn, Facebook and Twitter accounts. These posts offer messages of hope and inspiration, appreciation for colleagues and the joy of being able to put their nursing skills into practice during a time of great need.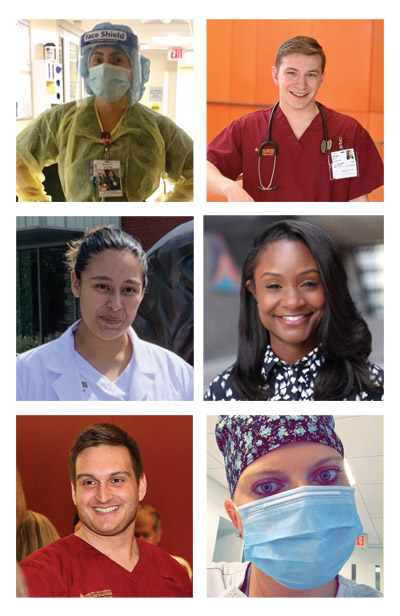 Brenna Shine '16, now in CNPH's Nurse Practitioner program while working on the front lines as a cardiothoracic ICU RN, said, "When you're a nurse, you know that every day you will touch a life, or a life will touch you."
Some, like Ethan Bravin '19, an RN at North Shore University Hospital, Manhasset, New York, took Adelphi's personal touch and paid it forward. Last spring, he posted this on Facebook: "If you have a family member or a loved one who is a patient that you are not able to see, I would love to stop by to visit them before my shift starts or after my shift ends. I cannot offer medical updates or communicate with the medical team involved in their care, but I can offer a hand to hold and a friendly face." He added, "I can also FaceTime family members to say hello or to see their loved ones during this difficult time." The response to his Facebook post has been "so supportive," he said. Bravin added that others have done the same, and he's happy to be part of it.
In the early days of the pandemic last year, staffs at numerous hospitals began playing the Beatles' "Here Comes the Sun" and other upbeat songs via the public address system whenever a coronavirus patient was being released. Anna Mendez, Class of 2021 and vice president of the Adelphi University Student Nurses Association, wrote, "I have learned that not all superheroes wear capes. I have learned so much and love it when the song comes on to let us know when a COVID-19 patient is being discharged. We will defeat COVID-19 together!"
Charleen Jacobs '06 and a CNPH PhD candidate, is a nurse practitioner in the Mount Sinai Health System's adult sickle cell program. She won a Resilience in Action award for her work last year during the pandemic—finding ways to keep at-risk patients away from the ER. "This work takes a village, and I could not do without my amazing team," she said.
Alex Klotsche '17, besides being an RN at New York Presbyterian Weill Cornell Medical Center, contributed to the pandemic fight in another way. In an article published last spring, he maintained that supply chain management might be key to preventing a recurrence of personal protective equipment issues in future public health crises. He suggested creating a Federal Reserve-type structure, a federally funded program that wouldn't be influenced by politics and would perform "stress tests" for healthcare organizations similar to those required of banks in the wake of the 2008 financial crisis.
Chelsea (Wollman) Imbriano '14, who has been serving on the COVID-19 front lines in North Shore University Hospital's neurosurgical intensive care unit, said, "We are stronger together and we will get through this together."
As Dr. Smith observed, "I'm sure 2020 will not soon be forgotten as the Year of the Nurse and Midwife."
Or, we might add, the year of healthcare heroes.