Prepare for a rewarding career in theatre arts education by choosing one of these highly-ranked performing arts programs.
Why Choose a Career in Educational Theatre?
A degree in educational theatre will enable you to introduce and enhance the use of theatre in schools, cultural institutions, theatre companies and nonprofit organizations. For students with a background in the performing arts, the world of theatre education will open opportunities to become a teaching artist, theatre educator, artistic director or arts education coordinator.
As part of Adelphi's Distance Graduate Programs in Education Group, the educational theatre program has partnered with graduate art education, educational technology, English education, and social studies education to provide accessible and meaningful online and blended learning.
Why Earn Your MA in Educational Theatre at Adelphi?
Explore your creativity in our lively, meaningful and deeply personal online learning communities, freed from the constraints of traditional settings and supported by a university that has a long history of championing the arts as part of a rich and deeply human education.
Benefit from our multi-arts approach that integrates creative writing, storytelling, movement, performance and visual arts and views traditional educational subjects such as literacy, special education, foundations, and psychology through an arts-based lens.
Deepen your artistic work in our core course informed by the Michael Chekhov system of mind-body awareness.
Join a program ranked among the Best Colleges in Education by the Colleges of Distinction.
Date & Time:
January 8

•

6:00pm – 7:00pm
95%*
* based on Adelphi University Career Outcomes Survey: Class of 2021
of our master's graduates say that Adelphi University increased their understanding of the roles and responsibilities of professionals in their field
based on Adelphi University Career Outcomes Survey: Class of 2021
This 33-credit program is designed for performers interested in earning theatre teaching certification online. There is also a program option to add English 7-12 or Social Studies 7-12 certification for six additional credits for qualified applicants.
Designed for educators without a theatre major interested in integrating dramatic play into their coursework; online. This 33 credit program offers a rich array of multi-disciplinary courses in arts education, with a focus on creative dramatics and storytelling. The non-certification program is open to all interested graduate candidates, regardless of prior study, and can meet the needs of already-certified English teachers seeking a master's degree in a related area.
This fully online program is designed for individuals who already have a master's degree and wish to attain a New York State teaching certification in theatre P-12. The program of study requires 12 credits (four courses). If the applicant has no prior NYS teaching certification, there is an additional 6-credit student teaching course required. All applicants must have the prerequisite 30 credits in theatre (undergraduate and/or graduate) to earn NYS certification in theatre.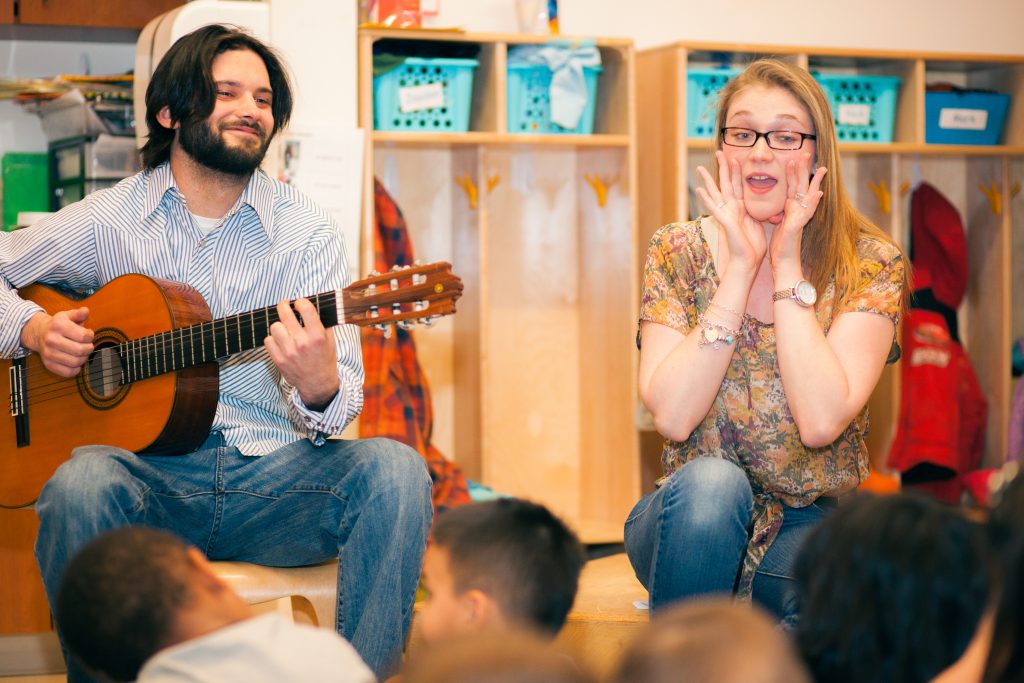 Exceptional Hands-On Learning
At Adelphi, we believe in the power of hands-on experience to prepare graduates for careers in the classroom. The MA in Educational Theatre program culminates with a semester of student-teaching experience. Our students have also gained valuable experience in internships at many schools and organizations, including:
Application Requirements
Applicants for the online programs must have a minimum 3.0 GPA and should submit the following:
Graduate application and $60 fee
A letter of recommendation
Personal essay
Official transcripts from all prior institutions and proof of bachelor's degree from an accredited four-year institution
Additional Requirements
Applicants for the MA in Educational Theatre, P-12 leading to certification must have an undergraduate degree in theatre or the equivalent 30 credits.
Applicants for the Advanced Certificate in Educational Theatre must already hold a master's degree (in any subject area as long as they have at least 30 credits in theatre).
*Some deficiencies can be made up concurrently with the graduate program, upon advisement, for the Advanced Certificate in Educational Theatre.