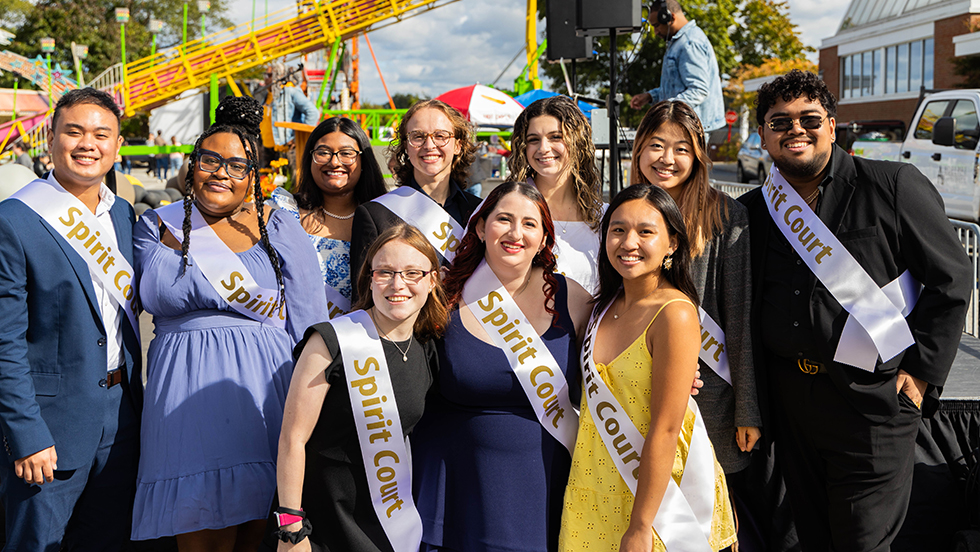 At Spirit Weekend, Adelphi again announced the students chosen to be this year's Prestigious Panthers and members of the Spirit Court.
Being a college student and a parent at the same time is a tall order. Juggling classes and homework with child care and a job can be daunting and isolating.

"I realized education is where the work is at. This is the future of Ukraine. This is how it's going to become a democratic society—with these children and these students."

The Adelphi University Robert B. Willumstad School of Business has named Deborah Zawisza '80 its 2023–2024 Executive in Residence.

Susan Kilgore, PhD, assistant professor, and Ryan Wallace, PhD, assistant professor, receive National Science Foundation subaward to guide, retain and enroll students in coastal geosciences.

Standard & Poor's (S&P), the global leader in financial market intelligence, has reaffirmed Adelphi University's credit rating of A- with a stable outlook after a comprehensive evaluation of the University's financial health and creditworthiness.

Longtime supporter, friend, alumnus and Trustee Emeritus Leon M. Pollack '63 passed away on October 21, 2023. He is warmly remembered for his humor, kindness and integrity.

Forbes has recognized the fully online Emergency Management master's program—with its 72 percent graduation rate—from Adelphi University's College of Professional and Continuing Studies among the 10 best such programs in the United States for 2023.

A history major looks at how the Adelphi community—and everyone—can all honor Native American heritage, culture and history this month and year-round.

In October, the Adelphi community gathered for one of our favorite traditions, the Fall Arts Festival.

The Green House, an exhibit of paintings by Jennifer Maloney, associate professor of art and art history, opened at the Adele and Herbert J. Klapper Art Gallery in the Ruth S. Harley University Center on Adelphi University's Garden City, New York, campus on October 23. The exhibition will run through December 15.

Michael O'Loughlin, PhD, professor in the Ruth S. Ammon College of Education and Health Sciences and the Gordon F. Derner School of Psychology, grew up poor in Ireland, and might have been destined for a life not much better off than his ancestors before him.

Baby boomers. Generation X. Millennials. And then came Gen Z—today's adolescents and young adults.

Coming soon: candidate advertisements blanketing the airwaves, political signs planted on lawns, robocalls extolling the campaign promises of the latest contenders for elected office.

Student-faculty team examines the foundational assumptions of carcinogenesis modeling.

A student-led photovoice project empowers people in treatment to share their experiences and build community ties.

An international collaboration leads to the development of eco-friendly solar technologies

A new theoretical framework outlines best practices school psychologists can use to help LGBTQ+ youth prepare for college

At Spirit Weekend, Adelphi again announced the students chosen to be this year's Prestigious Panthers and members of the Spirit Court.

Each year, Adelphi participates in the global generosity movement, GivingTuesday, to support our University community members.

Dear Adelphi Community, This Veterans Day, and every day, we are thankful for those who have courageously served in our military. Their sacrifice through every conflict has allowed our country, communities and University to uphold the values of democracy and free expression. Supporting our veterans when they return home from duty is our responsibility. At…

Every year, the Adelphi University College of Arts and Sciences (CAS) awards Dean's Innovation Grants to select faculty members to fund their projects.

From TV to politics to nonprofits, these five alumni find common ground in their Adelphi experience.

After more than 20 years of service, James Bavaro is ready for his next chapter, handling crises closer to home.

For the first time ever, Adelphi University was ranked in the Times Higher Education (THE) 2024 World University Rankings by Subject.

The U.S. Digital Corps, a program launched in 2021 by the White House to bring civic-minded early-career technologists to serve in the federal government, has selected Adelphi alum Lylybell Teran '22—one of just 4 percent of applicants chosen for this honor. Meet Teran and hear why this project is so important for her career and the veterans who will benefit from her work.

For Anagnostis Agelarakis, PhD, professor in Adelphi's history department, archaeology is an endlessly generative practice.

New discoveries connect Indigenous Alaskans to their ancestors

As the first female president of Adelphi University, Christine Riordan knows a thing or two about breaking through glass ceilings and instituting change.