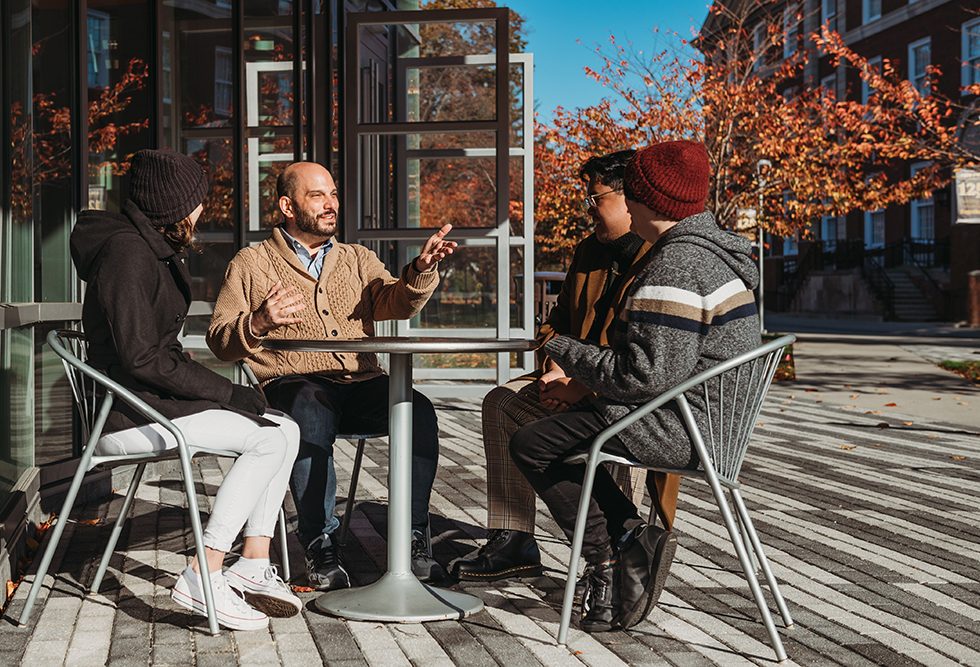 Our award-winning mentoring program is key to providing Adelphi's life-changing opportunities to all students. We help our students define their own success and nurture their goals with exceptional programs that support continued learning, personal growth, professional development and career advancement.
Adelphi University's aim is to foster a culture where every member of the University feels valued, supported and inspired to achieve individual and common goals. This includes providing opportunity and access for all people.

Black History Month is a period of reflection, one that can be as painful and solemn as memories of our nation's history—which must be told in all of its complexities to educate, inspire and heal—are relived. Despite the distressing historical realities faced by the Black community, Black History Month also gives us a platform to celebrate the contributions, triumphs and advancements in spite of adversity. It is a time to honor the many contributions both past and present.

Lezai Favors, a senior majoring in sociology, is projected to receive her BA in May 2022, then continue for an additional year in the Scholar Teacher Education Program (STEP) for her MA in Childhood Education.

Fall 2021 marked the launch of an exciting new initiative, the Nassau-Adelphi Gateway program. The distinctive partnership provides a best-of-both-worlds choice for Nassau Community College (NCC) students. While earning their associate degrees at NCC, they are able to take advantage of the four-year cocurricular Adelphi experience—living and dining on campus, participating in clubs and recreation, and being part of the Adelphi community outside the classroom—with a streamlined transfer pathway for completing their bachelor's degrees at Adelphi. This August, Adelphi welcomed the first cohort of 27 Nassau-Adelphi Gateway students.

Every year, the National Association for the Advancement of Colored People (NAACP) honors outstanding performances in film, television, theater, music and literature through its annual NAACP Image Awards.

Adelphi University has received a $1 million gift to support nursing education. The bequest from Adelphi University College of Nursing and Public Health alumna Mildred "Millie" Loughlin Kahane '49 will support nursing students who have financial need.

Business analytics is a degree of the future. Just ask Jaime Dasso '18, MS '20. After graduating with a bachelor's degree in business administration with a specialization in finance, Dasso decided to shift careers and return to his alma mater to pursue a Master of Science in Business Analytics. He was hired at CH Global Capital, an…

Adelphi University's Summer Pre-College program will return to an in-person format for Summer 2022. The program is open to rising sophomores, juniors and seniors in high school.

We congratulate the following alumni of the Robert B. Willumstad School of Business on these exciting new developments in their careers.

The Robert B. Willumstad School of Business welcomes the following new faculty and staff members. They represent excellence in their various specializations and will provide our students with guidance, mentorship, and academic and career opportunities.

Dear Adelphi Community, As we approach our Spring 2022 semester with reports of COVID-19 cases continuing to rise, it remains our priority to protect the health, safety and well-being of all Adelphi students, faculty and staff. Based on the strong track record of our community in complying with public health guidelines and Adelphi's health and…

One year ago this month, we opened the doors to a completely reimagined Ruth S. Harley University Center that fits the needs of the evolving college campus. Our new UC is expansive, beautiful and sustainable—modernized for today's student, scholar and visitor. It is accessible and welcoming to all and already making a huge impact on us.

We are breaking down the traditional one-class, one-professor model in courses like Race 360 and Water 360. Adelphi's interpretation of this innovative trend gives students a chance to see a single subject from varying fascinating perspectives. For undecided students, 360 courses offer fresh insight and new options for college careers.

Our award-winning mentoring program is key to providing Adelphi's life-changing opportunities to all students. We help our students define their own success and nurture their goals with exceptional programs that support continued learning, personal growth, professional development and career advancement.

Dear Adelphi Community, As we approach the start of the Spring 2022 semester, we are closely monitoring the trajectory of the pandemic curve. With our first day of classes for the spring semester being January 25, we have the benefit of a longer window of time than many other universities to assess what additional safety…

Betty Vohr '62 was born in Brooklyn, NY to immigrant parents. She grew up in upstate New York, where her family relocated to manage an inn. It was there, at the young age of 13, that Betty was first inspired to become a pediatrician. The suggestion came from a psychiatrist who had a summer home in the same town and continued to see pediatric patients during the summer.

As COVID-19 cases continue to increase across Long Island, New York state and the nation, Adelphi University announced on December 22, updates to its COVID-19 safety policies. These include a change to the criteria for being fully vaccinated to include a booster dose of the COVID-19 vaccine. 

Every year, through its 30 Under 30 and 40 Under 40 ceremonies, Long Island Business News (LIBN) honors bright and dynamic young professionals across Long Island who have made significant strides in their careers. The 30 Under 30 award recognizes 30 professionals who have made remarkable achievements in their career before turning 30, while the 40 Under 40 award recognizes 40 accomplished professionals under the age of 40.

While it was another challenging year for the world, 2021 again saw Adelphi University and its community well represented in the news media—locally, regionally, nationally and internationally.

Adelphi students' commitment to civic engagement and service is well recognized. Gamma Beta Phi provides students an opportunity to be honored for their formidable efforts.

Making art with children who have been affected by conflict has been Cindy Maguire, PhD's life's work. "I work in the United States and internationally with children and youth in conflict-affected communities using arts as a tool for empowerment and teaching," said Dr. Maguire, associate professor in the Department of Communications at Adelphi University. "I move…

When the pandemic travel restrictions lifted this fall, one particular group from the Adelphi University community was eager to take advantage of the change.

After a year at an out-of-state school, Matthew Spirakis is back on Long Island, majoring in business at Adelphi. But the sophomore already has some impressive business experience under his belt.

Among Adelphi's most renowned alumni worldwide is Jonathan Larson '82, the creator of the beloved and influential musical RENT, one of the longest-running shows on Broadway.

Dear Adelphi Community, As we near the conclusion of the fall semester and the end of 2021, many are wondering: What can we expect as we go into the new year and the Spring 2022 semester? While we are cautiously optimistic, the impact of holiday gatherings on the regional COVID-19 infection rate has yet to…

Dear Adelphi Community, Recently, Renaire Frierson, JD, Title IX coordinator and director of equity and compliance, and Natalie Johnson, PhD, Title IX investigator and training and organizational development specialist, announced their impending departure from Adelphi University to pursue new opportunities. We are beginning a search for Adelphi's next Title IX coordinator with a committee of…

Dear Adelphi Family, Every year at Adelphi brings more reasons for us to be proud and to celebrate. In our University's milestone 125th year, I see you continually striving to make positive changes in the world and to contribute your unique gifts to our community and others. I can't help but notice how you—and we,…

Doctoral students helping refugees seek asylum in the United States. Undergraduates working within the United Nations. A professor who educates the world on the history of the Holocaust.

For the fourth year in a row, Adelphi has won a top national award for its commitment to fostering diversity, equity and inclusion (DEI) on its campus.

I must admit, being asked 'What's your major?' is one of the most nerve-racking questions thrown at college students, at least for me. The simple question leads to a whirlwind of assumptions and fears for our future careers. I recently got some clarity after writing this article on an inspiring Adelphi alum who is the epitome of someone who hasn't been pigeonholed by her major.