Personal Safety Practices
Because COVID-19 is still a threat to public health, some individuals might need to abide by stated quarantine restrictions.
 Follow COVID-19 trends in any region using the CDC data tracker. 
Prevent Getting Sick or Spreading Illness
Wash your hands often with soap and water for at least 20 seconds, especially prior to eating. Hand sanitizer should be used if soap and water are not readily available
Avoid touching your face with unwashed hands – including your eyes, nose, and mouth
Avoid close contact with people and do not shake hands
Cover all coughs and sneezes, preferably with a tissue that can be discarded in a closed container after use. In absence of a tissue, use your sleeve or elbow
Clean frequently touched surfaces and objects including buttons, door handles, counters, workstations, keyboards, etc.
If You Are Sick
Stay home
If you test positive for COVID-19, suspect you may be ill, or have been exposed, call Adelphi Health Services at 516.877.6000 for advice about next steps
Faculty and staff should refer to our Stay at Home policy and feel free to reach out to Human Resources at 516.877.3220 and Health Services at 516.877.6000
Do your best to stay away from others who live with you and avoid sharing personal items
Contact your medical care provider if you become very ill or are at high risk for severe illness
Wearing a Mask
Masks are not required at Adelphi, however, we strongly encourage you to continue wearing a mask when in crowded environments, especially indoors — whether you are on or off campus.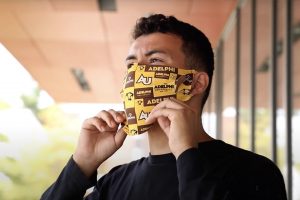 As they evolve, we will continue to follow the CDC recommendations for wearing masks.
Please continue carrying an acceptable face covering with you — in case you are asked to wear one. We appreciate your support of individual choice and comfort regarding the use of masks.