Adelphi University Student Mobile App
The Adelphi App focuses on the resources that students use most and features a clean and easy-to-navigate design.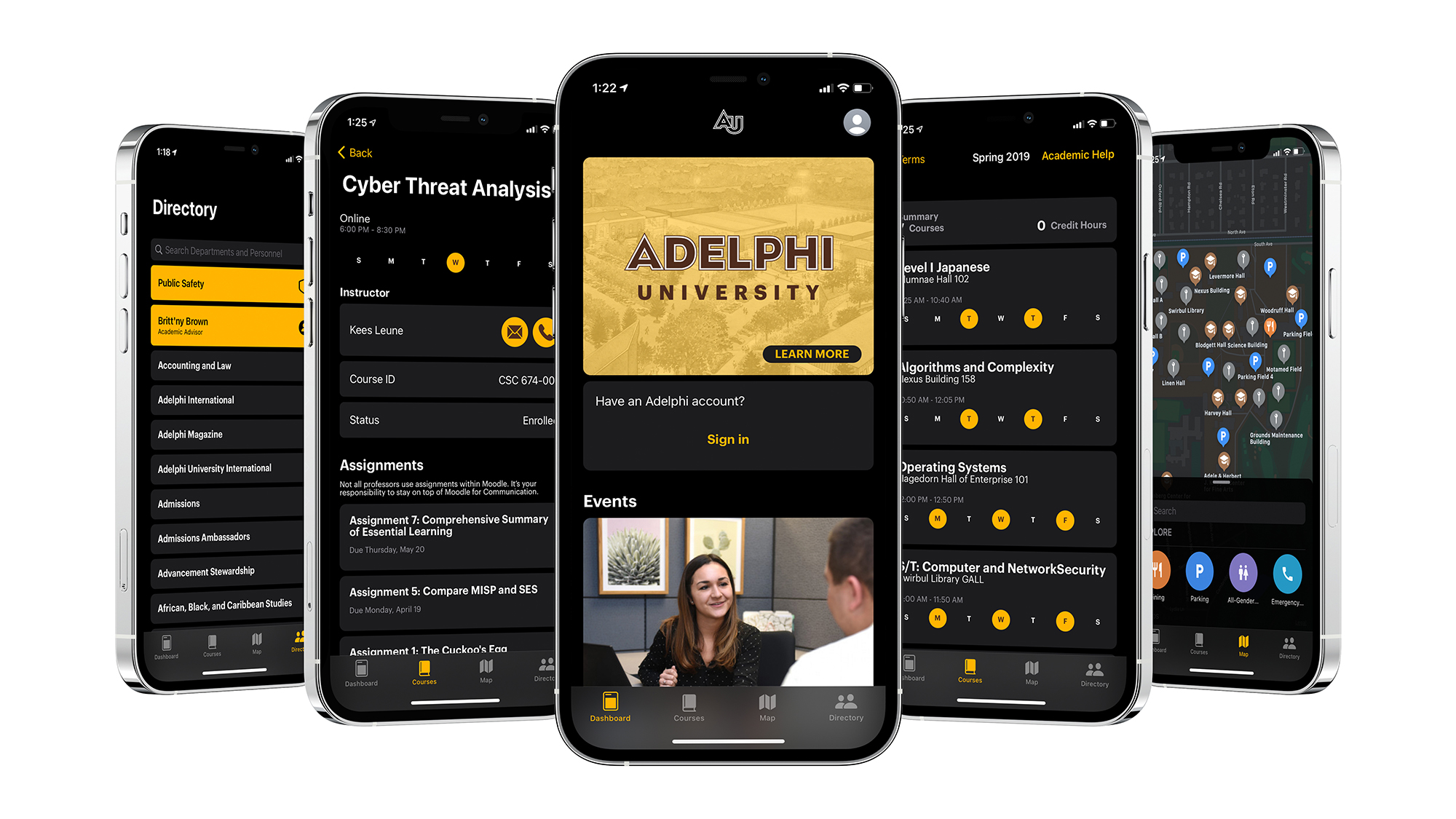 App Features
Your course schedule
Upcoming assignments in Moodle
Important alerts and dates in the academic calendar
Follow specific types of events
Campus map
Directory – highlighting your adviser
Download the App
You can download the Adelphi app from the App Store. Android version coming soon.

The Android version of the new Adelphi app will launch by mid-October, 2021.
This app does not currently replace AU2GO. Though some features overlap, this is meant to be a complimentary app that is heavily focused on student success. We will continue to build out support and features for the Adelphi App.
Yes! You can do so directly in the app. We want to make sure that your voice is heard, so we made it easy for you to let us know what you think or how we can improve. This form is accessible from the home screen of the app at the bottom of the page. This can also be accessed through your account by selecting Help & Feedback.
Yes, the Adelphi app does collect user data, however, the data is only used to improve app functionality via analytics and crash reports. Data from the app will not be used for marketing purposes.  For more information, view our privacy policy.
Not all professors use assignments within Moodle. It's your responsibility to communicate with your professor and ensure you're aware of where they host and keep track of assignments.
Yes. You can enable notifications within your account settings.
Location
Hagedorn Hall of Enterprise LL
Hours
Regular Semester Hours

Mon-Thu: 7:30 am – 10:00 pm

Fri: 7:30 am - 6:00 pm

Sat: 9:00 am - 6:00 pm

Sun: 10:00 am - 6:00 pm