Navigating Our World of Differences: The Social Work Challenge
While some may argue that our world is now more inclusive than it ever was, a close examination of events would place that claim in question. What may not be in question is that we are an increasingly diverse world as societies continue to experience changes because of such factors as globalization, immigration, conflict and historical realities. The United States has not been spared from these effects, but responding efficiently diversity has been a significant challenge for our society and institutions across the country. The challenges include how to create diverse, equitable and inclusive communities and work environments, how to create safe spaces for dialogue on issues of diversity, equity, inclusion and belonging, and how to even initiate the conversations that we need to be having to make our society more hospitable for everyone.
For us as social workers, there is no choice but to engage in building and/or healing the spaces we occupy by promoting practices that honor diversity, achieve equity and inclusion and make it possible for everyone to experience a sense of belonging. This is because the Code of Ethics of the National Association of Social Workers (NASW) identifies one of the ethical principles of the profession as ensuring that each person is treated "in a caring and respectful fashion, mindful of individual differences and cultural and ethnic diversity."
This conference will bring together social work scholars and practitioners to examine the challenges that individuals and groups in our society experience due to difference, explore the impact of those challenges on the state of social work practice and provide strategies that social workers can employ to achieve more efficient practice that is consistent with the ideals diversity, equity, inclusion and belonging. The conference will open with a plenary session during which Warren K. Graham, Clinical Associate Professor and Assistant Dean for Practicum Education at SUNY Stony Brook, NY, will give the keynote lecture titled The Diversity That's Left. After that, there will be five workshops outlined below.
Workshops
Cristino Chavez, LMSW – The Evolution of Jim Crow: Mass Incarceration and its National Impact on Communities of Color Through a Social Work Perspective.
Elizabeth Greaney, LMSW – Challenges and Recommendations for the Incorporation of Unaccompanied Children in the Public School System
Yurilka Hernandez, LCSW – Creating a Diverse and Inclusive Environment for Latinos in the Workplace and Clinical practice

Mathew Mackey, MSW –

Reclaiming our Power: Advocacy in the Face of LGBTQ+ Oppression and Genocide
Todd Vanidestine. Ph.D., MSW., MHR –

Social Work's Commitment to Eliminate Racism & White Supremacy: The Past, Present, & Future
3 CE credits will be awarded
Date
Thursday, April 27, 2023
Time
9:00 am – 1:00 pm
This event is free, but pre-registration is required.
Speakers
Keynote: The Diversity That's Left
Warren K. Graham, LCSW, ACSW, CASAC
Doctoral Candidate, Adelphi University.  Assistant Dean for Practicum Education. Clinical Associate Professor, SUNY Stony Brook, NY.
Warren K. Graham, LCSW, ACSW, CASAC is currently the Assistant Dean of Field Education and Clinical Associate Professor in SUNY Stony Brook's School of Social Welfare, where he chairs the Field Education Committee and co-chairs the Curriculum Committee and Committee on Professionalism. Prior to Stony Brook, Warren was Assistant Director of Field Education for the MSW Program at the Silberman School of Social Work, and simultaneously Director of Field for the newly accredited BSW Program. Warren has been active as an educator for 10 years and is a NYS Licensed Clinical Social Worker, NYS Master-Level Credentialed Alcohol and Substance Abuse Counselor, and Ph.D. candidate at Adelphi University.
Warren's addiction and forensic specific practice experience has come from roles as 1) Substance Abuse Counselor at Crossings Recovery Centers, Inc., 2) Project Director overseeing Nassau County Family Treatment Court and Juvenile Drug Treatment Court programs, 3) Project Director of Project HOPE at North Shore Child and Family Guidance Center, and 4) maintaining a forensic and clinical practice for 10 years.
Warren is an active member of the National Association of Social Workers, having been elected as a Delegate to the National Assembly, selected as a Social Worker in the Courts Specialty Practice Section Committee member, NASW NYS Diversity Committee member, and former Nassau Division Director and Board Member. Warren was most recently appointed a Councilor for the Council on Social Work Education's Council on Racial, Ethnic, and Cultural Diversity and is the convener for the Greater NY Area Field Director's Consortium.
Elizabeth Greaney, LMSW
Elizabeth Greaney is a graduate of Adelphi University School of Social Work and has been working in the field on immigration for over 10 years. Her professional platform has been built on a passion for Human Rights and International Social Justice.  In 2011, she travelled throughout South America for a year to pursue volunteer opportunities and increase fluency in the Spanish Language.  Her return to the United States led her to working in the field of immigration. She is currently the Assistant Director of a Shelter that facilitates family reunification with unaccompanied children.  She has engaged in research regarding immigration and was published as a co-author on "Treacherous Crossings: Responses to the Influx of Unaccompanied Minors in the Hudson Valley" in the March 2018 edition of the journal Children and Youth Services Review
Cristino Chavez,
LMSW
Cristino Chavez is a first-generation Salvadoran American born and raised in the City of Glen Cove, Long Island,  currently living in the Bronx, NY. Cristino received his BA in Psychology at SUNY College at Old Westbury and MSW at Adelphi University. Cristino is currently enrolled as a Doctoral Student at Yeshiva University Wurzweiler School of Social Work on his journey toward earning his Ph.D. in Social Welfare. Cristino is a Licensed Master Social Worker (LMSW) and Certified Trauma Professional (CTP) and currently holds several roles including Research Associate through the CUNY Research Foundation, former Trauma Therapist through the Bronx County District Attorney's Office, Crime Victims Assistance Bureau, Immigration Court Mental Health Evaluator, and Adjunct Professor at New York University and Adelphi University. As an active member of the community, Cristino advocates and engages in activism work within the fields of criminal and juvenile justice and immigration and the social policies that impact Black and Brown communities across New York City and Long Island. Cristino's work area revolves around social work and law, community organizing, criminal and juvenile justice, restorative justice practices, social policy, community policing, gang culture and membership, community trauma and mental health, and immigration.
Synopsis: This presentation reviews the evolution of the Jim Crow Era to Mass Incarceration in the United States, as well as its national impact among black and brown communities today. This presentation aims to address the impact of Jim Crow laws and Black Codes among Black communities and the injustices that exist in our current criminal justice system. Our criminal justice system continues to uphold oppressive forms of correction and punishment within prosecutions and judicial decisions among justice-involved black and brown individuals, as well as black and brown communities across the United States. Through a social work perspective on criminal justice reform, social workers can utilize restorative approaches to justice and re-entry. In addition, this presentation will emphasize critical race theoretical approaches to social work practice when working with justice-involved communities.
Yurilka Hernandez, LCSW, CASAC
Yurilka A Hernandez is a Licensed Clinical Social Worker (LCSW) and CASAC in the state of New York. She is a bilingual, bi-cultural Hispanic female with over 15 years of extensive training and experience in the areas of Mental Health, substance abuse disorders, Cultural Competency, working with Immigrant Families, and providing Clinical Supervision.
Her educational background includes a Bachelor of Science and a graduate degree (MSW) from New York University, Silver School of Social Work. In 2016, she completed a Post-Master's Certificate Program in Psychoanalytic psychotherapy from Manhattan Institute for Psychoanalysis and Certified Middle Management program from the National Council for Behavioral Health in 2017. In 2019, she obtained Post-Master in Executive Leadership for Non-profit organizations from New York University.  In 2021, she won the award sapphire from NASW and co-authored Latinx in social work.
As part of the behavioral health team at Acacia Network, the second largest Latino led not –for- profit organization in the country Ms. Hernandez's portfolio includes mental health clinics, health homes, substance abuse school-based programs and Court Involved Youth Programs.
Ms. Hernandez works as Assistant Vice President of Crisis and Care Coordination services and integration services at Acacia network. A team of over 65 clinical and 15 administrative staff for a non-profit organization. Ms. Hernandez is also an adjunct professor at Adelphi University's online master's program in social work. She has also participated in multiple advocacy efforts in Washington DC and Albany on behalf of social work communities and the well-being of individuals.
Matthew Mackey, MSW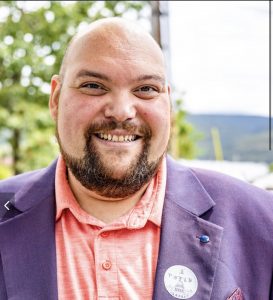 Matthew S. Mackey, MSW (xe, xem) is an Alumni of Adelphi University, class of 2022. Part of Matthew's focus while studying was in Political Social Work and how to create change for disenfranchised groups. Matthew has been an advocate for the LGBT+ Community since being an undergraduate student at Marymount Manhattan College and creating the first LGBT+
Student Organization on Marymount's campus in 2008. In 2011, he petitioned on behalf of a bi-national, same-sex married couple facing deportation, which garnered over 20,000 signatures and was sent to President Barack Obama, whose administration paused the deportation.
Part of Matthew's passion for helping disenfranchised communities lies in wanting to see a socially just world with an equal playing field for everyone, a world where everyone can exist without fear of rejection simply for being who they are. While on Adelphi's campus, Matthew co-founded and was co editor-in-chief of The Adelphi Advocate, a student-run Social Work publication focused on identifying issues within community groups and advocating for policy change to address those issues. The first publication was released in the Spring of 2022.
Matthew was formerly the Lead Director of From the Ashes, We RISE, an International LGBT+ Social Work Group dedicated to identifying oppression within the Social Work Profession and making change.
In 2022, Matthew ran for NYS Assembly District 101 to be the first Drag Queen and Non-Binary NYS Legislator on a Social Justice Platform, uplifting the voices of District 101 to Albany.
Matthew continues this work with Social Workers for Justice and the National Association of Social Workers- NYS Chapter, where Matthew serves on the Advocacy and Government Relations Committees and is working on eliminating the first level licensing examination for LMSW's.
Todd Vanidestine. Ph.D., MSW., MHR
Todd Vanidestine, PhD, MSW, MHR is an Assistant Chair/Graduate Coordinator at West Chester University, Department of Graduate Social Work. His interests include community organizing & organizations, anti-racism social work, critical race theory, critical discourse analysis, and racial & ethnic health inequities. Todd's organizing and academic pursuits are guided by over 20 years of social work practice experience. He is also a Network Coordinator of an Anti-Oppressive Leadership Fellows Program, which provides non-profit leadership through a comprehensive, long-term experience with other leaders to examine and implement antioppression principles within their organizations. Additionally, Todd serves as a steering committee member with Critical Race Scholars in Social Work. Particularly influential was his work as an organizer/resource trainer with the People's Institute for Survival and Beyond, a nationally recognized organization that provides the Undoing Racism™/Community Organizing workshop, networking support, leadership development, alliance building, and education to undo structural racism. Todd is committed to co-creating community-learning environments and social change experiences where key tenets of anti-racism, critical race theory, and critical insights from lived experiences serve as the basis to build collective power and strategically challenge oppressive processes that produce dehumanizing outcomes via systems, institutions, and individuals.
Ohiro Oni-Eseleh
PhD•LCSW