Information Regarding Student Complaint Resolution
Adelphi University's mission is to transform the lives of all students by creating a distinctive environment of intellectual rigor, research, creativity and deep community engagement across four core areas of focus: arts and humanities, STEM and Social Sciences, the Business and Education professions, and Health and Wellness.
To pursue this mission the ability and freedom to teach, learn and develop depends upon appropriate opportunities and conditions in the classroom, in the residence halls, elsewhere on campus, and in the greater academic community. The University has developed procedures and policies to safeguard this process and to maintain an environment conducive to the learning process.
Concerns and Resolution
Occasionally, as a student, you may encounter a problem on campus that appears to conflict with the University's commitments to its mission and to the learning environment. In order to resolve such problems, the below means of resolution are offered to you in addition to resources offered by the Office of Community Concerns and Resolution.
The Office of Community Concerns and Resolution provides members of the Adelphi community with a single office to report a nonemergency complaint or concern, including those that involve harassment, discrimination or sexual misconduct and to provide oversight of the many channels for issue resolution at Adelphi. You can contact the Office of Community Concerns and Resolution using our online form.
Discrimination and Harassment Complaints
If you have a complaint or concern about discrimination, harassment (including sexual misconduct/Title IX) amd/or resluting retaliation, you can:
Use our online complaint form to report discrimination, harassment, sexual misconduct and/or retaliation
Contact the appropriate individual below:
Joseph De Gearo (Assistant Vice President of Student Affairs and Dean of Students) at degearo@adelphi.edu or 516.877.3654
Allison Vernace (Chief of Community Concerns and Resolution) at titleix@adelphi.edu or 516.877.4819
For emergency or immediate assistance at any time on campus, contact the Office of Public Safety at 516.877.3511 or by dialing 5 from any campus phone.
View the full Anti-Discrimination, Harassment (including Sexual Misconduct/Title IX) and Retaliation Policy.
Complaints Concerning Possible Violation of University Standards of Conduct
The Office of Student Conduct and Community Standards investigates and resolves violations of the behavioral standards and other academic and non-academic University regulations while at the same time respecting and protecting the rights and privileges of our students. Please see the University Code of Conduct and other information. The University's Code of Conduct applies to all members of the university community.
If you would like to report a possible violation of the Code of Conduct, please complete our online report form or email studentconduct@adelphi.edu.
Academic Decision Complaints
Disputes Concerning Grades
Complaints regarding grades should follow the procedures set out in the Undergraduate and Graduate Bulletin.
Grades are submitted only by the instructor of the course. Any change of grade must be approved by that instructor. A grade may be changed only if there is unequivocal evidence that it was the result of computational or mechanical error. If you believe your grade is incorrect or unfair you should:
Discuss your course work with the instructor
Review with the course instructor the grading policies for the course.
If you are still dissatisfied, disputes concerning grades should be brought to the chair of the department (if there is a chair).
If you are still dissatisfied or if there is no chair, you should bring your concerns to the assistant or associate dean of the school responsible for the course.
The dean may choose to discuss the matter with the chair and/or the instructor to try to resolve the issues.
If the issues remain unresolved, you may request that the Office of Academic Services (Associate Provost for Academic and Student Life) discuss the matter with the instructor and/or with the dean.
Online Program Disputes for Out-of-State Students
Complaint Process
Every student deserves a positive educational experience. Sometimes a student's experience may not be what they anticipate, and the student may have a concern or a complaint.
SARA consumer protection provisions require the institution's home state, through its SARA State Portal Entity, to investigate and resolve allegations of dishonest or fraudulent activity by the state's SARA-participating institutions, including the provision of false or misleading information.
A student has the right to lodge a complaint or grievance. The institution should ensure that all concerns and complaints of students are addressed fairly and are resolved promptly. Student complaints relating to consumer protection laws offered under the terms and conditions of the State Authorization Reciprocity Agreement (SARA), must first be filed with the institution to seek resolution.
The student should begin the complaint process with Adelphi University and if a resolution is not found, the student would contact the institution's home state of New York SARA Portal Entity.
New York State Portal Entity Contact
Emily Sutherland
Supervisor of Higher Education Programs
518.474.1551
IHEauthorize@nysed.gov
New York State Education Department
89 Washington Ave
Albany, NY 12234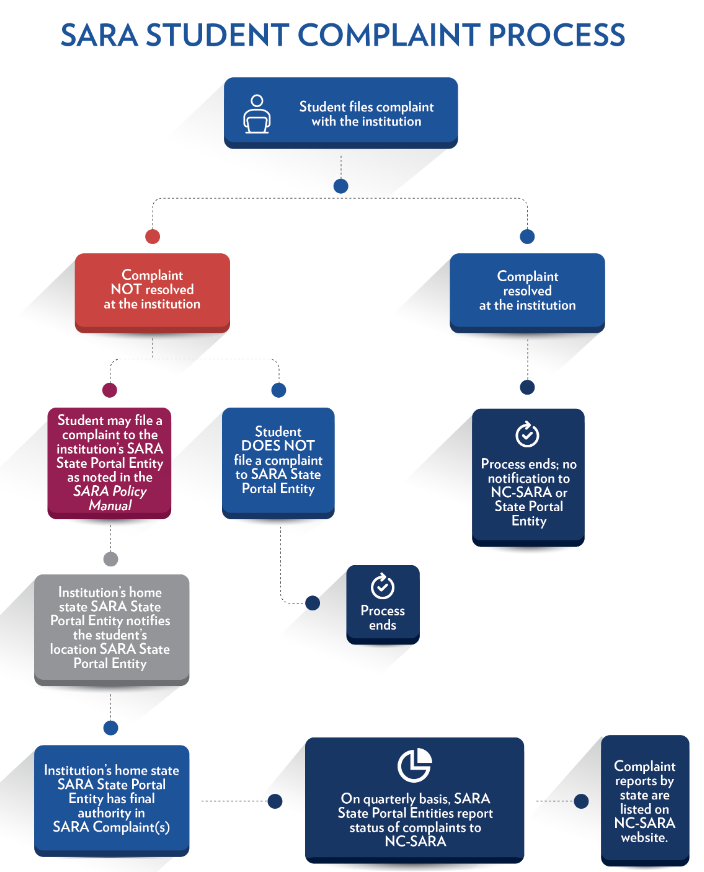 Complaint Process for Online Students in California
If you are enrolled as an online student living in California–which is not a member of NC-SARA–and you have a complaint that cannot be resolved through Adelphi's internal complaint process, you may file a complaint with CADCA. CADCA will evaluate California resident student complaints, identify the appropriate accrediting agency or governmental entity to handle the complaint, and request a response from the entity regarding the final disposition of the complaint. The address and contact information for CADCA are:
California Department of Consumer Affairs
Consumer Information Center
1625 North Market Blvd., Suite N-112
Sacramento, CA 95834
Phone: (833) 942-1120
Email: dca@dca.ca.gov
If the Chair, Dean or Provost determines that a grade was a result of arbitrary or capricious conduct on the part of the instructor, you may be allowed to withdraw from the course. In the case of arbitrary or capricious conduct, the department or school may allow the substitution of another course to replace the course in question.
All disputes concerning the accuracy of a grade must be raised within one calendar year. Grade changes must first be signed by the instructor and then by the department chair and the appropriate dean before being submitted to the Registrar.
Complaints About Other Academic Issues (excluding grades)
If you have complaints regarding other academic-related issues (excluding grade complaints) you should follow the procedure described above and also take account of any policies and procedures that are specific to your School and College. These processes are available from your Dean's Office. If there are no specific procedures identified or if you have already contacted your academic department and require further assistance, please contact the Office of Community Concerns and Resolution for assistance.
Unresolved complaints may also be filed with the New York State Education Department at the following address:
New York State Education Department
89 Washington Avenue
Albany, NY 12234
Still unresolved complaints may be filed with the Middle States Commission on Higher Education, the University's institutional accrediting agency.
Middle States Commission on Higher Education
1007 North Orange Street
4th Floor, MB #166
Wilmington, DE 19801
Phone: (267) 284–5011
Email: info@msche.org  Spanish: españolinfo@msche.org
General Link: www.msche.org/complaints/
Violations of the University Code of Ethics
Where an individual is concerned about making an anonymous complaint in confidence about violations of the University's Code of Ethics, a reporting process via a third party is available.