Use the eduroam network while at Adelphi locations and at hundreds of member institutions.
Adelphi WiFi Networks
All Adelphi-owned computers will automatically connect to the internal wireless network when on campus. The following are available to students, faculty and staff on the Hauppauge and Hudson Valley locations, as well as the main Garden City campus.
By joining eduroam once, you will only be prompted for your username and password when your Adelphi password changes. You won't need to log in each time you connect. Also, when you travel to an eduroam member institution, you will be ready to access eduroam immediately.
If you change your eCampus password, you must also update your eduroam password, or you could be temporarily locked out of your account.
Wireless Setup: A Configuration Assistant Tool is provided for the most common operating systems that simplifies the configuration and setup of your eduroam wireless profile. (This may be necessary to download depending on the operating system you are using.)
Username:


Students: Use your eCampus username with @adelphi.edu (not @mail.adelphi.edu)
Employees: Use your Adelphi Gmail account

Password: Enter your eCampus password
iOS example to access eduroam: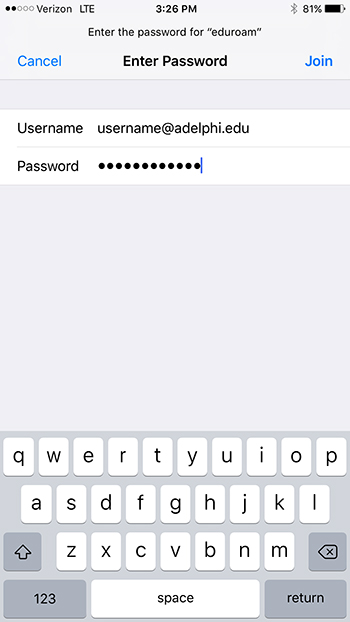 Android example to access eduroam: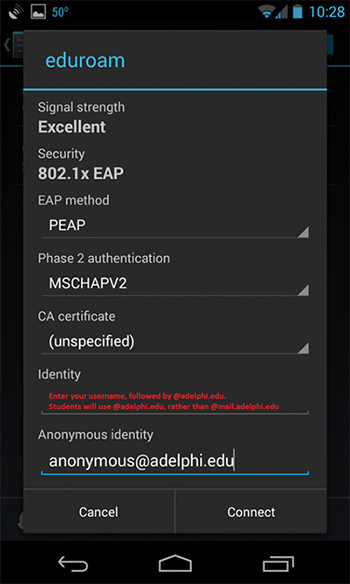 Entering anonymous@adelphi.edu will ensure privacy while traveling.
Username: Your Adelphi username

Password: gopanthers
You will then be prompted to enter your eCampus username and password.
WiFi Access at the Brooklyn, NY Location
Manhattan Center classes and programs will be held at 179 Livingston Street in Brooklyn (on the custom-built, newly opened campus of St. Francis College) in the Fall 2023 semester.
Join SSID: Adelphi-WiFi, and you will receive the Guest Portal splash page.
If it is your first time joining the wifi then, Click "Or register for guest access" and follow the prompts.
You will be emailed the credentials for login.
Guest accounts will only be permitted from the domains @adelphi.edu and @mail.adelphi.edu. The guest account is valid for the entire semester. You do not need to register each time.
Join SSID: AU-Remsen, and you will receive the Guest Portal splash page.
Enter the password Adelphi@remsen!!
Eduroam is for when you are on the move with a tablet, smartphone or laptop. Your access will work on all Adelphi campus and center locations as well as at other participating colleges. The AU network is needed for when you are using video game consoles, mobile gaming (DS, 3ds, etc), streaming devices (Apple tv, Roku, Fire TV) because those devices are not able to connect to eduroam.
Yes. Once you complete the wireless setup and try to load a website. You will be directed to a login screen where you must enter your Universal username and password. This is the same login you use to access eCampus. In order to access the wireless network as an Adelphi alumnus, you must register with the Office of Alumni Relations.
If you use any type of file-sharing program, there is a good chance that your connection will be disabled. This is an automatic reaction from the network to fend of possible viruses. To find out more information about your connection being disabled, contact the Help Desk at 516.877.3340.
There are several reasons why this might be happening:
Another default program may be managing your wireless connection. These programs vary depending on the laptop so procedures will vary.
You may have viruses or spyware installed on your computer without your knowledge. These programs have the ability to disrupt your connection.
Adelphi's IT Help Desk, located on the 2nd floor of Swirbul Library, will provide you with a CD to scan for and remove viruses/spyware upon request and walk you through any problems that you encounter during wireless setup.
Network Connectivity Guides
Ethernet Cables in Residentials Halls
In addition to Wi-Fi access, resident students are encouraged to bring their own ethernet cable to connect to high-speed wired internet in their rooms.