Internet Kiosks are set up all over campus so students can use computers on the go if they need to. Find out where the computers are located here on Adelphi University's campus.
Internet Kiosks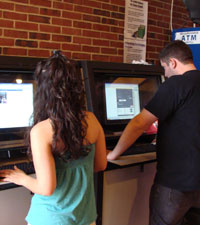 At these stations, you can quickly check email and perform other quick tasks between classes.
3 in the Science Building lobby, including 1 handicap accessible
2 in the Performing Arts Center, near the Box Office
3 in the Center for Recreation and Sports, on the mezzanine level
In addition, the following kiosks enable you to look up information in CLASS:
Registrar's Office in Levermore Hall, Lower Level (to access registration information)
Health Services Center, Waldo Hall (to look up your health compliance)
---
Alicat Kiosks
These 12 computer stations in Swirbul Library are available for doing research. Access is limited to the Alicat catalog.
4 on the 1st floor by the Circulation Desk
3 on the 2nd floor by Reference Desk
1 on each stack level (5 total)