Access Google Drive directly from your Mac/PC
How Google Drive File Stream for Mac/PC works
Anyone with an Adelphi Gmail account now has access to Drive File Stream, a Google application for your Mac or PC.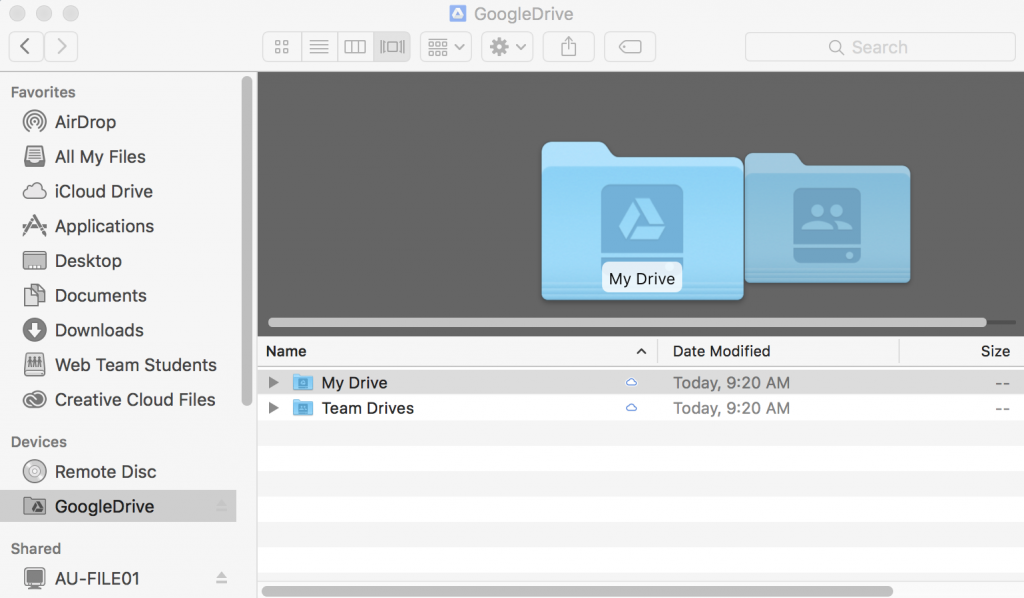 With Drive File Stream, you stream your Drive files directly from the cloud to your Mac or PC, freeing up disk space and network bandwidth.
---
What can I do with File Stream?
With Drive File Stream, you can:
Quickly see all your Google Drive files in Finder/Explorer (including Shared Drives).
Save specific files and folders offline, including Shared Drives.
Browse and organize Google Drive files without downloading all of them to your computer.
View and organize your files in your computer's file system, such as:

Explorer on Windows
Finder on macOS

Choose which files or folders you'd like to make available offline.
Open files with apps installed on your computer.
Open files in common apps like Microsoft Office and Adobe Photoshop.
See all of your files in Google Drive without using storage space on your computer.
Please note: There are known issues when doing real-time collaboration with non-native google docs (I.E. Microsoft files such as word, excel and access). Therefore, we do not suggest using file stream in this way. We recommend it as a replacement for an H: drive than other multi-user network drives.
---
How do I get started?
Visit the Drive Help Center to install Drive File Stream and get started.
---
After you've installed Drive File Stream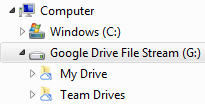 When you install Drive File Stream on your Mac/PC, you'll be able to directly access your Google Drive. Drive File Stream is constantly streaming the files from the cloud, this means that as long as you have an internet connection you can see the latest version of all your files, even if they're being updated in real time by another user.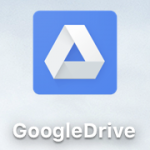 Drive File Stream is easily accessible from your computer, located under your "Devices" on a Mac and under "Computer" on a Windows PC by default. You will also be able to access the Drive File Stream menu by clicking the Google Drive icon

at the bottom right of the screen (Windows) or the top right of the screen (Mac). Lastly, you'll be able to click a desktop icon to access your Drive if you're using a Mac.
---
Where can I get more information?
To learn more about Google Drive, visit the Google Apps Learning Center.
The information on this page was obtained from
Google's Help Site