This collaborative classroom work space features multiple display screens and room configurations.
The Gallagher Lab (SWL 200) has been completely redesigned to function as a collaborative classroom workspace featuring multiple display screens, as well as wheeled tables that can be easily moved and configured to suit various types of group projects.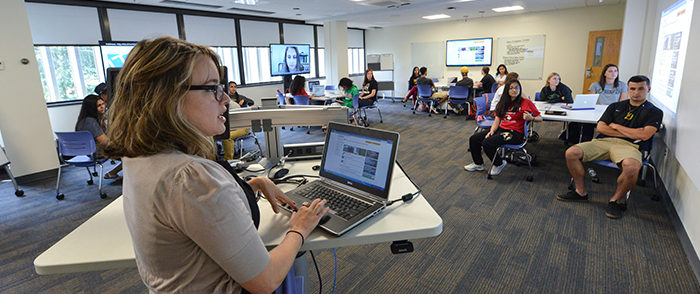 ---
Showcases and Training Sessions
In order to reserve the space for your class instruction, you will need to know how to operate the interactive hardware and software elements that make this room unique.
The Office of Information Technology is offering multimedia showcase sessions for faculty to learn more about this space. If you have already reserved the room, one-on-one training is also available.
Please use the signup form to reserve your spot at one of our upcoming showcases or to indicate that you need an individual session.
Sign up to request training that is required to reserve the room