Commuter Assistant Program
Just like Resident Assistants help resident students transition to college life, Adelphi University Commuter Assistants are available to help commuter students transition to college life.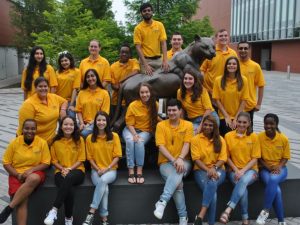 Commuter assistants are placed with incoming commuter students to serve as a mentor and as a resource for them. Each commuter assistant will keep in contact with his or her commuting first-year student, help them navigate Adelphi University and help them get involved on campus.
All commuter assistants hold desk hours on the second floor of the Nexus building at the Commuter Assistant Desk during the week so that they are accessible to answer questions that a commuter student may have.
Commuter Assistants are equipped with the most up-to-date information regarding campus events and news so that they stand ready to assist any commuter student that may need their guidance!
---
Commuter Assistant Virtual Lounge Hours
The Commuter Assistant (CA) staff will be holding virtual lounge hours for students to drop in to ask questions or chat about all things Adelphi. See below for times and Zoom links where you can reach a Commuter Assistant each day of the week. This program is specifically for first-year students but is open to all commuter students at Adelphi! Feel free to drop by a lounge hour!
Location
Ruth S. Harley University Center, 123
Hours
Regular Semester Hours

Mon-Fri: 8:30 am - 4:30 pm