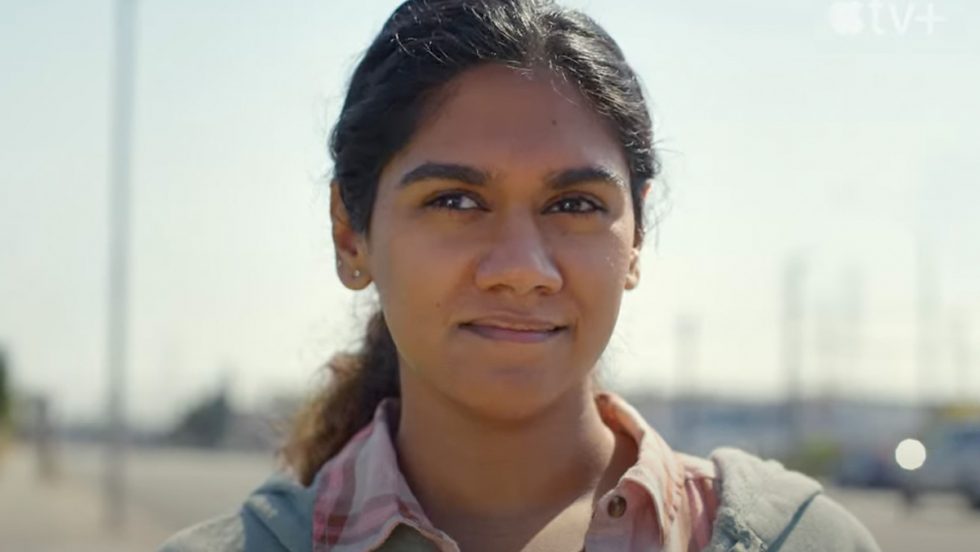 Isuri Wijesundara '18, is a perfect example of how an arts education at Adelphi can lead graduates to careers as working artists. The combination of strong professors, talented classmates, the proximity of New York City, and a legacy of accomplished, supportive alumni guides a student's journey from their first day to beyond graduation.
A powerhouse theater major at Adelphi, Wijesundara is now starring in the new season of Apple TV+'s Little America, the acclaimed anthology series. The show is inspired by the true stories of immigrants to the United States. She plays the leading role in "The 9th Caller," and like the character, Wijesundara is Sri Lankan.
"I moved to America eight years ago," said Wijesundara, who is completing a master's degree at the David Geffen School of Drama at Yale. "At this point, to do exactly this, to be able to tell stories of my people—this is what I moved here to do."
Seizing the day at Adelphi
Wijesundara chose Adelphi over a conservatory because she wanted a wider, deeper education in order to become a "whole person" by the end of her four years. "Meeting people from all around the world—and being an international student myself—gives me perspective and awareness of humanity and the issues of the world that we live in," she said.
As a theater major and a Levermore Global Scholar, she was able to use her Adelphi education as a way to combine her passion for theater with her deep interest in social justice.
"I owe a lot to my professor, Maggie Lally," she said. "From my freshman year, Maggie helped me find the form of artistic style that I enjoyed doing. We did documentary-style theater all throughout my four years, where we actually sat down and researched stories of real people. My freshman year, we found real stories of women soldiers from around the world and were able to turn that into a piece of theater."
"Isuri enlightened many of us through her social justice work," said Lally '82, associate professor of theater and now associate dean of faculty programs in the College of Arts and Sciences. "Isuri worked with me on a number of original social justice pieces, including Women in War, Race to Love—the stage and video versions—and Now You See Me/Now You Hear Me."
Now You See Me/Now You Hear Me was a 2016 production that Wijesundara and Lally created by partnering with the University's Title IX office. The two recruited a diverse group of 99 Adelphi students, faculty members, staff and administrators to read the victim statement from a sexual assault in California.
"This was a huge undertaking, and Isuri helped bring a number of campus constituencies together in collaboration, as well as outside partners," Lally said. "She enlightened many of us through her social justice work. It is no surprise—and I am thrilled for her—that she is where she is. Isuri is a dynamo!"
The proximity of New York City and the support of professors like Lally and Nicholas Petron, MA '70, professor and chair of the Department of Theatre, her professors made it easy for Wijesundara to get internships during summers and the school year, including one with the acclaimed New York Theatre Workshop.
"Nick was incredible in that he always pushed me to kind of keep chasing professional goals," Wijesundara said. "The way that he mentored me was to never question it. Just do it and then figure it out."
From Adelphi to Yale
That kind of encouragement was part of the reason she applied to Yale.
"Yale was always a place that I've dreamt of going to and never thought I actually would get in. But I was like, 'All right, I've always dreamed of going to Yale, let me just apply.' And lo and behold, I got in! I was really excited."
In graduate school and in her work, Wijesundara continues to grapple with social justice issues. "There's a world outside of America and many people who have connections to all different parts of the world," she said. "Knowing that is an incredibly crucial part of being an actor. Being able to represent the wholeness of humanity, the ugliness of it, the good parts of it, the challenges."
What Wijesundara likes about Yale is what she liked about Adelphi: It encourages her and her classmates to be whole people, whole artists.
"It's so much more liberating to be an actor once you are aware of the world that you live in," she said.