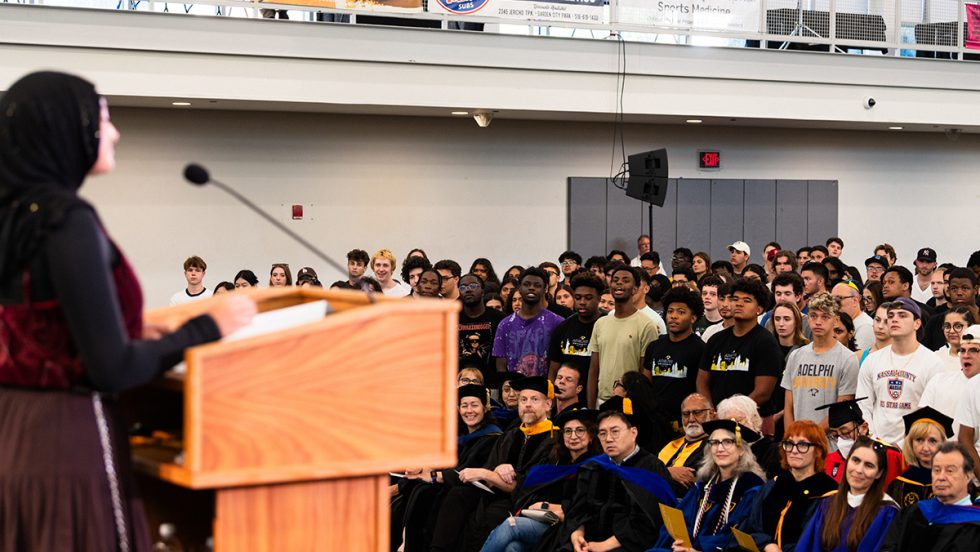 Adelphi University's largest first-year class ever became "official" on Sunday at the annual Matriculation ceremony at the University's Center for Sports and Recreation.
Many of the nearly 1,400 members of the Class of 2027, and almost 250 incoming transfer students, attended the event and were warmly welcomed by Adelphi President Christine Riordan, PhD; Christopher Storm, PhD, provost and executive vice president; Joseph Westphal '70, PhD; Adelphi trustee and former U.S. ambassador to Saudi Arabia; and Executive Leadership, faculty members and student leaders.
Representing 40 States, 72 Countries
Each speaker offered guidance for the incoming class. President Riordan commended the members of the Class of 2027 for their impressive average GPA of 3.7 and noted they are among the most diverse group of incoming students in Adelphi history, representing 40 states and 72 countries. (When classes began on August 28, the new first-year and transfer students were joined by nearly 950 new graduate and doctoral students.)
She also reminded the students that they are not bound by who they were, and that the possibilities before them at Adelphi are limitless. "Who will you be as an Adelphi college student?" she asked the students. "We encourage you to take advantage of every experience on campus. We want you to find the true you."
Words of Wisdom From Matriculation Speakers
Ambassador Westphal noted that the political divisiveness and racial unrest in the 1960s, when he attended Adelphi, are not unlike what students are experiencing today. "Your experience here will help you learn and understand the many complexities of our modern society, he said, adding that it will "be the best preparation for the future."
Sophomore Teanna Williams, recipient of the Outstanding First Year Student Award for 2022–2023, and junior Joe Sawma, Student Government Association President and 2023 Newman Civic Fellow, also addressed their new peers and shared advice and lessons they've learned during their time at Adelphi.
"The first thing you need to think about is getting involved on campus," said Williams, who also shared her struggle to overcome shyness in her first semester. "The second most important thing is time management and maintaining balance. My final piece of advice—and in my opinion, the biggest one—is to take a moment to yourself and realize that you have made it … . All of you deserve to be here, and once you realize that, you can take control of your college experience and live the life you want to live."
Sawma reassured the students that "you will always find a community that will have your back at all times. That's why on this campus, beyond diversity, equity and inclusion, we pride ourselves on the element of belonging. You now are part of this campus; you are Adelphi!"
Faculty Award Winner Addresses Class of '27
Mary Jean McCarthy, clinical associate professor and recipient of the 2023 Excellence in Teaching Award for tenure-track, lecturer or clinical faculty member, addressed the Class of 2027 on behalf of the nearly 100 faculty members in attendance who cheered the new students on. She offered advice she shared with her own children: "While not easy or comfortable, sometimes even painful, embracing challenge is a path to growth and self knowledge … reaching out for support is a sign of strength not weakness," She added, "I can attest that your Adelphi University community believes in you and you are surrounded with support. Believe in yourself. You will be challenged and supported to stretch beyond your comfort zones, where true growth and discovery lie."
In addition to addresses from speakers, students joined in the reading of the honor code, led by first-year student Hayaa Beig, and sang the national anthem and the Adelphi Alma Mater, led by Adelphi senior student Mallory Clark.