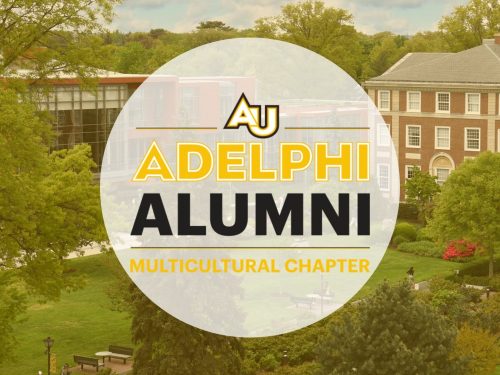 Multicultural Alumni Chapter Affinity Group
Mission & Goals
Founded in October 2003, the Adelphi University Multicultural Chapter (MCC) was established to recognize, embrace and celebrate diversity. Today, the Chapter leads the effort in advancing the University's diversity goals including student mentorship, scholarship, and professional development. The focus of the group is to further Adelphi University's commitment to diversity, serve as a vehicle for continued relationships and networking opportunities, and support financial scholarships that celebrate diversity.
MCC Virtual Events
Did you miss an event or want to take a look back at past MCC alumni webinars and virtual events? Archived events are available below!
Multicultural Alumni Chapter MLK Town Hall: The Art of Civic Activism
Join the Multicultural Alumni Chapter for an intimate fireside discussion with Adelphi alumni and New York City Council candidates Tiffany Pryor '05 and Felicia Singh '11, MA '12. The event will transition to a town hall forum, where the MCC community will engage in dialogue about civic activism at the university, both past and present.
Multicultural Alumni Chapter Discussion: Who is Behind the Mask?
Join us for the opportunity to connect as we engage our multicultural alumni community through an uplifting conversation centered on our accomplishments and life after Adelphi. The discussion will spotlight four thriving alumni and will focus on the importance of giving back and what it means to advocate in a time of social unrest. The panel discussion will feature Dr. Elvin T. Ramos '06, MA '07, Lisa de Castillo '07 MSW '09, Alysha Rashid '11, Charleen Jacobs '06 and Jada Fletcher '20 and will be moderated by Isiah Hall '06, MBA '08.
Myths & Truths Behind the COVID-19 Vaccine with Dr. Francis Onwochei, '08, MS '10
Join the Multicultural Alumni Chapter for a discussion about the Myths and Truths behind the COVID-19 vaccine. The event will feature Dr. Francis Onwochei '08, MS '10, Hospitalist Physician, Good Samaritan Hospital. Dr. Onwochei's philosophy of care centers around empathy, community health, education, giving back and bridging the inequality gap in healthcare services. He spends time educating and empowering his patients to become proactive recipients of their own healthcare. Dr. Onwochei will share his knowledge about the COVID-19 vaccine, address misconceptions and truths and answer questions attendees may have.
Leadership
Isiah Hall '06, MBA '08 – Chair and Fundraising
Lisa de Castillo, '07, MSW '09 – Special Events Chair 
Alysha Rashid '11 – Membership Chair
Past Presidents
2018-2020 – Isiah Hall '06, MBA '08 and Laura Harding '98
2013-2018 – Aaron Harper '03
2011-2013 – Gregory Singer '90
2009-2011 – Tara Howard Saunders '84
2003-2009 – Grady Faulkner '75
Multicultural Alumni Chapter
Get to know our affinity group.
4 Photos