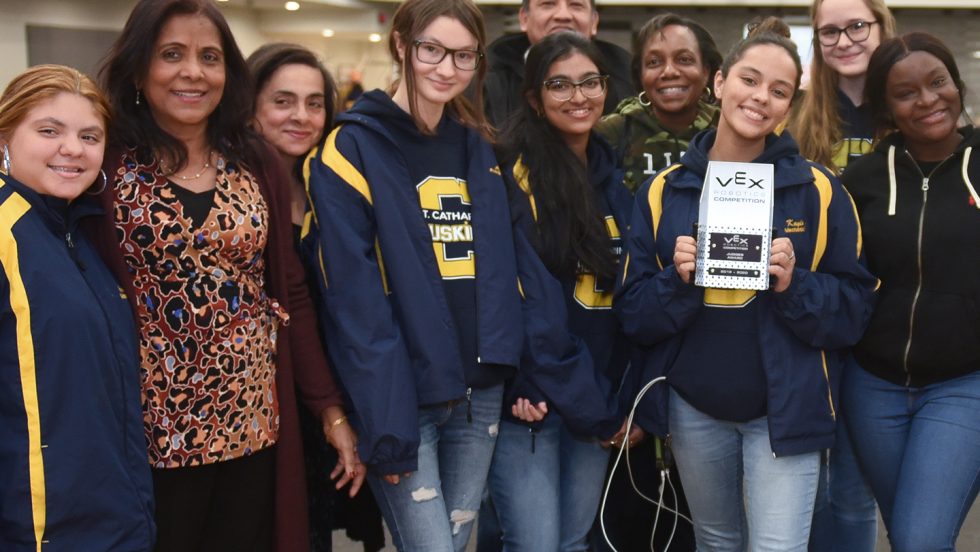 Adelphi's STEP and CSTEP programs are helping to prepare diverse students from local high schools and Adelphi for inspiring careers in science, technology, engineering and math fields.
Noël Jackson, 16, developed an early interest in computer science but wanted to gain hands-on experience in the field before college. So he joined Adelphi's STEP (Science Technology Entry Program), which offers educational opportunities in STEM (science, technology, engineering and math) to local high school students from underrepresented groups.
Through the program, he and other Black and Hispanic students took a summer computer science course at the Brookhaven National Laboratory and dove further into fields like cybersecurity and game design.
"I viewed it as an opportunity to experiment in various STEM fields and decide which one is desirable to me," Jackson said of STEP. "Not only that, but it would allow me to network with others with similar goals."
STEP and its partner program, CSTEP (Collegiate Science & Technology Entry Program), which provides current Adelphi students with STEM education and research opportunities, are at the heart of the University's commitment to diversity. Participants attend professional conferences, workshops, field trips and competitions, and work in University labs. The programs launched in 2011 with a combined 250 students. In 2020, they will serve 540 students.
"It is important for everyone, but especially institutions of higher learning, to not only improve diversity but to understand its importance," said Sabita Nayak, director of the STEP and CSTEP programs. "Diversity in STEM improves communities and professions by including diverse perspectives and voices in research and discovery. That leads to solutions that can improve society and shape the future."
Both the STEP and CSTEP programs have continued to run virtually through the COVID-19 pandemic. This past summer, 25 incoming Adelphi first-year students took part in CSTEP programming to develop STEM skills and network with faculty.
"Our goal is for staff and students to connect, because it helps retention," Nayak said. "In nine years of this CSTEP and summer program, nobody has ever dropped out. They feel like Adelphi is their home."
Helping Parents, Staging Robotics Competitions
Adelphi even provided parents of Adelphi STEP students with online summer workshops to give them an in-depth look at the program. The workshops also helped parents guide their children through the virtual education process.
"Parents said they needed help developing these technology skills to better understand their kids' learning needs," Nayak said. "They were so engaged and very happy to learn new skills themselves, many of whom had not been in a classroom setting for quite some time."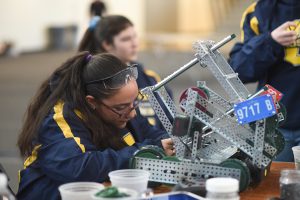 Adelphi held a regional robotics competition this past January, bringing together 400 people to watch battles between robots created by 45 teams of students from middle schools and high schools across New York state. While Adelphi had to postpone its summer robotics competition, the University developed plans for a virtual robotics competition for the coming year, along with virtual robotics training for teachers.
"One of the most important goals is to create a learning community for students where they can feel comfortable, be challenged and attend without the social pressures they may be subjected to in high school," Nayak said.
Recognized as New York's Best CSTEP and STEP Programs
Last year, Adelphi received the President's Award from the statewide Association of Program Administrators for CSTEP and STEP (APACS). The award, which cited Adelphi for "extraordinary dedication and service," recognized the University's programs as the best of the state's 57 STEP and 50 CSTEP programs.
This year, funding for the University's programs was renewed through 2025 with a $5 million grant from the New York State Education Department. The programs also received a new grant from the Liberty Partnerships Program for $1.25 million.
Going forward, Nayak hopes to grow the STEP robotics program to reach more underserved and underrepresented students across New York state. She plans to begin offering drone training and competitions, and to work with University departments to develop innovative programming that will strengthen the connection between Adelphi and local school districts. The goal, of course, is to produce more STEM graduates.
As for Jackson, he is studying for his SATs with help from STEP prep courses and continuing to improve his computer science skills.
"I have yet to decide on what exact side of computer science I would like to specialize in," he said. "I am hoping to use the remainder of the time I have left in STEP to figure that out."