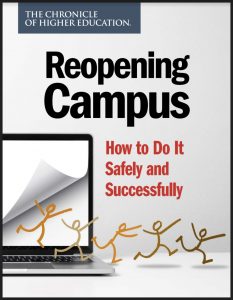 A version of this piece appeared a recent special issue of The Chronicle of Higher Education, Reopening Campus: How to Do It Safely and Successfully and is reprinted here with permission.
Last year, before the pandemic hit, I was a vocal critic of teletherapy. As a classically trained therapist, I was skeptical that any treatment method that didn't rely on shared physical space could be useful or effective.
Today I'm a believer.
Not only has teletherapy worked to deliver much-needed care during this time of forced isolation, it has deepened students' therapeutic experience in ways I never expected. I'm now convinced that teletherapy — and other nontraditional counseling methods — should remain a key part of our toolkit even after the pandemic is behind us.
This past year I've gotten to know my patients in their personal spaces via Zoom, and I've been surprised by the increased intimacy it has created between us. My peers report the same thing. One therapist recently recounted a story of a client who, while crying during a virtual session, briefly rested her forehead on the screen of her laptop. My colleague said she was struck by how authentic that moment felt, describing it as the closest she'd ever felt to the student.
I worked with a student who didn't want to show her home on camera during our sessions. After a couple of months, however, she finally turned her camera on, inviting me into the most vulnerable of places, the home where she had been abused. That moment would have been only conceptual had we met in an office. Meeting patients virtually allows us to create a new kind of shared space, joining our clients in the very place where they are dealing with their challenges.
This of course doesn't mean that in-person individual and group therapy should vanish. My colleagues and our patients are still hungry for the shared refuge of face-to-face counseling. We want to be able to offer students a tissue when they cry, to watch their nuanced hand wringing or foot tapping, to hear their breathing, and to have them sit in a space free of siblings, pets, cell phones, and parents delivering laundry. We miss seeing how a client walks into the room or flops into the chair. In-person interpretations of nonverbal communications can lead to new therapeutic inquiries and breakthroughs, and physical proximity is helpful to evaluate some medical conditions and mood disorders.
Further, the drawbacks of teletherapy can't be denied. Behind their computer screens, some patients may be less forthcoming. We also miss cues when we're limited by our pixelated views of one another; on Zoom, my patients sometimes ask if my screen is frozen, and I'll have to explain that I'm just listening intently.
Still, as we find our way into a post-pandemic future, a flexible, hybrid model of in-office and teletherapy is what will meet the evolving needs of patients in our new, next normal.
Demands for mental-health care, which were already overwhelming many campuses before the pandemic, will likely only increase in the months ahead. According to a survey by the Center for Collegiate Mental Health, 85 percent of students seeking mental-health care reported that Covid-19 has negatively impacted at least one aspect of life, with mental health (65 percent), motivation or focus (61 percent) and loneliness or isolation (60 percent) the most cited areas. More than a third of college students nationally screened positive for depression or anxiety during the fall 2020 semester.
Despite some indications that the pandemic hasn't deepened the existing campus mental-health crisis as much as we feared, our future challenges are still significant. As much as we're looking forward to returning to more traditional on-campus and in-person learning in the fall, we're all still grappling with the effects of a year of loss and uncertainty. Students, particularly those from marginalized or minority communities, may feel a heightened sense of isolation back on campus. They may be grieving the loss of loved ones, recovering from their own cases of Covid, or experiencing survivor's guilt. Students may feel anxious as they readjust to communal living after a year of social distancing.
Offering a wide range of options will be essential to meeting the needs of those students. They need a sustained sense of community amid their stress and isolation. They need bridges to one another, to their colleges, and to professional support. Social connectivity is the foundation on which we can help build resilience and post-traumatic growth in the wake of the pandemic. That could mean providing support groups that offer social solidarity, in addition to providing in-person and virtual one-on-one interventions.
On our campus, for example, a new support group focused on racial justice holds space for students to discuss the ways in which the country's racial and socio-political climate has affected their lives. They explore ways to both cope with these stressors and potentially effect change. A new "Coping with Covid" group offers support for students experiencing personal and academic difficulties as a result of the coronavirus pandemic, focusing on positive coping strategies, problem-solving techniques, and resilience.
Even before this season of anguish, traditional counseling methods weren't enough to reinforce today's students. The past year has offered us a laboratory to experiment with new models and new interventions. The only thing we could do wrong now would be to make rigid demands on what our work must look like. We must fully embrace and extend the radical flexibility that the past year has demanded of us.
Joshua Altman is associate director of the Student Counseling Center at Adelphi University.