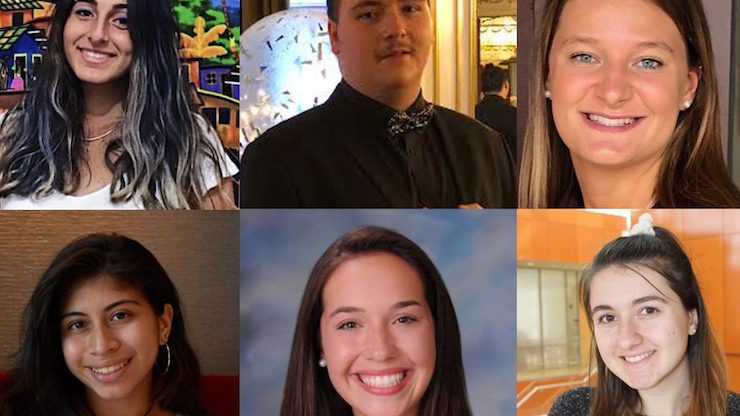 As we approach the end of the 2019–2020 academic year—one of the most challenging in Adelphi's history—we look at all that the SGA accomplished this year and welcome the new board.
The Student Government Association (SGA) is the representative body for undergraduate students at Adelphi University. The executive cabinet and body of senators represent and promote the interests of students and convey feedback and ideas to upper administration.
As we approach the end of the 2019–2020 academic year—one of the most challenging in Adelphi's history—we look at all that the SGA accomplished this year and welcome the new board.
Student Government Association accomplishments
This past year, SGA members:
Played an active role in conversations about University dining. They sat down several times with Adelphi Dining and the Office of Auxiliary and Event Services to provide direct student feedback and suggestions.
Sponsored scholarships for students to attend the Center for Student Involvement's alternative break trip to Hawaii. They also generously subsidized the cost of the trip for every student who attended. They are researching the viability of sponsorships for commuting students and students wishing to attend academic conferences.
Created a cap and gown sponsorship for graduating seniors, after hearing feedback that purchasing academic regalia prevented some students from being able to attend Commencement.
Sponsored an internship in Washington, D.C., for an undergraduate student, in conjunction with the Office of the Provost.
Partnered with the Center for Student Involvement on Wear It Wednesday initiatives throughout the year to increase spirit and pride on campus, kicking off the campaign at an ice cream social during Spirit Weekend, where they handed out 400 shirts to the campus community.
Sponsored a breast cancer awareness table to raise funds for the Adelphi NY Statewide Breast Cancer Hotline & Support Program.
Handed out 250 finals care packages during the fall semester and honored seven University community members at their annual Women's Recognition Awards in March.
Provided funding for the University to increase the number of loaner laptops and equipment to help students be successful while learning remotely when approached with concerns about student access to technology during the pandemic.
The SGA continued to hold their weekly open meetings via Zoom this semester, where all students were invited to attend and share ideas. On May 4, the SGA, along with the Center for Student Involvement, hosted their 17th annual Brown and Gold Awards ceremony to recognize Adelphi's outstanding student leaders, student organizations and faculty/staff. More than 100 nominations were submitted for these highly coveted awards and over 80 Adelphi community members attended the virtual event.
Under new leadership
Adelphi undergraduate students elected their executive cabinet for the 2020–2021 school year. These students will serve as the face of the undergraduate student population next year. Here are their names, offices, academic years as of Fall 2020, majors and what they are looking forward to.
President, Maria Paradiso, junior, mathematics major in the STEP program: "I would like to continue the important initiatives that the SGA started this year, but also create new ones to help improve the student experience."
Vice president of administration, Francine Nastasi, junior, marketing major: "I was previously involved as the SGA's parliamentarian. I am looking forward to my increased responsibility and working with our senators to help them best represent the interests of Adelphi students."
Vice president of external relations, Niamh Condon, nursing major: "I was involved in the SGA at my previous institution, and am looking forward to helping Adelphi students' voices be heard."
Parliamentarian, Barbara Quagliardi, finance major: "I am excited to continue my work with the Student Government Association after previously serving as a senator."
Executive treasurer, Tyler Masure, sophomore, political science major: "I served previously as a senator. I am looking forward to working more with upper administration as well as with student organizations and their finances."
Public relations coordinator, Victoria Alonso, sophomore, art therapy major: "I am excited to collaborate with my fellow executive board members and create meaningful connections for students."
I encourage all undergraduate students to get involved with the SGA. Apply to serve as a senator for the 2020–2021 year. Applications will become available the first day of classes this fall. Check meeting locations on MyAULife next semester.
---
For further information, please contact:
Todd Wilson
Strategic Communications Director 
p – 516.237.8634
e – twilson@adelphi.edu