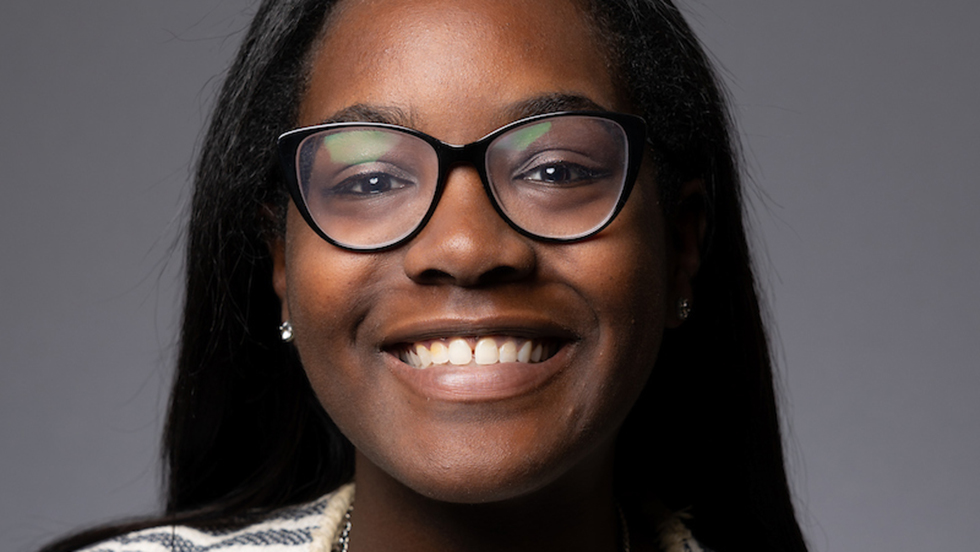 Shayla Clarke '16, MS '19, fell in love with Adelphi the second she arrived on campus.
Member of Adelphi University's 10 Under 10
College of Arts and Sciences – Criminal Justice
College of Professional and Continuing Studies – Emergency Management
Director of Emergency Recovery, Nassau County Office of Emergency Management
"It felt like my home away from home with the beautiful landscape and the intimacy of the class sizes," Clarke said. "It was more than I could have ever expected it to be."
Adelphi provided her with the tools, resources and the network to not only be an educational scholar but a professional scholar. However, the University has a much deeper connection for her. 
"Adelphi brought me back to life," Clarke explained. "After the death of my mother and a few other family members at a young age, I felt lost. The campus, the energy, the activities, the bunnies, the smiling faculty and staff, all as a collective, set the fire within me to take the world by storm (but with a smile)."
At Adelphi, she had so many people who supported her and had many relationships that have impacted her in many ways. She narrowed her list to four individuals: Sarah Eltabib, PhD, associate teaching professor, who was her General Studies tutor and helped her figure out time management; Stephanie Lake, PhD, associate teaching professor, whose class, Sociology of Terrorism, and her annual event, Careers in Criminal Justice, made her apply for the MS in Emergency Management program to focus on the homeland security track; Bernadine Waller, MA '10, PhD '21, associate director for experiential learning, Center for Career and Professional Development, who she worked with in the Career Center and inspired Clarke to pursue a doctorate; and David Williams, EdD, adjunct professor,who she credits the most significant exposure in the field because of his extended invitation. 
"What all of them have in common is that they are some of the hardest working individuals, juggling various things," Clarke said. "They have always been and are still so willing to share their thoughts, opinions, research and, most importantly, their time with me, and they are always so happy to do so. The sharing of your time is not something I take lightly, and it's something we will never get back. I am so fortunate!"
Clarke serves as the director of emergency recovery for the Nassau Office of Emergency Management. She manages the day-to-day operations, including developing, recommending and coordinating short-term and long-term recovery activities, specifically the long-term recovery of Superstorm Sandy, the COVID-19 pandemic, and two other federally declared disasters, as well as pre-disaster recovery activities such as preparedness and planning. She is also pursuing a doctorate in homeland security. She began her career as an administrative assistant for a consultant company on the Nassau County Superstorm Sandy Long-Term Recovery Project while pursuing her master's degree in emergency management. 
A two-time Jagger Community Fellow, Clarke acknowledges that her internship at Island Harvest as the documentation specialist with their Summer Food Service Program prepared her for her career due to the importance of proper documentation. 
"Because it was a state-funded program, they stressed the importance of proper documentation and recordkeeping," Clarke said. "Most of what I do now surrounds proper documentation, and FEMA always says, 'Document everything.'." 
Clarke also proudly serves the United States Naval Sea Cadet Corps at the rank of Lieutenant, Junior Grade, as her division's executive officer. Clarke was an officer in the training contingent for several advanced trainings, including executive officer in the first all-female national security advanced training. She has facilitated two seminars on emergency management homeland security advanced training. As a result of her work with the U.S. Naval Sea Cadet Corps, Clarke was awarded the Bronze level Presidential Volunteer Service Award twice.
In 2021, she presented at The International Emergency Management Society's annual conference. The abstract of her presentation was the capstone fieldwork project that she had conducted in 2019 under the facilitation of Dr. Williams. In April 2022, the full paper was selected for publication in the same week she also found out she was accepted into the doctoral program and the offer of her home she was purchasing was accepted. 
Clarke, who is the co-chair of the Adelphi University Student Affairs Advisory Board and serves on the executive committee of the Women's Giving Circle, encourages students to make the most of everything at Adelphi. 
"Take advantage of everything Adelphi has to offer," Clarke said. "Join a club related to something you know nothing about, and establish standing relationships with the faculty and staff; they will be your champions."