"Adelphi made me understand my hidden potential."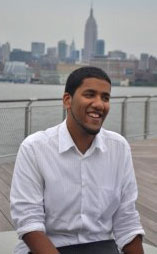 Member of Adelphi University's 10 Under 10
Director of Global Student Programs, Concordia College
"
Adelphi made me understand my hidden potential."
An international studies major at Adelphi, Reaz Khan '13 immersed himself in world issues and civic engagement through the University's Levermore Global Scholars (LGS) program. "My professors helped me understand that the world does not have to be black or white because there are so many colors in between," said Khan, who also appreciated the pathways Adelphi offered that allowed him to be involved in initiatives he found important. "The access Adelphi provided us to events at the United Nations and Council for Foreign Relations is unparalleled." Khan's experiences at Adelphi motivated him to carve a career devoted to promoting global education.
After graduating from Adelphi, he worked as an organizer for two political campaigns and led training sessions on activism and engagement in Queens—an experience that helped him understand he wanted to continue to work with young people. He applied for a job at SABIS, a Middle Eastern education network, and landed a position teaching civics and coordinating study abroad programs in the United Arab Emirates. Next, he taught English and Spanish at three multinational companies throughout Istanbul through work at the New York Studio of Languages.
Upon returning to the United States, he landed a position as an international student counselor at Mercy College in Westchester, an opportunity that allowed him to grow familiar with F-1 student immigration status and academic and career advising, before being named assistant director of international recruitment at the college and spearheading new programs for the school in Scandinavia.
Today Khan serves as the director of Global Student Programs at Concordia College in Westchester County, New York, a role in which he develops on-campus programming with the goal of "internationalizing the campus." He serves as a point of contact for students from abroad and for matters related to diversity and multiculturalism, and he develops bridge programs for high school students who hope to go to school in the United States.
In Khan's free time, he also writes grants for various nonprofit organizations—an opportunity that has taken him to over 35 countries in the past five years.
Since earning his undergraduate degree from Adelphi, he earned a M.A. in International Relations and Conflict Resolution from American Military University in 2016; an Ed.M. in Comparative and International Education from Columbia University-Teachers College in 2017; and, in 2018, an M.B.A. in Managerial Analytics from Mercy College.
"Balancing a full-time job, grant-writing and traveling with the coursework for these degrees could not have been possible without the discipline instilled in me at Adelphi," said Khan, who credits Adelphi with setting him on such a satisfying career trajectory filled with so many opportunities.
"The liberal arts education I received at Adelphi inspires me to think outside the box. The grounding in the social sciences has helped me classify, and experience in the humanities has helped me empathize. Adelphi, my major and the LGS program have helped me bring all of this to my work," he said.