Adelphi University has appointed longtime public safety associate director Ray Hughes '82 as executive director of the Department of Public Safety and Transportation, effective September 1.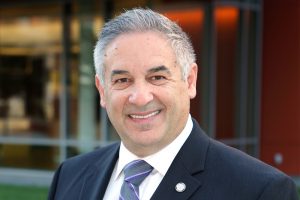 An Adelphi graduate and nearly 14-year veteran and industry leader in emergency management, Hughes takes the reins from Robert Hughes, who has retired after 13 years at Adelphi.
The executive director oversees the University's public safety, emergency management, transportation, locksmith, and environmental health and safety.
"Ray has been a senior administrator for the public safety and transportation department for many years, most recently as associate director for administration and investigations," said Gene Palma, Adelphi's chief administrative officer and associate vice president. "He is strongly committed to fostering diversity on campus and we have great confidence in his ability to keep our community safe, informed and in a state of readiness to address the complex challenges that are ahead of us. Ray will build on the successes of the department through collaboration and partnership with the Adelphi community."
In addition to his work at Adelphi, Ray Hughes (no relation to Robert Hughes) has been director of security operations for the Long Island Rail Road, has been an active member of the Nassau County Municipal Police Chiefs Association and National Association of Chiefs of Police, the International Association for Counterterrorism & Security Professionals, the Association of Threat Assessment Professionals, the American Society for Industrial Security, and the Nassau County SPIN (Security/Police Information Network), Suffolk County SCAN and NYPD SHIELD programs.
Hughes also serves on the board of directors of the Northeast Colleges and Universities Security Consortium and is a member of the Long Island College & Metropolitan University Security Association. He is a volunteer firefighter for the Sayville Fire Department and a defensive driving course instructor for the National Safety Council.
"Becoming the executive director of public safety was a goal I set out to accomplish since I became a member of campus law enforcement over 14 years ago," Hughes said. "As an alumnus, it gives me the opportunity to take care of the same community that took such good care of me. I have a strong belief in diversity and inclusion and, as I have stated in the past, Black Lives Matter. These are difficult times that face our nation but I am confident that by working together as a community and treating everyone with dignity and respect, Adelphi University will come out stronger and healthier."
See more about Public Safety and Transportation at Adelphi.