2015 Outstanding Service to Adelphi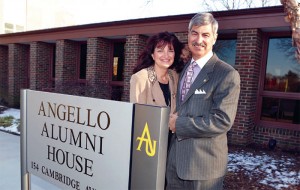 Frank Angello '77 earned his undergraduate degree at Adelphi University and went on to graduate with his M.B.A. in finance from Pace University.
Mr. Angello has 26 years of experience in senior finance roles at JPMorgan Chase and its predecessor banks. The retired chief financial officer of the Treasury and Securities Services Division, he oversaw three divisional CFOs and a central team collectively employing 300 professionals globally. He played a crucial role in four transformational mergers during his stewardship. Later he went on to serve as the CFO of Lighthouse International, an organization dedicated to fighting vision loss through prevention, treatment and empowerment. Mr. Angello has been active in the banking industry as a Conference Board delegate and a Private Sector Council delegate. His expertise has been requested for numerous speaking engagements, including PricewaterhouseCoopers and the Risk Waters Group.
A graduate of Dowling College, Phyllis Angello held a variety of executive and administrative positions throughout her career with the Internal Revenue Service. She worked in the Northeast Regional Office, Manhattan District Office and the Brookhaven IRS Campus, retiring in 2011 after 37 years. Since 1993, she has volunteered at Abilities Inc. at the Viscardi Center, and has served as a member of the Abilities Corporate Board and co-chair for their annual golf outing.
The Angellos are active in their parish community. Together they have co-chaired the Pastoral Council and Marriage Preparation program. Mrs. Angello has been involved in religious instruction and served as a Eucharistic Minister. Mr. Angello has been the chair of the Finance committee.
The Angellos have also provided their leadership and support to Adelphi. Since Mr. Angello was elected to Adelphi University's Board of Trustees in 2007, he has served on nearly every Board Committee, and as the chair of the Finance & Administration Committee and secretary of the Board. The Angellos served on Adelphi's Parents Council when their son, Peter Angello '11, was a student. Mr. and Mrs. Angello have been members of the committees for the Golf Classic and Annual President's Gala, two of the University's largest fundraising events.