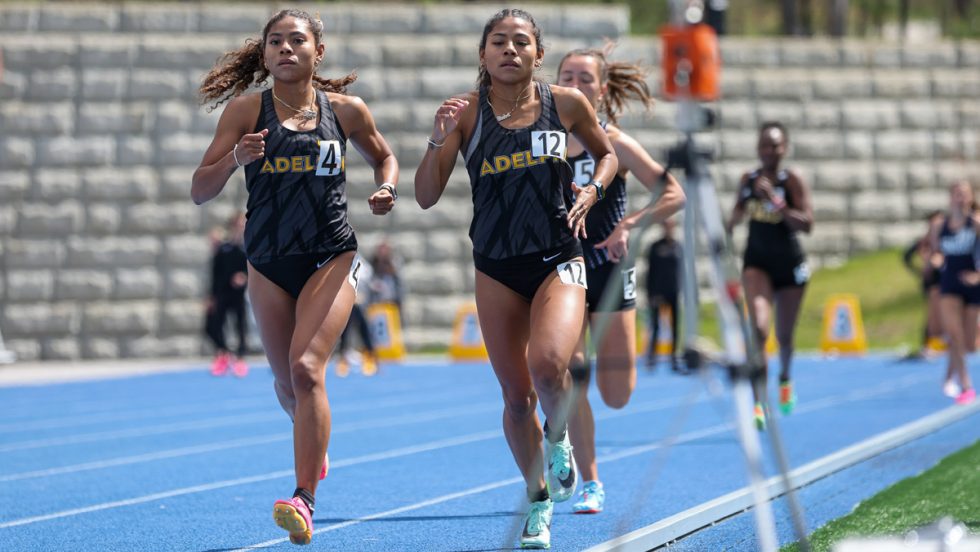 The identical twins run almost identical times while setting track records for the Panthers.
When opponents take the track for races against Adelphi, they often have the uncertain feeling of being passed by the same woman twice.
But, in fact, those runners have been overtaken by Katherine and Isabel Marsh, identical twins who compete fiercely as Panthers while expressing their sisterly love.
"Katherine and I are not competitive with each other at all, which seems to surprise a lot of people," Isabel said. "When we go into a race, we smile and give each other a pep talk. Each of us wants the other to do well."
For the sisters, doing well means stepping onto the podium for medals after defeating their rivals in races of 800 meters, 1,500 meters and one mile.
There seems no limit to how many things the Marsh twins do together. The 5-foot-1-inch seniors from East Meadow, New York, were high school teammates on the track. They had both planned to enroll at SUNY (State University of New York) Oneonta before deciding to attend Adelphi. They both made the Northeast 10 Academic All-Conference team in 2022. They are both students in the Robert B. Willumstad School of Business—Katherine majors in management, Isabel in marketing—and they both work part time at a Target store near the Garden City campus.
"There really aren't many differences between us," Katherine says. "The only battle is each of us encouraging the other to be better."
Katherine has earned more kudos on the track. After winning an 800-meter race in a personal-best 2 minutes, 8 seconds, she was named the NE10 Indoor Female Track Athlete of the Year in 2022.
"She's a tenacious racer—you can see the fire in her eyes when she is on," said Katie Rees '05, MA '06, Panthers track and field head coach and assistant athletic director.
Katherine's success at Adelphi is even more impressive because she once had a seizure during a race while at East Meadow High School.
"It happened during my freshman year," she said. "The doctors never found the cause. I think it was just stress that I was going through at the time. But I've learned to manage stress in a healthy way."
The ability to manage time as well as stress has helped the Marsh twins excel on the track and off.
"They are both extremely hardworking and consistent in their focus and their training," Rees said.
"Katherine and I are good planners," Isabel said. "Because we have coursework, track meets, practices and part-time jobs, we plan out everything. You don't want to wait until the last minute to do coursework. We motivate each other to do what we need to do."
Either Sister Can Win on Any Given Day
Lately, Isabel has used as motivation the comments from those who wondered why she had not matched Katherine's success on the track, as if the sisters were clones instead of twins.
"I had always been a few seconds or so behind Katherine," Isabel says. "Maybe I didn't trust my ability as much. Last year, when I tried training on my own, I kind of came out of my shell and ran more confidently. Then, when Katherine and I reunited on the track, we accomplished even more."
When the Marsh twins competed in the NCAA Division II Indoor Championships in February, Isabel finished ahead of Katherine in the 800-meter race. Isabel's seventh-place finish earned her first-team All-America honors. Katherine finished 10th and made second-team All-America.
Isabel then set an Adelphi outdoor record by finishing an 800-meter race in 2:08.93 at Bucknell University in April.
"Isabel has worked so hard to bridge the gap; now either Isabel or Katherine can win on any given day," Rees said.
Stronger Together
The sisters finished the outdoor season with a flair. At the Northeast-10 Championships, Isabel earned gold medals in the 800 and 4 x 800 relay, a silver medal in the 4 x 400 relay and a bronze medal in the 1500. She qualified for the NCAA Division II Outdoor Championships and placed 13th overall in the 800. Katherine earned silver medals in the 800 and 1500 at the NE10 Championships. Her time of 4:30.26 in the 1500 set an Adelphi record.
As the Marsh twins continue to collect medals and smash records, it may be harder for people to tell them apart.
"Coach Rees and our teammates can tell us apart because we have different running forms, but guys have trouble telling us apart," Isabel said with a laugh.
The Marsh twins have another year of athletic eligibility because of the pandemic. After that, they say they may go into real estate—together. As with most of the goals they pursue, success is likely to come quickly.