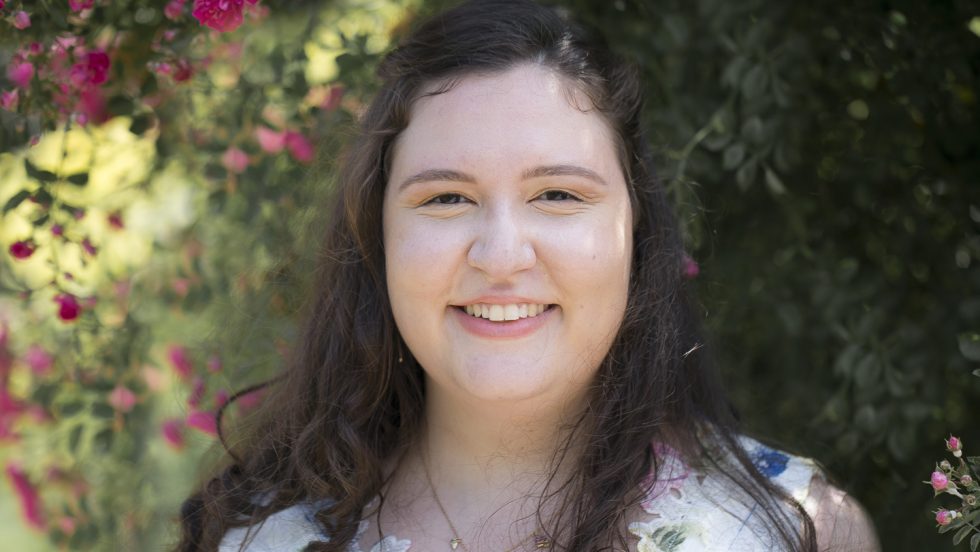 In 2007, Adelphi University launched Bridges to Adelphi, an award-winning program that helps students on the autism spectrum or who have nonverbal learning disabilities transition to college life and succeed academically and socially.
Under the direction of Mitch Nagler, MA '06, the program grew from serving five students its first year to 109 students today and expanded its services, including opening a Sensory Room and working with employers who provide internships that prepare students for future careers.
Nagler retired earlier this academic year and, since fall, Bridges has been under the leadership of its interim director, Diana Damilatis '10, MA '12, MA '14. While she may not be as familiar to the Adelphi community as Nagler, she is no stranger to Bridges, or to Adelphi.
Damilatis has been with Bridges since 2007, when she joined as a volunteer peer mentor. At the time, she was studying business administration, but "Mitch guided me toward getting degrees in psychology," she said. "He told me, 'You're too good at this to not make it your career.'"
After graduating with a Bachelor of Business Administration in 2010, she earned two additional degrees from Adelphi: her master's degree in psychology in 2012 and a second master's degree in mental health counseling in 2014.
As Damilatis earned her degrees, she progressed through various roles in Bridges. She became a peer mentor supervisor, then an academic coach, then academic supervisor. In 2014 she took on a full-time role as assistant director, then moved up to associate director, then senior associate director.
During her years in Bridges, she developed strategies to help students improve their organizational skills and co-led a social skills group for female students. In addition to working with the students enrolled in Bridges, she trained the many students employed by Bridges and led neurodiversity awareness trainings with faculty and staff to not only help them support and interact respectfully with students, but to appreciate their strengths and how neurodiversity enriches everyone at Adelphi.
Nagler's Handpicked Successor
Damilatis was named interim director in September, but Nagler began handing over the reins in May. "Diana and I worked together for years," he said, "and I have believed for a long time that she is well qualified to be the director of Bridges to Adelphi. She is an expert in the field of autism spectrum disorders and is passionate about supporting all individuals with disabilities. She is already well known and respected by members of our administration and faculty. I feel very comfortable knowing that she will continue the important work that she and I collaborated on."
"Mitch left some really big shoes to fill," Damilatis said, "but he told me, 'I know Bridges is going to be in good hands because you know the program, you know the history, you know how to run it.'"
So far, she's been filling those shoes just fine—no small feat during a semester where Bridges has been providing most of its services online, with students meeting through Zoom and sending emails instead of meeting in person.
Damilatis gives the credit for helping Bridges students get through a tough semester to her staff, which consists of undergraduate students, graduate students and five full-timers. "We're always connected," she said, "answering phone calls and sending emails every day. I truly believe in the power of teamwork." Her student staff members also gain valuable professional skills mentoring and working one-to-one with students on the spectrum.
Damilatis is continuing to seek initiatives to enhance Bridges, and she's confident the program will continue to thrive. "Bridges isn't going anywhere," she said. "We'll continue to be here for our students—past and present—their families and our vocational partners. It's amazing to see the transformation for each student. You see students who didn't know how to interact with peers or start a conversation become club presidents and have successful journeys at Adelphi."