Harmit is a student employee working as an Endpoint Integration Assistant in IT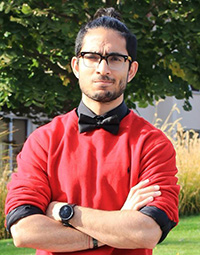 The staff of the Office of Information Technology would like to congratulate
Harmit Minhas
Student Worker of the Month for October 2016
Harmit works as an Endpoint Integration Assistant in the Office of Information Technology. He a mathematics major and part of the Class of 2017.
He was also a first place winner of Adelphi's First Hackathon in 2015. He helped create an app with my team called Library Plus, designed to help students get together inside the library and form study sessions with others taking the same course. 
Here are some of the comments we received from IT staff members who nominated him:
"
Harmit has an exceptional work ethic. He shows up to work on time, he is a self-starter, and best of all, he only needs little direction to get tasks done. He thinks on his feet and he is not afraid to ask questions when he needs help. I feel confident to send him off to jobs by himself, or have other less experienced student workers shadow him. He has been a tremendous help to our group."

"Harmit works well without supervision. He takes tickets assigned to the Endpoint Students and goes out to attend to them and asks questions when needed. He has a positive disposition and is trustworthy and reliable. He only started working with us in the summer and has gained  the skills to do most jobs."

"He is a great worker, always on time and ready for any job. Open to learn anything and very assertive."
---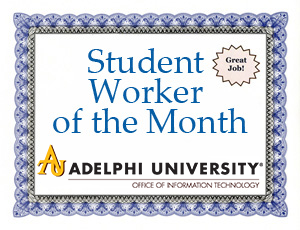 About IT's Employee of the Month Nominations
It is important to demonstrate our appreciation for the contributions of our student workers to their teams, to the Office of Information Technology, and to Adelphi University as a whole. At the end of each month, we will honor one student worker who has demonstrated commitment, leadership, and initiative in their position. The recipient will be presented with a certificate and gift, as well as a featured spot on our IT website.
All IT employees (including student workers) are encouraged to submit nominations for their choice for Student Worker of the Month. Your nominee should display qualities deserving of recognition.
Please submit all nominations through the Student Worker of the Month Nomination Form.