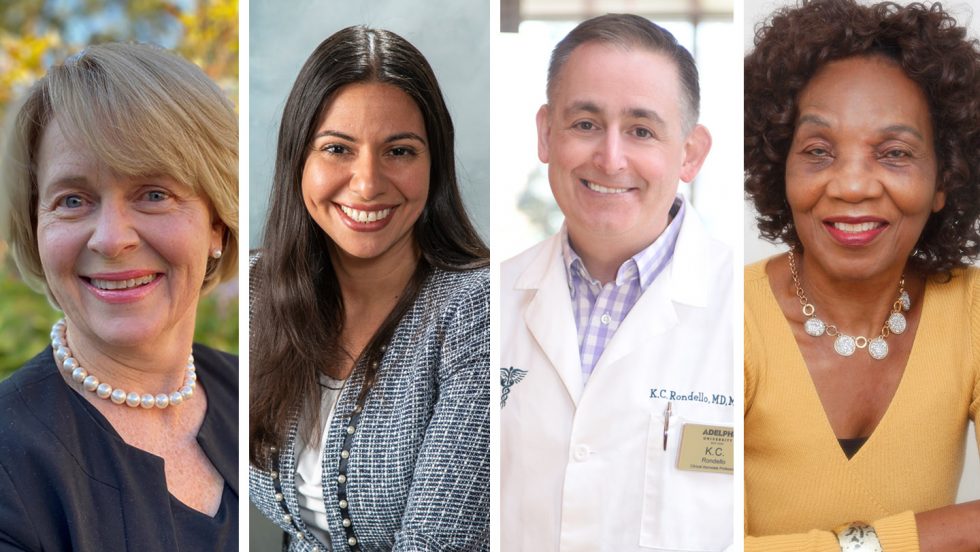 The trustees of the New York Academy of Medicine (NYAM) have named four professors in Adelphi's College of Nursing and Public Health (CNPH) as fellows of the academy. NYAM fellows are a community of distinguished professionals who show evidence of performance or outstanding potential in one or several health professional roles.
Marissa Abram '08, PhD '17, assistant professor; Ditsapelo McFarland, PhD, associate professor; Marie Cox, DNP, MSN '04, clinical assistant professor; and K.C. Rondello, MD, clinical associate professor, were all named fellows of NYAM at the beginning of the fall semester.
"I am delighted for our accomplished CNPH faculty members who have been inducted as 2020 Fellows of the New York Academy of Medicine," said Elaine Smith '78, MS '88, EdD, dean of the College of Nursing and Public Health. "Drs. Abram, Cox, McFarland and Rondello join the ranks of the eight other CNPH faculty members who have been similarly honored over the past several years. The contributions of our faculty members, particularly during a global public health crisis, have been just remarkable."
According to NYAM, to be considered for fellowship, individuals who have completed their graduate training or have completed graduate education and certifications as appropriate to their healthcare-related field—including, but not limited to, medicine, dentistry, pharmacy, public administration, nursing, social work and public health—for at least 10 years are eligible for membership. They must also show evidence of strong performance in one or several of the health professional's roles of practitioner, teacher, scientist, researcher, administrator or citizen.
All NYAM fellows are elected by their peers, who share the organization's commitment to health equity, and are accepted on a quarterly basis throughout the year and formally inducted at the Annual Meeting of the Fellows each November.
Drs. Abram, McFarland, Cox and Rondello join eight other College of Nursing and Public Health faculty who are NYAM fellows (including Dean Smith):
Maryann O. Forbes, PhD '99, associate dean for academic affairs
Patricia Donahue-Porter, MS '78, PhD '87, professor
Marilyn B. Klainberg '63, MS '77, EdD, professor
Jane H. White, PhD, professor
Deborah A. Ambrosio-Mawhirter '81, MS '95, EdD, clinical assistant professor
Mary L. Jahrsdoerfer, PhD, clinical assistant professor
Edmund J.Y. Pajarillo, PhD, associate professor and department chair