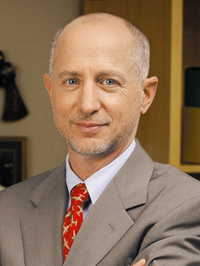 Jim Hagedorn, CEO of The Scotts Company LLC, will deliver the Hagedorn Lecture on Corporate Social Responsibility at Adelphi University on Wednesday, October 10, 2012, at 6:00 p.m. This event, hosted by the Robert B. Willumstad School of Business, will be held in the Thomas Dixon Lovely Ballroom in the Ruth S. Harley University Center, 1 South Avenue, Garden City, NY.  
Hagedorn played a significant role in the merging of The Scotts Company and Stern's Miracle Gro Products, Inc. in 1995 and was named senior vice president of the newly formed Scotts Miracle-Gro Company. After the merger, he served as president of the company on two separate occasions, from May 2001 to December 2005, and from November 2006 to October 2008. During these times, the company gained abundant success in the U.S and the U.K.  Hagedorn assumed his current role as CEO in May 2001 and was named chairman of the Board of Directors in January 2003.
A graduate of The Harvard Business School Advanced Management Program, Hagedorn also holds a degree in aeronautical science from Embry Riddle Aeronautical University, where he is a member of the Board of Trustees. Other titles that Hagedorn holds include associate trustee of the North Shore Hospital in Manhasset, N.Y., chairman of the board for the Farms for City Kids Foundation, Inc. in Reading, Vt., board member for the Centers for Disease Control and Prevention (CDC) Foundation, and trustee at the Intrepid Foundation. In addition to his corporate success, Hagedorn is an accomplished F-16 fighter pilot, having served in the United States Air Force as a captain for seven years.
Started in 2003 through a generous contribution from Amy Hagedorn '05 (Hon.) and Miracle-Gro founder, the late Horace Hagedorn '01 (Hon.), Adelphi's annual Hagedorn Lecture Series on Corporate Social Responsibility enables the University to invite prominent speakers to address pressing issues of the day. The series supports the University's goal for creating a culture of conscience among students, faculty, staff, administrators, and local community members. Previous speakers include: Robert. B Willumstad '05 (Hon.), Stephen Heintz, Thomas J. Donahue M.B.A. '65, Noreen Harrington '81, Arthur Levitt and David Boies.
For more information about this and other events on campus, please visit adelphi.edu, or call the Cultural Events Hotline at 516.877.4555. To learn more about the Robert B. Willumstad School of Business, visit business.adelphi.edu. 
---
For further information, please contact:
Todd Wilson
Strategic Communications Director 
p – 516.237.8634
e – twilson@adelphi.edu