The co-editors and contributors to Written in Her Own Voice: Ethno-educational Autobiographies of Women in Education hope their book will help strengthen black women educators while changing attitudes among white male colleagues and supervisors.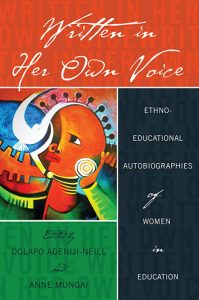 The co-editors of and contributors to Written in Her Own Voice: Ethno-educational Autobiographies of Women in Education (2016, New York: Peter Lang Publishing) hope that their book will help strengthen black women educators while changing attitudes among white male colleagues and supervisors.
Having overcome considerable personal and professional obstacles in finding their voices, they feel their life experiences can enable others to find theirs.
The book was co-edited by the Ammon School's Anne Mungai, Ph.D., interim dean, and Dolapo Adeniji-Neill, Ph.D., associate professor and chair of the Department of Curriculum and Instruction. Both also contributed articles on their life journeys to success in academia. So did two other Adelphi faculty members: Marsha J. Tyson Darling, Ph.D., director of Adelphi's Center of African, Black and Caribbean Studies and professor in the College of Arts and Sciences Department of History; and Courtney Lee Weida, Ed.D., associate professor and director of the Ammon School's graduate art education program.
"The book resonates with other women in higher education because they go through similar issues in their institutions," Dr. Mungai said. "It is also an encouragement to many women to know that it is possible to succeed in spite of the discrimination and that women of color have to keep their heads high and to remember that the sky is the limit for them."
Dr. Adeniji-Neill agreed. "Our stories aim to offer encouragement to all who read them." At the same time, she added, "We also challenge allies as well as bystanders to commit to equity and justice for all."
Besides the Adelphi faculty members, eight other educators also contributed personal pieces; most of them, like Dr. Mungai and Dr. Adeniji-Neill, came from Africa.
Dr. Adeniji-Neill and Dr. Mungai feel their book can have an impact on changing higher education along the lines of the #MeToo and Time's Up movements currently fighting sexual harassment in entertainment and other fields.
"It is unfortunate that, in the 21st century, we are still discussing issues of women's rights and harassment of women but this is a reality that we have to grapple with," Dr. Mungai said. "There is something about hearing the story of a survival in any trauma that helps others know that they also can make it. This book is about hope for the future generation."
The women's empowerment movement that has recently gained traction is doing so, said Dr. Adeniji-Neill, "because every person is now a reporter, thanks to technology. These movements were there before now. …People voiced their displeasure then as they are doing presently. We might also add that the gun control debate was not gaining an audience until the tipping point became the voices of young students who took on the mantle of gun control activists."
She added, "Technology, such as Twitter, Facebook, Instagram, etc., has given the populace platforms that were previously unavailable to all but the very wealthy. Many of the new voices might be divisive, but it is within everyone's power to choose which voice they answer to." Citing the words of Marcel Proust, she concluded, "'We don't receive wisdom; we must discover it for ourselves after a journey that no one can take for us or spare us.'"
"Cultural competence is one way to cure the ills of discrimination," according to Dr. Mungai. "When one at least tries to understand other cultures, their values and who they really are, that is a big step toward cultural competence." She concluded, "To avoid discrimination, we must stop judging others by their color and get to see the worth of each person."
About Adelphi: A modern metropolitan university with a personalized approach to higher learning
Adelphi University, New York, is a highly awarded, nationally ranked, powerfully connected doctoral research university dedicated to transforming students' lives through small classes with world-class faculty, hands-on learning and innovative ways to support academic and career success. Adelphi offers exceptional liberal arts and sciences programs and professional training, with particular strength in our Core Four—Arts and Humanities, STEM and Social Sciences, the Business and Education Professions, and Health and Wellness.
Recognized as a Best College by U.S. News & World Report, Adelphi is Long Island's oldest private coeducational university. It serves almost 8,000 students at its beautiful main campus in Garden City, New York—just 23 miles from New York City's cultural and internship opportunities—and at dynamic learning hubs in Manhattan, the Hudson Valley and Suffolk County, as well as online. 
More than 116,000 Adelphi graduates have gained the skills to thrive professionally as active, engaged citizens, making their mark on the University, their communities and the world.
---
For further information, please contact:
Todd Wilson
Strategic Communications Director 
p – 516.237.8634
e – twilson@adelphi.edu