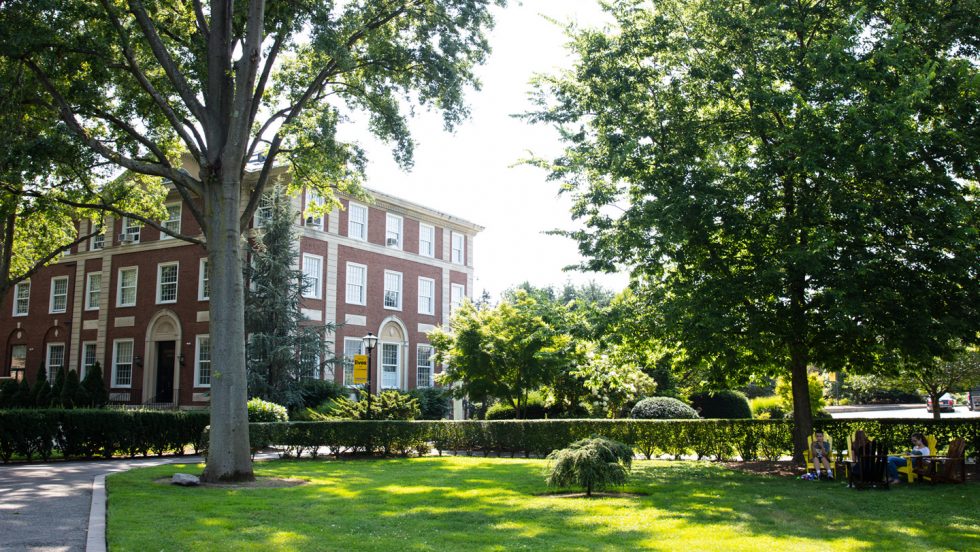 For the past year, a group of Adelphi staffers has been quietly working on building the Adelphi University Staff Council, the first on campus to serve the interests of staff at Adelphi by acting as a liaison between the staff and the University's executive leadership.
According to Christine Katz '10, user experience designer in the Office of Information Technology, "We wanted to take the time to build a solid foundation."
As the inaugural Adelphi Staff Council, they had to start from scratch, which included setting up new procedures, processes, bylaws and an internal structure. It was formed in September 2021 in response to a recommendation from the Middle States Commission on Higher Education to provide a forum for nonunion staff members to address issues of relevance to them and to further support their respective visions, missions and goals. Adelphi's executive leadership asked full- and part-time exempt and nonexempt nonunion staff from Adelphi's schools, colleges and departments to nominate themselves or their peers and then vote on the nominees.
The elected Staff Council comprises:
Joni Hayes '12, enterprise support specialist, Office of Information Technology
Christine Katz '10, user experience designer, Office of Information Technology
Kenzie Keyes '84, director of housekeeping, Facilities Management
Nicole Levy, associate director of recruiting events, Office of Enrollment Management
Valerie Lombardo, office manager, Department of Public Safety and Transportation
Carol Lucas, MSW '02, PhD '13, director of counseling and support services, Division of Student Affairs
Chotsani Williams West, MA '07, executive director of diversity, equity, inclusion and belonging
Scott Zotto '04, MSW '09, associate director, Student Counseling Center, Division of Student Affairs
"We're a pretty diverse group from different departments across campus with a lot of different skill sets," West said. "It's been exciting to take all of those facets and put them together to form this group."
A Focus on Quality of Life
The team is charged with working collaboratively with the University to support a positive working environment for all employees; provide staff input into the University's decision-making processes on issues that directly affect staff; serve as a vehicle for promoting the continued professional and personal growth of staff; and create networking opportunities for staff across the University. It is important to note that the Staff Council does not replace or assume the responsibilities of any existing office or group at the University. Specifically, staff should continue to follow existing procedures with respect to reporting actual or potential violations of University policy, such as Title IX, discrimination or harassment.
Zotto said a council goal is to improve quality of life for staff. "I think just the fact that there's a mechanism by which they can voice their concerns and share and connect with other staff members that can hear them in and of itself is very helpful. Through us, they can have access to resources and more support so that their time here at Adelphi is even more meaningful."
Dr. Lucas added the Staff Council's long-term objective is to be part of the institutional norms around communication for employees. "We want employees to bring their concerns and suggestions about issues that they may see on a systemic level, not necessarily on an individual level. We want them to feel comfortable that those concerns would then be communicated to the executive leaders of the University so that our council is a conduit," she said. "Our role is to advise the University of what people are reporting to us that they see is problematic that may result in a retention issue."
According to Katz, the council is also looking for positive ideas. "We want to hear about anything that deals with work-life," she said. "We feel the Staff Council is a recruitment boost, so someone who's thinking about coming to Adelphi to work here might see that there's representation for staff and that might help sway their decision to work here."
Building a Foundation
To determine how best to serve Adelphi staff, the team met with Staff Council representatives from Villanova University and American University to gain insight. They also listened to guidance from Adelphi leadership and met with the Office of Human Relations (HR), Office of Community Concerns and Resolution and the Title IX Office.
"We all very much want to see communication improve across all departments," Keyes said. "This group wants to be very transparent among all our constituents, across the entire campus."
Currently the council is confirming its bylaws—which have gone through several rounds of revisions and review periods—with leadership in preparation for the fall semester.
Welcoming Feedback and Participation
A new Staff Council website provides an overview of the council and its mission. Katz emphasized that the council wants to create a secure space for onsite and remote staff to communicate with them and welcomes ideas about how to make Adelphi an even better place to work, learn, lead and excel professionally. In addition, anyone who wants to collaborate on future events or professional development opportunities, can reach out to one of the members directly or via their council email, staffcouncil@adelphi.edu. Staff members should not use this email address to report violations of University policy or other matters for which the University has an existing reporting procedure or which are more appropriately handled by University administration. All concerns, complaints or reports of actual or suspected violations of University policy should be reported to the appropriate person or office indicated in the policy. In the event that the Staff Council receives concerns, complaints or reports of actual or suspected violations of University policy, the Staff Council will immediately forward the complaint to the appropriate University office for further action and redirect the individual making such complaint to the appropriate office.
As the liaison between staff and University leadership to promote communication, community building and professional growth, the council plans to submit an annual report regarding issues of general concern to Adelphi staff along with recommendations and ideas.
A Group Effort
The inaugural Staff Council has been established as what they term a "flatarchy," meaning everyone on the council works in concert and there is no chairperson or vice chair. All matters are discussed among the staffers and then voted upon. The council anticipates that each Staff Council member will generally serve for two years, with staffers alternately rotating on and off of the council. Elections for Staff Council members will take place annually.
Those currently serving on the council say the experience of working with people from different departments across the University, in many cases for the first time, has been meaningful.
The council is excited to move forward now that the groundwork has been completed. According to Levy, "After a year of collaboration, hard work and foundation setting, we are excited for the year to come as we focus on engaging with, listening to and advocating for our fellow staff members."