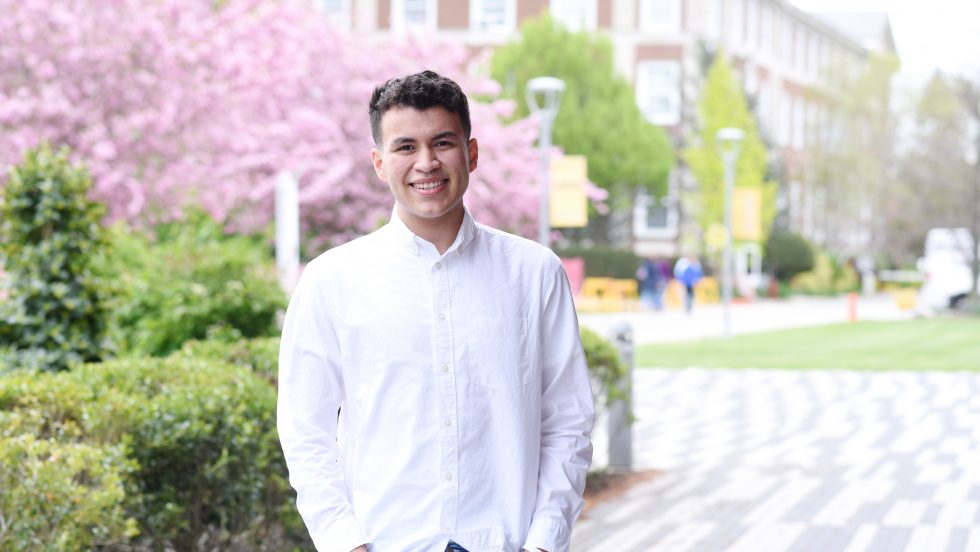 For the fourth consecutive year, an Adelphi University student has been named a Newman Civic Fellow by Campus Compact. Miguel Velasquez, a sophomore in Adelphi's prestigious Levermore Global Scholars program who is majoring in history in the accelerated 4+1 Scholar Teacher Education Program (STEP), has been selected as a 2021–2022 Newman Civic Fellow.
The students selected for the fellowship are leaders on their campuses who demonstrate a commitment to finding solutions to challenges facing communities locally, nationally and internationally. Velasquez will join 212 students from 39 states, Washington, D.C., and Mexico to form the 2021 cohort.
"Miguel is a natural leader who exemplifies Adelphi's core values," Adelphi President Christine M. Riordan said in nominating Velasquez. "He is an excellent student with a powerful determination to make a positive impact on his community and peers. He is altruistic and a keen listener and easy collaborator. As a community-minded global scholar, he works hard to highlight and support diverse voices. He aspires to continue learning and giving back."
A Passion for Helping Fellow First-Generation Students—Making a Difference
As a first-generation American and college student, Velasquez says he is inspired and dedicated to enriching the lives and experiences of others like him. On campus, he is an active and engaged student leader in a number of programs and organizations that enable him to support and build stronger, more inclusive communities.
"I grew up in a community where there weren't many people like me, so I thought that struggles I had were very rare," Velasquez said. "When I got to Adelphi, I found that wasn't true. I met many other students whose parents are immigrants, and I learned that they had faced the same issues I had. Getting to know them, I realized I can offer them support they need, and my work as an ambassador in the admissions department taught me that I can help prospective students, too."
As an admissions ambassador, Velasquez works with Spanish-speaking applicants, answering their questions and highlighting multicultural organizations on campus. He is also a peer mentor to 25 students, an award-winning member of the Students Activities Board, and active in combating social injustice, participating in peaceful demonstrations supporting Black Lives Matter and environmental action.
"The Levermore Global Scholars program at Adelphi has helped me as a leader, as a student and as a future educator," said Velasquez. "It has inspired me to get involved in many campus organizations and to work to guide their direction."
Velasquez says he is excited to begin the fellowship program and learn how he can contribute the skills and information he gains from the experience to give back.
"This is a great opportunity for me to learn a lot of valuable information and help other students learn about social injustices," said Velasquez of the fellowship. "I am very grateful for this opportunity and I am excited to contribute positively to the Adelphi community."
See more about the Newman Civic Fellowship program, Campus Compact, and other recent Newman Civic Fellowship recipients Trish Ferguson,  Najee Hunt and Antonette White.